DaBaby Mocked for Saying He Doesn't Know Who Questlove Is Amid Homophobia Controversy
DaBaby is getting dragged on social media for saying he doesn't know who Questlove is, after the Roots drummer blasted his homophobic comments.
The rapper, whose real name is Jonathan Lyndale Kirk, has faced severe criticism this week for making disparaging remarks about gay people and people with HIV/AIDS on stage at Rolling Loud festival in Miami at the weekend—and for subsequently lashing out at his critics.
Questlove—a Grammy-winning musician, producer, composer, author and now film director, whose given name is Ahmir Khalib Thompson—posted a message on Instagram crossing DaBaby off a hypothetical festival he was curating.
"Somebody Gotta say it: Homophobia/Transphobia/Xenophobia/Misogyny/Racism—this should go w/o saying is morally wrong. & not that fake hiding behind religion holier than thou morally wrong. But 'that was f***** up' & wrong. I had to say something," he wrote.
"[B]lack people already have a code about publicly criticizing so I'll admit I was slow to do this because I mean he don't know me from Adam. So this will prolly get marked as 'old hater' territory. But man.....that shit was not cool at all... Huey Newton wisely stated in the early Seventies that we as a people should NEVER go so low in life (with what we been through) that we start oppressing/terrorizing the next man in the way we been terrorized for centuries."
The comments prompted DaBaby to say he doesn't know who Questlove is.
"I ain't even tryna be funny when I say... I do not know who dis [slur] is dawg & do not care about loosing [sic] you as a fan my boy lol... This superstar you was a fan of is stand up [slur], Yeen never seen one of these huh?" he wrote on his Instagram stories, according to XXL.
Many people are not convinced by DaBaby's claim, however, and the rapper is being roundly mocked on social media.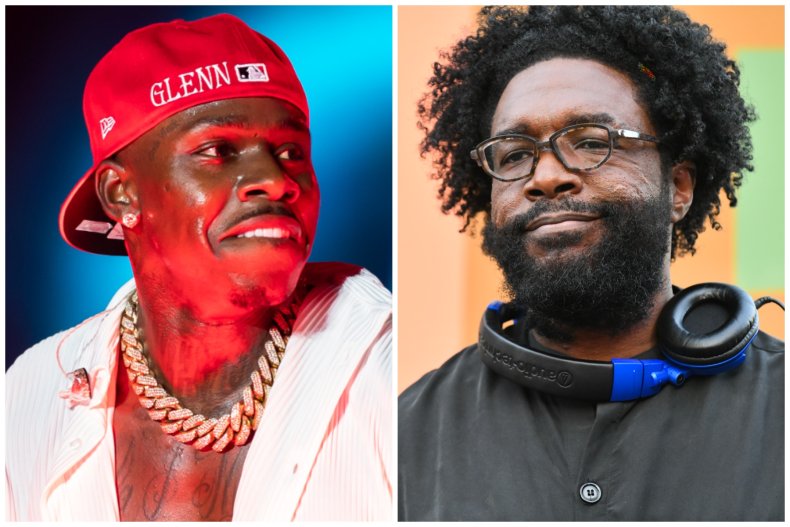 "The fact that DaBaby doesn't know who Questlove is makes sense when you think about how one-dimensional and lazy his music is. It's been one long song since 2019," read one tweet.
Another person posted: "DABABY IS GOING OUT SAD!!! HOW IS HE DISSING QUESTLOVE? OMG."
Rolling Stone pointed out that the Roots, who serve as the house band on The Tonight Show, did back up DaBaby when he performed for Jimmy Fallon on NBC in October 2019.
DaBaby's comments have also been criticized by Madonna and Elton John.
"I want to put my cellphone lighter up and pray for your ignorance," Madonna said in a lengthy open letter on Instagram.
"People like you are the reason we are still living in a world divided by fear. All Human beings should be treated with dignity and respect regardless of race, gender, sexual preference or religious beliefs. AMEN."
Meanwhile, Elton John shared a list of facts about HIV on his Instagram account.
"We've been shocked to read about the HIV misinformation and homophobic statements made at a recent DaBaby show. This fuels stigma and discrimination and is the opposite of what our world needs to fight the AIDS epidemic," wrote the "Rocket Man" singer, who set up the Elton John AIDS Foundation in 1992.