DaBaby Will 'Come Out Bigger Than Ever' After Criticism, NLE Choppa Says
NLE Choppa thinks fellow rapper DaBaby will bounce back from his homophobia scandal to become "bigger than ever."
The Memphis performer—whose given name is Bryson Lashun Potts—has tweeted in support of DaBaby, who has been dropped from a number of festivals and widely criticized after making homophobic comments on stage.
"Dababy Gone Come Out Bigger Than Ever While Y'all Tryna Down Play The Man," NLE Choppa wrote on Wednesday, in a post that has amassed almost 10,000 likes at the time of publishing.
The 18-year-old rapper, who is best known for his 2019 hit "Shotta Flow," elaborated on his remarks after some Twitter users disagreed with him.
Responding to a fan who labeled DaBaby "disrespectful and insensitive," NLE Choppa wrote: "Ian say it was. But not everybody acting like we ain't human. If y'all think bruh said what he said with the intent to hurt somebody y'all delusional. It's comedian saying worst shit then what bruh said."
DaBaby—real name Jonathan Lyndale Kirk—issued an apology on Monday for his comments about gay people and people with HIV/AIDS, made during his set at the Rolling Loud festival in Miami on July 23.
He wrote on Instagram: "I want to apologize to the LGBT+ community for the hurtful and triggering comments I made. Again, I apologize for my misinformed comments about HIV/AIDS and I know education on this is important. Love to all. God bless. – DaBaby."
DaBaby also wrote: "Social media moves so fast that people want to demolish you before you even have the opportunity to grow, educate, and learn from your mistakes.
"As a man who has had to make his own way from very difficult circumstances, having people I know publicly working against me—knowing that what I needed was education on these topics and guidance—has been challenging."
He concluded: "I appreciate the many people who came to me with kindness, who reached out to me privately to offer wisdom, education, and resources. That's what I needed and it was received."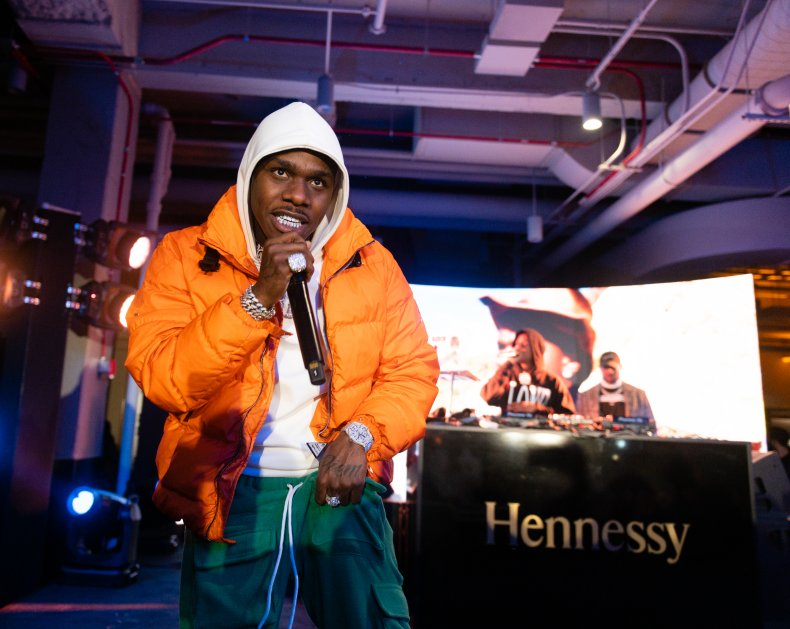 Lollapalooza, Governors Ball and Day N Vegas festivals announced last week that the "Masterpiece" rapper would no longer be performing. He was also dropped from the Parklife festival in Manchester, northern England.
On Tuesday, the iHeartRadio Music Festival in Las Vegas, Austin City Limits Music Festival and Atlanta's Music Midtown removed the rapper from their line-ups.
As a result, many music fans felt DaBaby's apology was insincere, criticizing him for saying sorry only after his livelihood was damaged.
Lollapalooza said in a statement on Sunday that the festival had been "founded on diversity, inclusivity, respect, and love," and confirmed that DaBaby would not be performing that night as scheduled.
Meanwhile, Governors Ball organizers said the festival "does not and will not tolerate hate or discrimination of any kind."