DaBaby's Apology Criticized As Fans Say Rapper Only Concerned With Money
DaBabay may have apologized for his homophobic comments that sparked intense backlash but many music fans aren't buying it.
The rapper has apologized twice for comments he made at the Rolling Loud festival in Miami last week.
The "Masterpiece" performer, whose real name is Jonathan Lyndale Kirk, was dropped from Lollapalooza, Governors Ball and Day N Vegas festivals for making disparaging remarks about gay people and people with HIV/AIDS and then subsequently doubling down.
The rapper told his audience to raise their cellphone flashlights in the air if they "didn't show up today with HIV/AIDS or any of them deadly sexually transmitted diseases that will make you die in two to three weeks."
In a statement on Monday, Governors Ball promoters said the festival "does not and will not tolerate hate or discrimination of any kind."
Meanwhile, Lollapalooza said on Sunday that the festival was "founded on diversity, inclusivity, respect, and love," and confirmed that DaBaby would not be performing that night as scheduled.
He was also condemned by several musicians, including Dua Lipa, Elton John and Madonna.
Amid the backlash and festival cancelations, the rapper has since issued a more sincere apology on Instagram.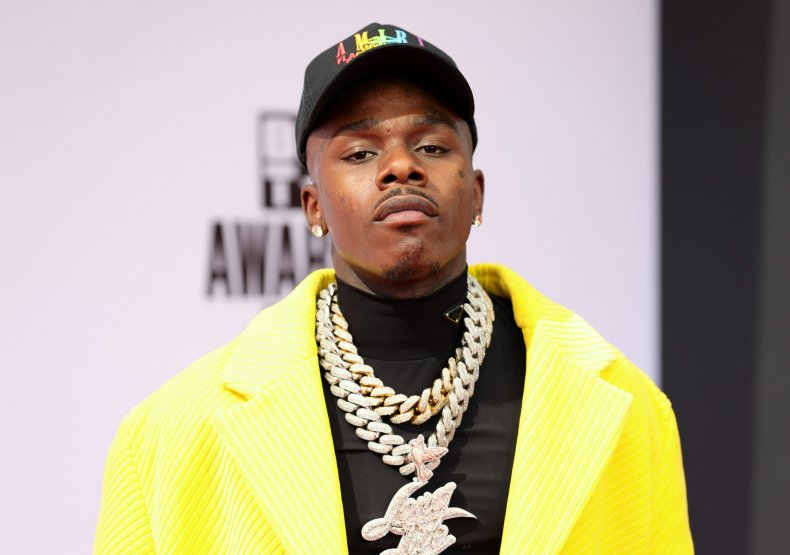 "I want to apologize to the LGBT+ community for the hurtful and triggering comments I made. Again, I apologize for my misinformed comments about HIV/AIDS and I knew education on this is important. Love to all. God bless. – DaBaby."
DaBaby also wrote: "Social media moves so fast that people want to demolish you before you even have the opportunity to grow, educate, and learn from your mistakes.
"As a man who has had to make his own way from very difficult circumstances, having people I know publicly working against me — knowing that what I needed was education on these topics and guidance — has been challenging."
He concluded: "I appreciate the many people who came to me with kindness, who reached out to me privately to offer wisdom, education, and resources. That's what I needed and it was received."
Despite the seemingly sincere apology, many people remain unconvinced with several taking to Twitter to mock DaBaby for "fumbling the bag" or only showing remorse when his career and finances took a hit.
"DaBaby gave us DaBulls*** with DaApology because he fumbled DaBag for embracing DaBigot and now he's gonna act like he's DaPressed. DaF***OuttaHere," tweeted Andreas Hale of Sporting News.
While another viral tweet reads: "Dababy went on a whole twitter rant after his rolling loud and went on live talking abt how he not taking his statement back now he saw his electricity bills and it's 'sorry for my comments made.'"
Another Twitter user joked that DaBaby would be hand in hand with gay rapper Lil Nas X at the next Grammys.
While another added: "Nah cuz dababy issuing that apology is so funny cuz he SWOREE he wasnt gonna apologize for s*** look what money make a b**** do."