Dreamers Occupy Senate Building For DACA Rights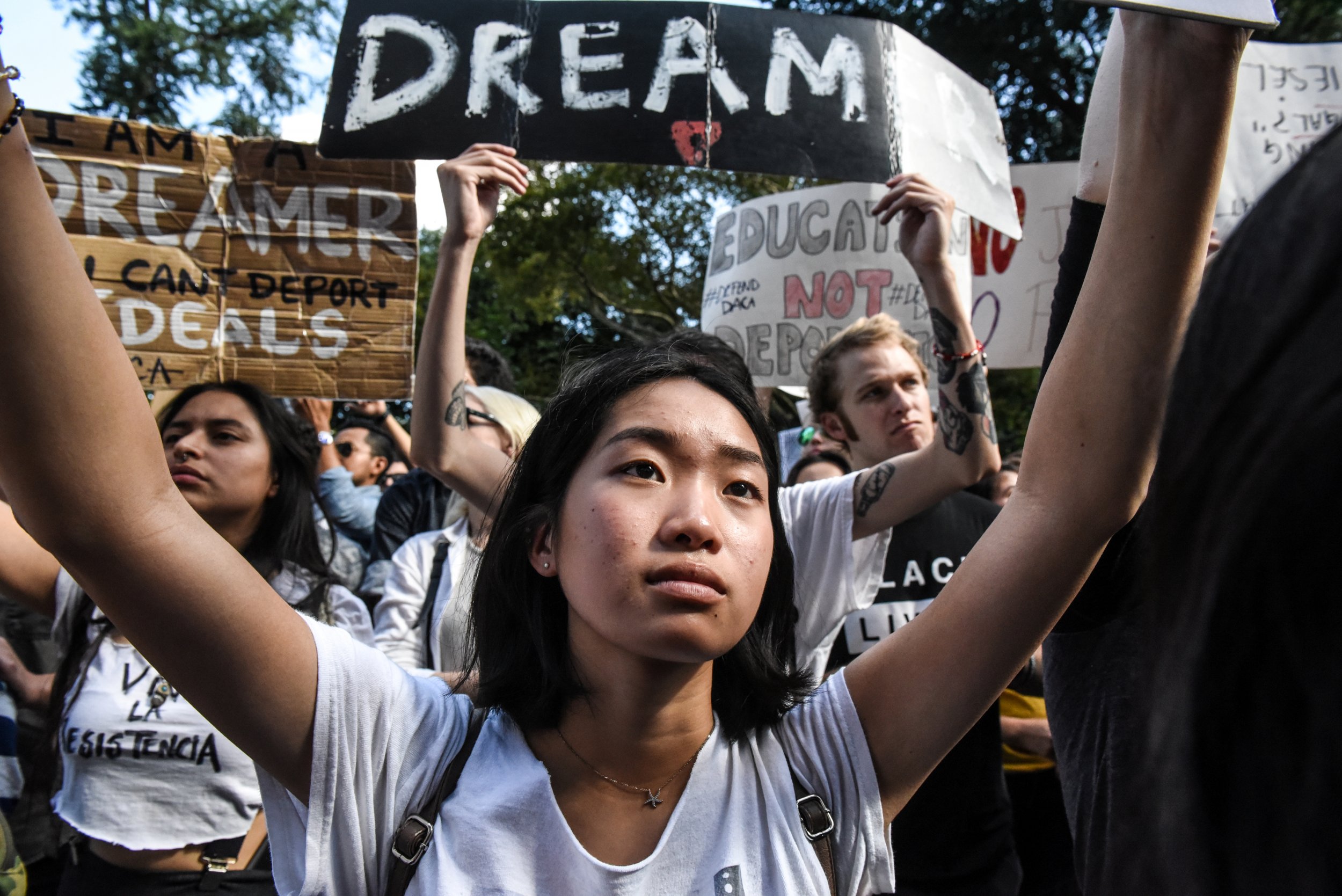 Thousands of immigrants and advocates occupied a Senate office building Thursday to press Congress to pass a bill that would allow undocumented immigrants brought here as children to remain—a protection taken away by President Donald Trump.
More than 1,000 people filled the Hart Senate Building with chants and banners calling for lawmakers to pass the so-called DREAM Act, which would allow an estimated 800,000 immigrants brought here illegally as children to stay in the country. The protesters included Washington, D.C. high school and college students, who walked out of their classes to attend the demonstration.
The protest comes two months after Trump ended DACA protections and called on Congress to pass a permanent version before the program is phased out in March, 2018.
"Our nation is not as strong as it is today despite immigrant families; it is as strong as it is today because of our immigrant families," Sen. Tammy Duckworth (D-Ill.) during a press conference as the building's day-to-day operations were disrupted by the protest.
At the same time, a dozen House Republicans held their own media briefing to call for quick passage of the bill — which House Speaker Paul Ryan opposes on the grounds that the DREAM Act should not be part of the year-end spending bill and should instead be a separate vote.
Despite their common interest in keeping Dreamers in the country, Democrats and Republicans have major differences in what they'd like to see in the final bill. Conservatives are vying for an e-verify program that would prohibit the hiring of undocummented immigrants as well as an end to the visa diversity program. Democrats want to give Dreamers a path towards citizenship.
Roughly 22,000 immigrants failed to renew their permit this fall, meaning that, on average, more than 100 Dreamers become eligible for deportation each day Congress does not act.
Polls show that there is wide support for offering protection to Dreamers: A September Washington Post/ABC News poll found 86 percent of respondents are in favor allowing Dreamers to stay in the country.
Unless Congress acts, nearly 900 Dreamers who are currently serving in the U.S. military who could be forced to leave the military otherwise.
Former Secretary of Defense Robert Gates cited those immigrants as a key reason to support the DREAM Act.
"(Our) forces are stronger when they embody the nation's diversity, drawing from a large pool of willing young people able to adapt to changing threats," he wrote in an op-ed for the New York Times published on Thursday. "That is why we need legislation that will provide a pathway to citizenship for those immigrants who, among other attributes, are serving or have served in the military, whether they are in America legally or were brought here illegally as children. That kind of policy will help the military recruit new service members and improve readiness."