When Will Trump Deport Dreamers? Everything You Need to Know About the New DACA Policy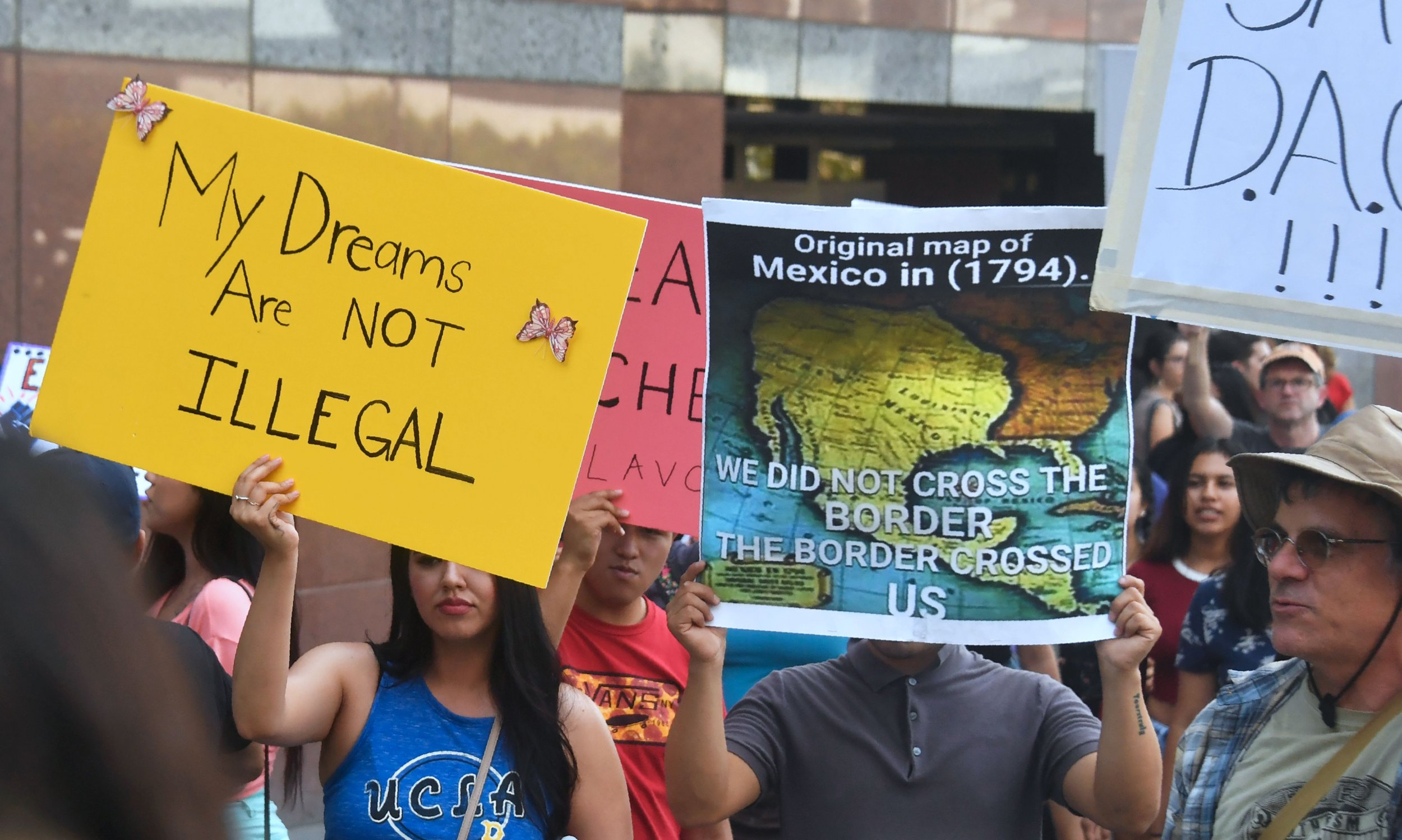 After a rumor-filled Labor Day weekend, Attorney General Jeff Sessions announced Tuesday that the White House is rescinding the Deferred Action for Childhood Arrivals (DACA) program. The Obama-era initiative that allowed young undocumented immigrants brought to the U.S. as children to receive work authorization, driver's licenses and other benefits is an example of government overreach, Sessions said, and would not stand up in court.
"We firmly believe this is the responsible path," Sessions added. "To have a lawful system of immigration that serves the national interest, we cannot admit everyone who would like to come here."
The decision was already reverberating through the immigrant community on Tuesday, as advocacy groups held emergency protests in New York and Washington, D.C., and scrambled to answer questions from panicked youth. Much of the concern revolved around work authorization and renewals, as Renata Soto, board chair for Latino advocacy group UnidosUS, tells Newsweek.
"Young people are concerned about, So, now what? Will I get fired? I'm going to lose my job? What's next for me?" Soto says. "People who are working in banks, who are nurses, who are educators, who are administrative staff, are wondering for how long will they be able to be a part of professional jobs."
Whether you're directly affected by Tuesday's announcement or are just following the news, here are some quick answers to those questions and others.
Who has DACA status? Who's at risk?
There are about 800,000 people who have successfully applied for DACA status, according to U.S. Citizenship and Immigration Services. Known as Dreamers, they're mostly from countries like Mexico, El Salvador, Guatemala and Honduras, and they mostly live in states like California, Texas, New York and Illinois.
Some face more immediate challenges than others. Cesar Vargas, an undocumented lawyer and co-director of the Dream Action Coalition, points out that one of the Dreamers' biggest concerns is employment, given that more than 90 percent of DACA recipients have jobs in the U.S.
"DACA has been officially terminated," Vargas says. "Now, it depends on the different stages, on how people are going to be renewing, [and] if they have the opportunity to renew."
Why are we talking about this now?
A group of attorneys general from several states made Tuesday the arbitrary deadline for President Donald Trump to roll back DACA or face legal consequences.
What, exactly, did Sessions say? What's the timeline?
You can read Sessions's statement in full here. He explained that his department had recommended to the Department of Homeland Security that it begin an "orderly, lawful wind-down" process that both allows for change and fulfills "the desire of this administration to create a time period for Congress to act—should it so choose."
What does that mean?
Vargas says that, basically, the government is no longer going to accept new DACA applications, and it has started the clock for Congress to act within six months.
If people already have DACA status and are up for renewal between now and March 5, they have until October 5 to request their two-year extension. The Department of Homeland Security (DHS) laid out the process in detail here.
What did immigrants think of the Sessions speech?
For people like Cielo Hernandez, a 17-year-old Mexican immigrant in Nashville, Tennessee, Sessions's Tuesday address was devastating.
"It's very heartbreaking for people in the process or people that already have DACA, people that have dreams and goals and could make this country better," Cielo, a graduate of UnidosUS's Escalera college readiness program, tells Newsweek. "This is the place we've known all our lives. It's just wrong and unfair."
What's the real impact?
People who submitted their DACA applications before Tuesday should know that their requests are being processed normally, says Allison Davenport, a staff attorney with the Immigrant Legal Resource Center.
DACA recipients have protection until their personal permits expire. Employers are not supposed to ask about updated work authorization until it runs out: "They cannot fire that person, put them on leave or take action against them" in the interim, Davenport explains. Similarly, DACA recipients don't have to tell their bosses about the policy shakeup.
Are there going to be deportations?
The DHS has indicated it does not plan to "proactively" start turning over Dreamers' personal information to authorities with Immigration and Customs Enforcement and Customs and Border Protection. The White House has also said it plans to focus on removing immigrants with criminal records. That likely excludes most Dreamers, who, while applying for DACA, have to go through intense background checks.
"We don't anticipate that [DACA recipients] will be a priority for ICE. We're trying to reassure people that we don't think that's going to happen," Davenport says. "People are relatively safe, but there are no guarantees."
Where is Trump in all this?
Trump's stance on DACA has evolved over the years, but most recently he's been "exasperated" and asking for "a way out" of the debate, according to The New York Times. In a Tuesday morning tweet, Trump put the metaphorical ball in Congress's court, writing, "Congress, get ready to do your job - DACA!"
"I look forward to working with Republicans and Democrats in Congress to finally address all of these issues in a manner that puts the hardworking citizens of our country first," he said in a statement.
What is Congress going to do?
It's unclear. It already has a packed schedule, with battles over the budget and health care looming. Lawmakers like Arizona Senator John McCain, a Republican, and California Representative Nancy Pelosi, a Democrat, have criticized Trump's decision. Other big-name politicians have vowed to come up with a replacement program for Dreamers, but proposals could be linked to outcomes like funding for Trump's border wall or increased immigration enforcement.
Advocates want a stand-alone law with no strings attached.
What can I do?
You can reach out to your local politicians or support community events that create safe spaces for people worried by Tuesday's announcement. UnidosUs' Soto, for example, is hosting a free lunch this weekend for DACA recipients and their families to meet with lawyers, mental health counselors and peers with whom they can "share anxieties, uncertainties and fear."
"It's a time to be together," Soto says.