Trump and DACA: Don't Forget About Immigrant Veterans Being Deported
With some Republicans and Democrats lining up to pass a legislative version of DACA (Deferred Action for Childhood Arrivals)—the Obama-era program that protects young children of immigrants from deportation—many are forgetting about a group now more at risk due to the Trump administration's policies: veterans.
Though many don't know it, hundreds of immigrants—most from Mexico and the Philippines—serve in our nation's armed forces. None are promised citizenship in exchange for their service.
On the contrary, when the government is done with them, they are subjected to the same risk of deportation as new arrivals sneaking across the border. If they break U.S. law, for any reason, Immigration and Customs Enforcement agents can dump them back across the border to Juarez or Baghdad without so much as a "Thank you for your service."
This is the result of a 1996 law that calls for the deportation of immigrants convicted of crimes that meet the definition of an aggravated felony and serve at least a year in prison. In 1988, when the term aggravated felonies was first established, it referred to murder and drug and firearms trafficking. Since then, the definition has broadened to include less severe crimes, such as theft and failure to report a change of address—offenses that now can lead to deportation.
Related: The new deporter-in-chief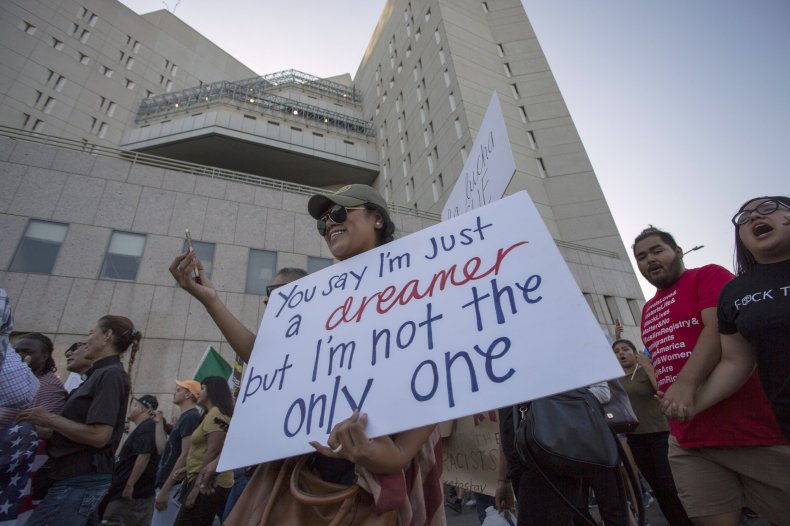 Today, almost any offense that results in a sentence of more than a year in prison—regardless of how minor the crime—can lead to deportation for these vets. (And in some cases, an immigrant can be deported for "an aggravated felony" even if the sentence is less than one year.)
The 1996 act does not permit a judge to consider defendants' military service or any other aspects of their life other than that they committed such a crime. Noncitizens also do not have a constitutional right to an attorney.
During recent reporting trips to Mexico and the Dominican Republic, I met veterans who were deported for crimes such as possession of marijuana and check fraud. All served prison sentences. After their release, all were deported. They were punished twice for the same crime, simply because they were immigrants. Their military service was not taken into consideration.
Deported veterans include those who joined the military and those who were drafted. Many meet the federal definition of DREAMers (after the Development, Relief and Education for Alien Minors act), who came to America as children, brought by relatives with no say in the matter. Had they done nothing or committed a different class of crimes, they would be eligible for deferrals allowing them to "get legal" with the federal government, and in some states, they would even be allowed to get in-state college tuition.
Without citizenship, however, they run the risk of deportation should they run afoul of the law. After serving prison sentences, they are punished further and far beyond what an American citizen would experience for identical offenses. They are being kicked out. Their military service does not entitle them to a second chance.
Why should we care? Because their enlistment made them one of us. They served in our uniform and fought under our flag. They took an oath to defend our Constitution. Why, when the uniform comes off, are they considered alien when, while in uniform, they were considered Americans soldiers?
Like all of us, deported veterans are flawed human beings. I make no excuses for them. But no matter what they did, they serve and in some cases, risk their lives for the U.S., just like citizens. We cannot excuse their crimes, but in holding them accountable we should not make them suffer twice.
Last year, I visited the family of Manuel Castaon, an Army soldier and a deported vet who had grown up in El Paso and other parts of Texas. He died in Mexico of Lou Gehrig's disease in 2012, but because he was honorably discharged from the Army, he was still eligible for benefits, including burial with full military honors. He is buried in Fort Bliss.
Unwelcome alive, he was welcomed as a corpse.
J. Malcolm Garcia is a freelance journalist and the author of the forthcoming book Without a Country: The Untold Story of America's Deported Veterans (Hot Books, September 26, 2017). His work has been anthologized in The Best American Travel Writing, The Best American Essays and The Best American Nonrequired Reading. He is a recipient of the Studs Terkel Prize for writing about the working classes and the Sigma Delta Chi Award for excellence in journalism.