Dachshund Puppy Wearing a Sock As Harness as She's 'Too Smol' Melts Hearts
A tiny dog named Daphne has melted hearts all over the internet after a video of her using a sock as a harness because she's too small went viral on social media.
The video, shared on TikTok earlier in January by the dog's owner, under the username Gemcheyne, shows the miniature dachshund puppy wearing a tiny wool sock to go on a walk instead of a harness because she's too small for it and there's no right size for her.
The heartwarming clip comes with a caption that says: "When you're too smol for a harness so a sock has to do."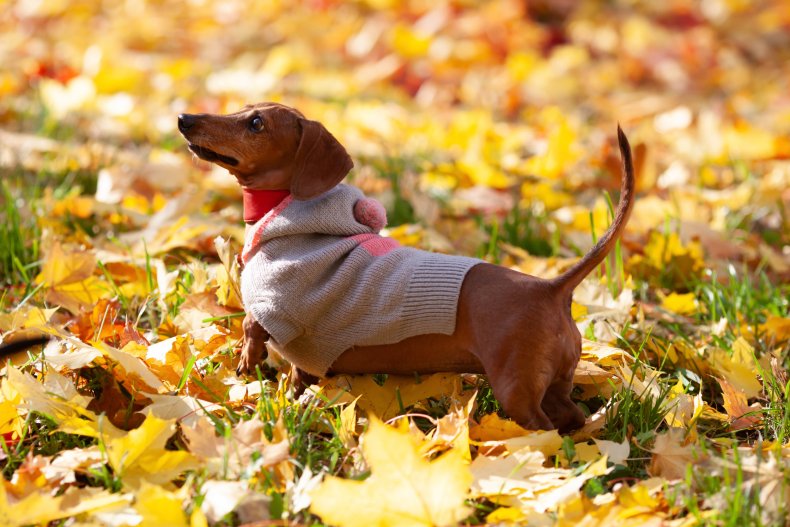 According to the American Kennel Club (AKC), dachshunds were initially bred to hunt badgers. In fact, in Germany, where they originated, their name means "badger dog," and the breed eventually evolved to hunt other types of prey too.
Dachshunds come in two sizes, standard and miniature. The standard dachshunds weigh up to 35 pounds and were used to hunt badgers and wild boars, while the miniature dachshunds only weigh up to 11 pounds and under.
Dachshunds are also commonly known as sausage dogs, but actually, it was the sausage that was named after them and not otherwise. According to the AKC, they're called wiener dogs because their long bodies resemble hotdogs, but in reality, the deli product was named this way because it resembled the dog breed, not the other way round, and the name was later shortened to hotdog.
The video quickly attracted animal lovers from all over the platform, and it has so far received over 1.3 million views and 150,000 likes.
One user, Snels, commented: "I have a longhair mini dachshund too!! That is GENIUS she's too tiny!" And thatnikkibeach said: "I used a ferret harness for the first 6 months." .Brooke.Taylor wrote: "When my dog was a puppy we had to get her a kitten harness from the pet store."
Macyjadee said: "I still do this for my mini dachshund she [weighs] 6 pounds and will be a year old in March." And Bella & Peach added: "The brand Lil' Pals makes tiny harnesses and collars! When our teacup Yorkie was 2 pounds it fit her perfect!"
Another user, Kirstenwilliams_, said: "We got our [sausage dog] a xxs mini julius k9 harness when we got him, took him a week or two but he grew into it." And RedLipAssassin wrote: "Why is no one talking about how stylish that sock sweater is."
Rapidnose2018 commented: "I'm getting a tiny dachshund so seeing that there's a solution is perfect timing." And Amanda Luskey added: "We had to use a bunny/Guinea pig harness for my mom's chihuahua when she was a puppy. luckily we have bunnies so we already had it."
Newsweek reached out to Gemcheyne for comment. We could not verify the details of the case.
Do you have funny and adorable videos or pictures of your pet you want to share? Send them to life@newsweek.com with some details about your best friend and they could appear in our Pet of the Week lineup.