Dachshund Rushing Back From Bathroom Break to Count Her Pups Melts Hearts
All proud moms hate to be away from their newborns, but one dog mother is proving that she's the best mom around by only reluctantly going outside to pee because she's so desperate to get back to her puppies.
Penny, a 2-year-old Dachshund, gave birth to four puppies four days ago at time of writing and could not be more proud of them.
In a video posted to TikTok page @itsdeanna13 that has been viewed more than 1 million times, Penny can be seen outside in the yard on a "30 second pee break," desperate to get back inside to her puppies. She sniffs at every gate and door before finally going inside and reuniting with her puppies, counting them before settling down.
The text reads, "Penny's 30 second pee break because she hates leaving her babies," while the caption reads, "When you have to force her to go outside."
"So darn cute! She is a better mom than some humans!" commented one user.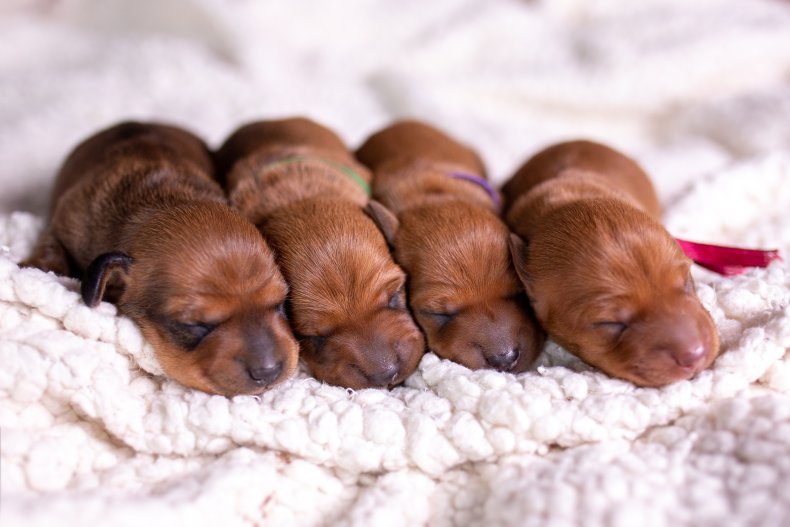 Are Dogs Maternal?
For the first three weeks of a puppy's life, their mother provides food, warmth, protection and all-around care.
"What you'll see on day one is a mother who doesn't want to be away from her pups for more than a second," said Dr. Ann Hohenhaus, staff doctor at New York City's Animal Medical Center, in an article for the American Kennel Club (AKC).
Because they are born without sight, hearing or the ability to walk, a puppy's mother is its everything. Newborn puppies spend about 10 percent of their time eating, and 90 percent of their time sleeping, according to the AKC, and "a canine mother's job in the first 10 days of her puppies' life [known as the neonatal period] is to meet all of their needs, from nourishment to assisting in the elimination of waste."
Once puppies begin to be able to stomach solid foods and are weaned off their mother's milk, the mother naturally spends less time with her puppies, which might seem like disinterest, but it's actually a mother teaching her children to be independent and less reliant on her, setting them up for adulthood.
The exact time that is best for a puppy to go to its new home can vary by situation, but most breeders and veterinarians agree that 8 weeks of age is a good minimum.
What Did TikTok Say?
Users on TikTok loved the video.
"You better believe she counting those babies. Dogs are the most joyful and caring creatures on this planet," commented one user.
"That's a great little momma. Mine are the same exact way too," said another.
"Awh this makes me think of my doxie. She was a mama before we got her & she hears a puppy she goes crazy!" wrote another user.
Newsweek has reached out to @itsdeanna13 via TikTok for comment.
Do you have funny and adorable videos or pictures of your pet you want to share? Send them to life@newsweek.com with some details about your best friend and they could appear in our Pet of the Week lineup.