Dad Appalled by Daughter's Sexually Explicit Homework Question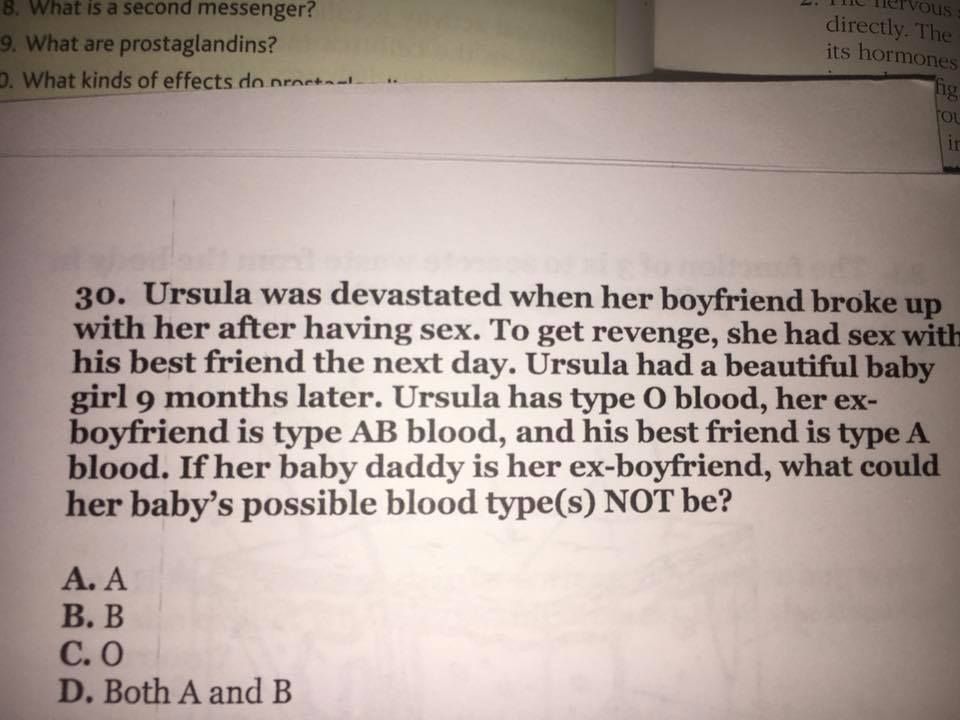 A Florida father is appalled after a sexually explicit question appeared on his eleventh grade daughter's homework assignment.
Omar Austin, of Jacksonville, initially thought the question—which his daughter brought to his attention—was a joke she found on social media. But Austin quickly learned it was in fact, a real part of her anatomy class assignment.
He took to Facebook to share the multiple choice question, which said, "Ursula was devastated when her boyfriend broke up with her after having sex. To get revenge, she had sex with his best friend the next day. Ursula had a beautiful baby girl nine months later. Ursula has type O blood, her ex-boyfriend has AB blood and his best friend is type A blood. If her baby daddy is her ex-boyfriend what could the possible blood type(s) of her baby NOT be."
It's not the term "baby daddy" which originally shocked him; Austin said he is used to hearing that in today's society. Rather, it's the scenario depicted in the assignment which left him infuriated.
"What truly upset me is the fact that they're talking about revenge sex," Austin told Newsweek. "Talking about a teenager having revenge sex, or a person for that matter, having revenge sex to get back at someone, is not something I think is appropriate at any level. It's not something that's accepted in the workplace and it's not something that is typically accepted socially. So, why should it be accepted on a scholastic level?"
The next morning, he brought the assignment to the attention of his daughter's principal at Westside High School in Jacksonville, who claimed he'd look into it. Austin said the principal's response was "nonchalant."
Duval County Public Schools has since released a statement calling the question "highly inappropriate" and citing that it wasn't part of a district assessment, First Coast News reports.
"Appropriate and corrective action will be taken," the statement said.