Mom's Fury at Ex Excluding Her From 'Milestone' in Daughter's Life Dragged
A father has asked Reddit if he is the a****** for his reaction to a delicate family issue.
In the post, user No-Tap8247 explained that when he and his ex-wife divorced, he got primary custody of his daughter. His wife works out of town and the father describes "a lot of bitterness and recrimination in our relationship."
The crux of the post centers around his 10-year-old daughter, who recently got her first period. "I grew up with sisters and I am not a complete idiot so I had read up on what to do," explains the father. "I had been prepared since she was 8. I gave her the boxes of pads and tampons. I explained to her that it was normal and healthy. I watched a video with her that was a tutorial on what to do. I also asked her if she would like to talk to either my sister or the woman I'm seeing about how to do everything right."
He goes on to explain that after his ex found out "she yelled at me on the phone. She called me an a******* for excluding her from a milestone in her daughter's life... It was a mother daughter thing and that I took it away from her. I said it was a parent kid medical issue and that made it a me thing."
According to Kids Health, most girls get their first period between the ages of 10 and 15, the average age being 12.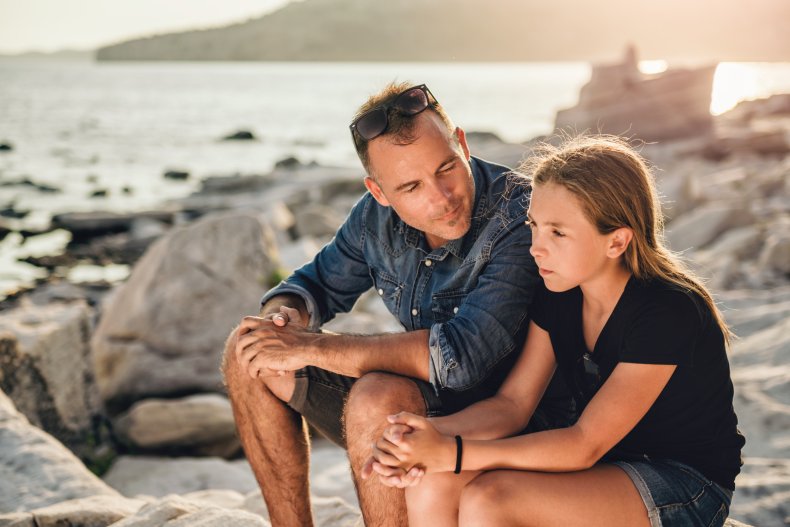 Newsweek spoke to Ruth E. Freeman, president and founder of Peace at Home Parenting Solutions, about the family's situation.
"Dad sounds like a terrific parent and it seems he handled his daughter's milestone with great care and compassion. It's great that he asked her who she wanted to speak with about this important moment. It also helps that he recognizes how own hostile feelings towards his daughter's mom might be getting in the way. Even if a parent has full custody, it is best that they communicate about medical and other important issues to the other parent unless Dad is concerned that Mom might be harmful in some way to their daughter.
"Keeping the other parent informed about milestones or news of significance is for their daughter's wellbeing, not for Mom. His daughter will benefit from support by both parents whenever possible. While daughter did not request to talk to Mom, she may already sense that Dad doesn't want Mom included and may be working to not rock the boat. Kids' invariably pick up on parents' views of each other and can react in a lot of different ways, but accommodation to the primary parent isn't unusual. It can create distance with the other parent which harms only his daughter, so Dad may want to work a little harder in the direction of respective collaborators regardless of how he feels about Mom."
Not The A******
Reddit users voted that the dad was "not the a******".
User Silver_Midnight5927 said: "Seriously, if every father / brother / man / etc treated their daughters / sisters / etc with such respect, the world would be such a better place," while Humble_Plantain_5918 agreed: "More importantly he set the example that men SHOULD know what's up in that department. Bravo."
KpopFashionistasRise agreed with Ms Freeman that a conversation with the mother might have been a good idea: "It did seem a little iffy to me, but it might have had something to do with the fact that the ex was away and he thought that conversation would be better in person. He could have, and probably should have told her, but ultimately it's the daughters decision."
Newsweek has reached out to u/No-Tap8247 for comment.
If you have a family dilemma, let us know via life@newsweek.com. We can ask experts for advice, and your story could be featured on Newsweek.