Watch This Dad Greet and Embarrass His Daughter While Dressed as Buddy the Elf
Nothing rings in the holiday spirit quite like your parents embarrassing you in front of other people while they're dressed like a character from a beloved Christmas movie. Oh, has that never happened to you? Well, it happened to one girl this year, whose father decided to bring her some holiday cheer by dressing up like Will Ferrell in Elf and greeting her in public.
A clip capturing the scene—posted on Reddit on Tuesday to r/PublicFreakout—shows a girl leaving what looks to be a mall or school, when her dad shows up, in full Buddy the Elf regalia, and recites lines from the beloved 2003 Jon Favreau film.
"Oh my goodness, it's Elaina! I know her," the dad shouts, echoing a moment when Ferrell's Buddy thinks that the real Santa Claus is coming to the Gimbels department store where he's working.
Naturally, this adult man's daughter is mortified to see her dad dressed as an elf, shouting at her in a public place. But even though she seems exasperated and a good bit embarrassed, she also comes off like she thinks it's at least a little funny. She asks her dad a question we've all asked our parents at one time or another, regardless of whether or not an elf costume was involved: "What is wrong with you?"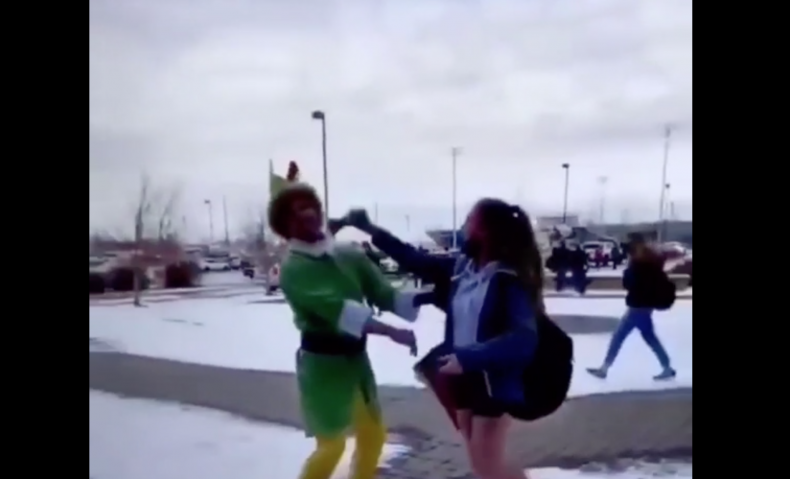 Undeterred by his daughter's Grinch-like shade, the father tries to serenade her with a song that Elf star James Caan would probably remark was "weird."
"Elaina, I'm here, and I love you. I love you! I love you! I love you!" the dad sings as his daughter tries to waves something that looks like either a pair of socks or a stuffed animal from her shopping bag, to try to shush him, to no avail.
It seems like Elaina trying to brush off her dad's display of affection didn't sit well with him, either. "You're on the naughty list right now. Be good," he says.
"How am I related to you," she shouts, as the person holding the camera and capturing the footage laughs.
Before the video ends, the dad tells her that "Papa Elf sent [him]," and he tells her she needs to hand something out, although it's unclear what he's referring to.
Redditors were certainly amused with the video, and many said that it made them want to watch Elf. Others guessed how the dad and daughter's conversation on the way home must have gone, quoting some of Ferrell's most famous lines from the movie. (Some people also suggested that they were probably going to have big bottle of syrup for dinner.)
The video has been upvoted over 56,000 times at the time of this article's publication.
Dads dressing as elves to embarrass their daughters isn't a new trend, believe it or not. In 2019, a Missouri father went viral when he greeted his daughter at the Kansas City Airport while dressed as an elf. He also held up a sign that read, "Santa's Naughty List," with his daughter's name listed.
Like the father in the new Reddit video, the airport father also seemed to draw some inspiration from Ferrell's holiday classic and improvised his own song.