Dad of Drowned Child Defends Mom Accused of Her Murder: 'Not a Monster'
The father of a young girl who was allegedly drowned to death by her mother, alongside two siblings in New York, spoke out on Monday, saying that he still believes that the mother "is not a monster."
The woman, 30-year-old Erin Merdy, was arrested on September 12 after three of her children were found dead off the coast of Brooklyn's Coney Island. Authorities found Merdy at another beach not far from where the children were found, reportedly soaking wet. Relatives also later told investigators that she had said alarming things about the children, including that "the babies are gone" and that she had recently been having dreams about "walking the kids in the water."
On Monday, one of the deceased children, 4-year-old Liliana "Lily" Stephen, was laid to rest at Caribe Funeral Home in Flatlands, Brooklyn, the New York Post reported. Her father, Shamir Small, spoke at the gathering and said that he hoped his daughter would not be remembered for her death. Small is not the father of the other two siblings allegedly killed by Merdy, as they and his daughter were half-siblings.
"I don't want her to be remembered or known as how she passed," Small said. "I don't even want to hear about it anymore. Don't want to see it, read it, or nothing. I just want everyone to remember that Lily, for four years, was loved by all her family members."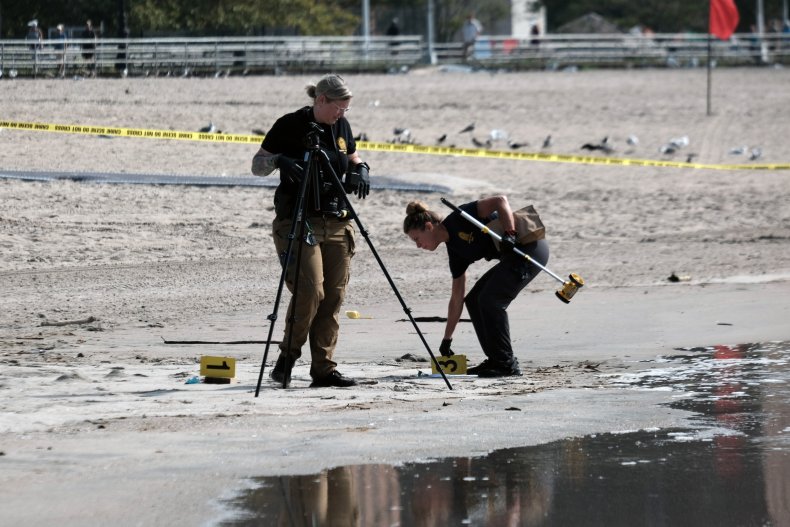 Small continued, insisting that despite the circumstances of his daughter's tragic death, he does not believe that her mother is "a monster."
"Contrary to what happened, she was loved by her mother," Small added. "I don't care what no one says. What [Merdy] did was monstrous, but she herself is not a monster."
Small's daughter drowned alongside her older and younger brothers, 7-year-old Zachary Merdy and 3-month-old Oliver Bondarev. Merdy was arraigned on Friday in a Brooklyn court on one count of first-degree murder, three counts of second-degree murder, and three counts of depraved indifference for human life. She appeared virtually in court from a bed at Lutheran Medical Center, as she has not been medically cleared to appear in court.
Merdy has yet to enter a plea in the case against her. She is due back in court sometime on Tuesday.
"My favorite memories of Lily is mainly her wanting to dance," Small said during his address at the funeral. "She did ballet, rhythm gymnastics. She clearly loved it more than she loved me because she did not want me to take her away from it."
Newsweek reached out to the New York City Police for comment.