Dad 'Falls in Love' With Bulldog Puppy He Said 'Not to Get' in Clip
It didn't take long for one woman's mother and father to fall in love with her new dog.
A viral TikTok video posted Thursday showed the adorable interaction and has over 951,000 views. The poster, Claire McKenzie of Manchester, United Kingdom, said she was introducing her parents "to the dog they told you not to get."
When her mother and father opened the door to her home, they immediately noticed an English bulldog named Rodney laying in a dog bed. The mom walked in first and stopped in her tracks, followed by Claire's father—who had a large walking boot on due to tearing his Achilles tendon.
She said her parents were "in pure shock," but her father was especially enthralled with the new pooch. He even set his crutch against the wall when he entered the abode, immediately walking toward Rodney to get acquainted.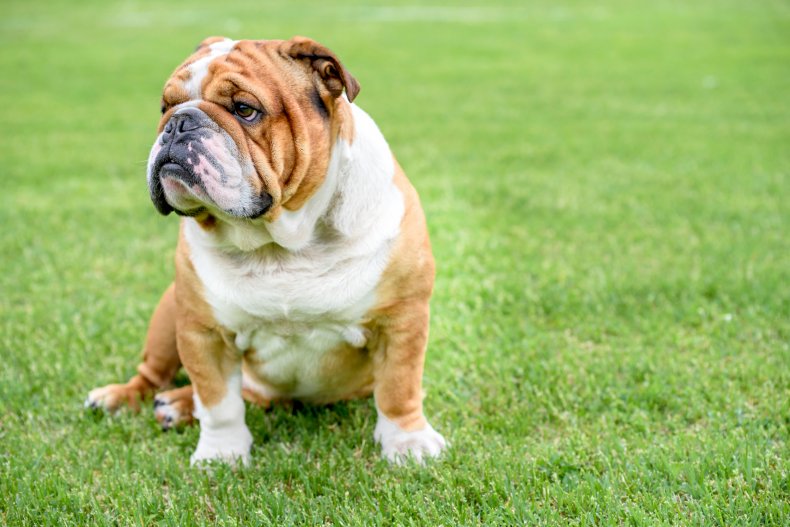 He proceeded to get on all fours, nuzzling with Rodney and repeatedly kissing him. He was "obsessed," as his daughter described.
"My dad has always loved bulldogs," Claire said in the video's overlay text. "This was a dream come true."
She later said "it's safe to say they fell in love" as the couple sat on a sofa with Rodney.
A TikToker commented that her parents were the exact same way with her French bulldog.
"My dad has been round everyday since this was recorded and my mum buys him something every time she goes out hahaha," Claire responded.
"Stop it, you're making me cry," another user said. "He's absolutely adorable."
Subsequent videos of Rodney's first week culminated in an Easter Sunday trip to his new grandparents' home, where Claire's parents seemed even more enamored than during the first encounter—so much so that they didn't want the dog to leave.
Her father even laid on a lounger with Rodney, holding him in a full embrace.
According to Rover.com, the top five dog breeds in 2021 in the U.K. were mixed breeds, Labrador retrievers, Cockapoos, French bulldogs and Cocker Spaniels. Bulldogs, or English bulldogs, did not make the top 20.
A survey conducted by the website found that about 42 percent of U.K. dog owners welcomed a new canine in their family during the COVID-19 pandemic.
However, The Scotsman published a list last week that said the bulldog was the fourth most popular dog breed in the U.K. The publication said the breed's popularity rose in 2019 when over 11,000 bulldogs were registered—a 17 percent increase compared to 2019.
A report issued by the American Kennel Club said bulldogs were the fifth-most popular dog breed in the United States, behind French bulldogs, Golden retrievers, German Shepherds and Labrador retrievers.