Dad Hands Out 2 Liter Sodas On Halloween in Viral Video That Delights Internet
This father won Halloween after he handed out two-liter sodas to trick-or-treaters. After a video was posted of him happily dancing as he made kids' nights, it quickly went viral.
The video, posted by @muffarino or April on TikTok, has garnered more than 7.6 million views since it was posted on October 11. "My dad hands out 2L pop for Halloween and it's ridiculous," the caption of the video read.
In the video, April's father excitedly stands on the roof of the house surrounded by crates of two-liter sodas at their home in Alberta, Canada.
"Orange, alright," the man yells down to a child as he places the soda on a homemade slide which delivers them straight to the children in the front yard. "Keep the numbers coming," he shouts down to the kids.
The house was also decorated with party lights and had loud music playing from the roof. As the dad waits for more requests he is seen dancing and smiling at the happy trick-or-treaters.
"The fact you were THAT house is legendary for kids," one user commented on April's video. "Kids always remember the gold mines on Halloween."
Trying to figure out how to similarly win over the neighborhood children next Halloween? Forbes recommends steering clear of the 10 most hated candies given out to trick-or-treaters every year and stocking up on the more popular treats.
Number one on the list of the most hated Halloween candy were circus peanuts, those orange marshmallows that are too soft yet not soft enough. Next on the list were candy corn, wax soda bottles, those chalky Necco wafers, Tootsie Rolls, Smarties, Good & Plenty, and licorice of any kind.
Forbes writers recommend going to the store and searching for the popular candies such as Reese's, Snickers, Twix, Kit Kats, Nerds, and M&Ms.
Another way to earn the title of best house on Halloween? Full-size items such as the king Kit Kats or the full-size Reese's cups rather than the individual minis.
For @muffarino's dad, the full-size sodas definitely had the neighborhood kids telling everyone to stop by their house.
While the video was not taken this Halloween, April uploaded a video over the weekend showing her dad preparing for this year. She told Newsweek that this was the eighth year he's handed out soda for Halloween.
"One day my dad and I were just bored and thought it would be funny to just buy a few of each flavour of 2L pops and hand some out to the kids," April told Newsweek. "Especially some little kids just as a joke!"
In the video, April's dad can be heard singing with a new microphone headset as he walks past crates full of hundreds of 2 liter soda bottles. "Did you guys see my new speaker?" her dad yells into the mic as he points at their new and improved stereo for the occasion.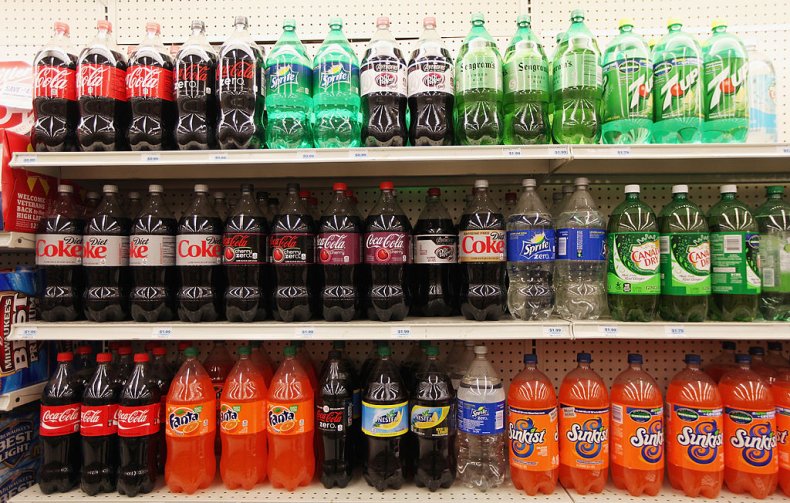 In the comments, April said her family spends about $500 each year on the sodas, but that it's all worth it when she thinks of the excited kids stopping by her house.
"Last year we had about 350 and I think this year we ran out at 520 pops!!," she said. April said that her father had to preorder the soda from a supermarket but then had to grab extras too.
Many users also mentioned the funny fact that the kids would have to trick-or-treat with heavy soda bottles for the night.
"It's a nice idea but in reality, it just slows the kids down," one commenter mentioned. "Who wants to carry a 2lt pop in their bag."
"We think it's kind of like a trick and a treat because it's so heavy," April told Newsweek.