Dad Praised for Treating Son Like 'Outsider' After Divorce
A father has found support online after he kept information from his "spying" son at the advice of a therapist after legal troubles with his ex-wife.
The now-viral Reddit post, titled, "AITA for not sharing any family news with my son growing up because he'd tell my ex everything, resulting in legal issues," has been upvoted 14,500 times since it was shared on June 1. Redditor @AerieEvening9830 shared the post to the subreddit "Am I The A**hole," and the original poster (OP) revealed his son grew up living with both himself and his ex-wife.
The Institute for Family Studies reported that divorce in the country has been declining, and it hit an all-time low in 2019. An American Community Survey from the Census Bureau reported that of every 1,000 marriages in the past year, 14.9 divorced, and this is the lowest amount in the last 50 years.
"My ex is extremely high conflict and due to her job as a lawyer, used the courts to inflict as much damage on my life as she could," the OP explained. "Which I never did understand because she pushed for the divorce and claimed to have lost feelings for me."
The man actively avoided giving up details to her, and he usually gave her one-word responses via text when it came to things concerning their son. It worked until his son was 11, and the OP discovered he was telling his ex "everything" he heard in his father's home. He was even recording videos and sending them to his mom.
"This continued even after therapy with my son and explaining to him how damaging over-sharing was," the man said. "After wasting thousands of dollars for a pointless legal fight that was started purely because of my son's spying, my wife and I made the decision to no longer share any information with him that could potentially cause issues. The therapist had suggested this approach."
That meant they kept news of things like promotions or even vacation plans and also "extended family" problems from the boy. He would find out about trips while he was on his way to them. Things continued this way until his son turned 19, and the OP's ex remarried, "removing me from her focus."
The OP continued: "My son is now 20 and has found out that we purposely did this for most of his childhood, and he is furious. He says we treated him as an outsider. I apologized profusely, as did my wife. We tried to explain why we did what we did, but he is refusing to give me a chance to resolve this."
The man revealed his son went on a "tirade" to the OP's parents and siblings," calling him a "negligent parent."
But the man's son didn't stop there. "He also told my ex," the OP concluded. "And my ex is now suing me for something completely unrelated and that has no standing, but I'll be wasting thousands on a lawyer anyway. Which is what she wants."
In a comment, the man revealed his ex took him to court to keep him from taking their son on a trip "more than once," adding that she "lost every time, but it still hit me financially."
When asked for the type of information his son would tell his mother that caused legal trouble, the man pointed out their son telling her about a trip they were going on, and the woman would go to court to stop them from taking him on said trip.
"The more frustrating one was when he recorded a conversation between me and my wife about a potential inheritance," the OP added. "Which was nothing but a joke between my wife and I. And my ex felt she was entitled to more child support based on that."
In another comment, the man admitted he felt bad that his son was being "trashed" in many of the comments.
"I do feel for him because he was caught in a divorce that wasn't his fault," the OP said. "And I did feel a lot of guilt for keeping him out of the loop. In my mind, I justified it as at least he got to go on fun vacations with us, and the conflict was minimized."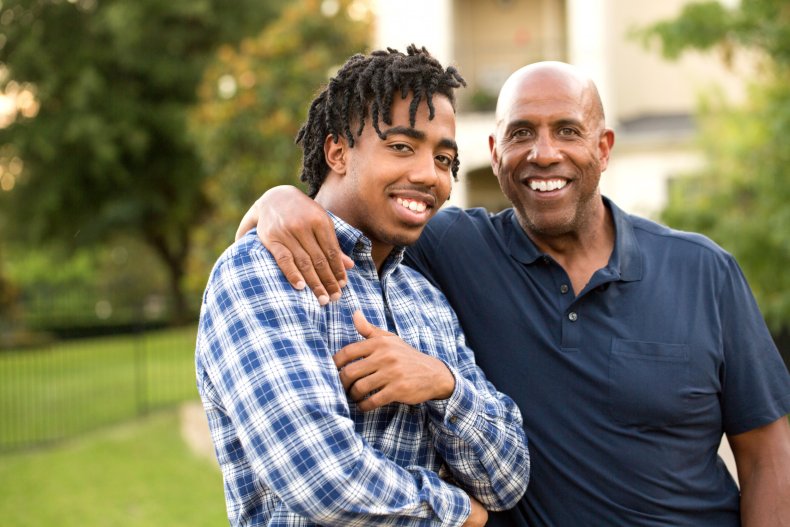 However, the OP admitted he was "realizing" through reading the comments that his son needs to "accept some level of responsibility for what we ended up doing."
He revealed he's "wasted" almost $55,000 to $65,000 in legal fees, and he's going to suggest they speak with a professional together. "But with my ex currently suing me and him not even talking to me, I'm not sure how I reconcile with him," the OP said.
Over 1,700 comments poured in over the situation, and people were backing the OP and slamming his son for his actions. One comment received 25,900 upvotes on its own.
"So your son didn't see him invading your privacy and secretly recording you and telling his mom everything as an issue, but you and your wife not telling him things to protect yourselves makes you horrible people?" a Redditor questioned.
Some people didn't mince words with their harsh criticism of the man's son. "NTA [not the a**hole]," a Redditor said. "Sad you will need to resume embargoing information from spoiled, vindictive son." Another user admitted this is a "rare occasion" in which they'd "advise the parents to go no contact with their own kid."
A Redditor thought the man did what he had to "protect" himself, and it didn't cause conflict at the time with his son. "Your ex-wife is the AH [a**hole] for putting your son in the position to spy on you and causing you to resort to having to hide information from your son," they reasoned.
A Redditor pointed out that if the therapist "recommended that course of action, why not appeal to authority?" They added the OP was acting on a "recommendation, made by a doctor well-acquainted with your son. Like, you have nothing to be sorry about."
While a user didn't mince words, adding, "Respectfully, your son is an AH...there is no other way around it." They also feel the OP already lost the battle.
"I wouldn't have done a thing different (except keeping his a** in the dark a little sooner), so I do not believe you are the AH here," they said. "The fact that he got angry and is now playing [the] victim after his own actions caused this is a total mind f**k for me."
One Redditor thought by the OP's son's reaction now as an adult, "it's clear he was never going to be mature enough to stop his spying, as conflict brought him closer to his mother. You did what you needed to do to insulate yourself from legal trouble."
Newsweek reached out to Redditor @AerieEvening9830 for comment.
This isn't the only viral moment involving parents and their kids. A woman found support for putting a lock on her 10-year-old's bedroom door. A man admitted he can't "stand" his child and he "hates" being a parent. In addition, a mom was upset after her son refused to install an app to track him.