Fury as Dad-of-2 Refuses To Help Heavily Pregnant Wife With Chores: 'Loser'
The internet has blasted a husband and father-of-two for choosing to go to the gym and play video games instead of helping his pregnant wife around the house.
In a viral Reddit post shared on the popular TrueOffMyChest group, which can be seen here, user Throwra-Watercress1 explained she and her husband are high school sweethearts and had their first two children young.
The Reddit user, 21, said she and her 22-year-old partner have two daughters, aged 3 and 1, and that she is expecting their first son.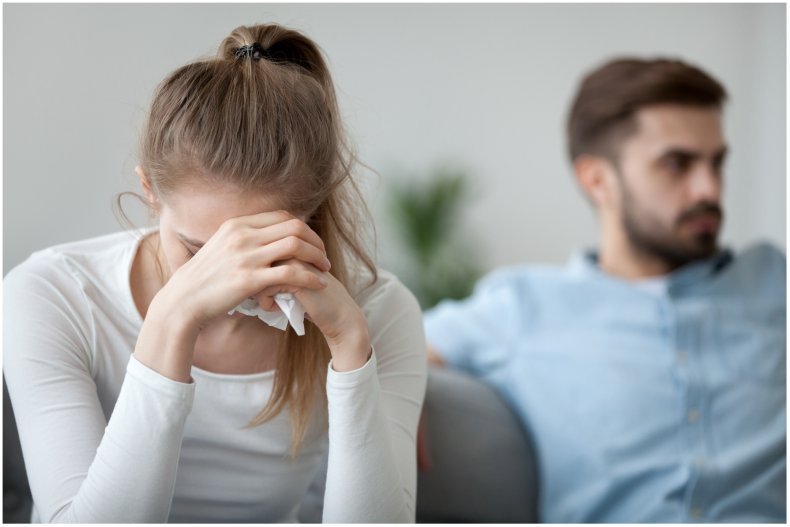 According to the U.S. Census Bureau, the poster goes against the trend of what age women are now having their first child.
Over the last three decades, birthrates have declined for women in their 20s. Fertility rates have declined by almost 43 percent for women between the ages of 20 and 24.
This year, the median age of women giving birth is now 30 years old, which is the highest on record.
In the August 1 post, titled "My husband is a loser," the young mother said: "I feel like I do everything. All the cooking, cleaning, laundry, vacuuming, yard work, childcare any handyman stuff around the house, even car maintenance."
"My husband works in construction and had to wake up early, sometimes work late, work outside in the cold and heat and he comes home exhausted. I understand it's exhausting work, but he doesn't understand that I want a break too.
"The second he comes home, he goes to the gym for an hour, eats whatever I made for dinner, then plays video games until he goes to bed. Sometimes he doesn't even eat dinner with us. I feel like his daughters barely know him and I barely talk to him.
"On the weekends he stays up playing video games, sleeps until noon or later, and just watches TV. Any time I try to bother him about helping me with something he says that he shouldn't have to do anything on his days off.
"Yet any time I ask for help on a work day he says that he shouldn't have to do anything because he worked today. I'm sick of it."
Newsweek has contacted Throwra-Watercress1 for comment.
Since being shared, the post has racked up an impressive 10,300 upvotes and thousands of comments.
Many of those who shared their opinions noted the couple might have had children too young, but said the husband needed to step up for his children.
One Reddit user wrote: "Dude still living the bachelor life but has a whole a** family and thinks his behavior is legit just because he makes money."
Another said: "He's 22. He's doing exactly what a single 22 y/o [year old] would do. The issue here is obvious, they got married and had kids before they were ready, and OP [original poster] has to cope a lot more because she's home all day with this reality. Neither are bad, but he needs to step up for his kids."
While a third posted: "Thinks he's got his mom replacement maybe."
If you have a similar family dilemma, let us know via life@newsweek.com. We can ask experts for advice, and your story could be featured on Newsweek.