Dad Slammed for Forcing Teen To Give Up Her Bedroom for Baby Half-Brother
The internet has slammed a dad after he revealed how he asked his teenage daughter to give up her bedroom for her new baby brother.
Reddit user u/th7242689 shared the story on Sunday on Reddit's popular r/AmITheA**hole forum where it has received more than 14,000 upvotes and thousands of comments.
He shared that his 14-year-old daughter Harper is from a previous relationship and he has full custody. He explained the story: "5 years ago I married my wife Nina, we tried to have a child but couldn't. We went to the doctor and turned out I can't have any more kids due to some complications. We decided to use a sperm donor and the result was a son, Mark, who was born a few months ago."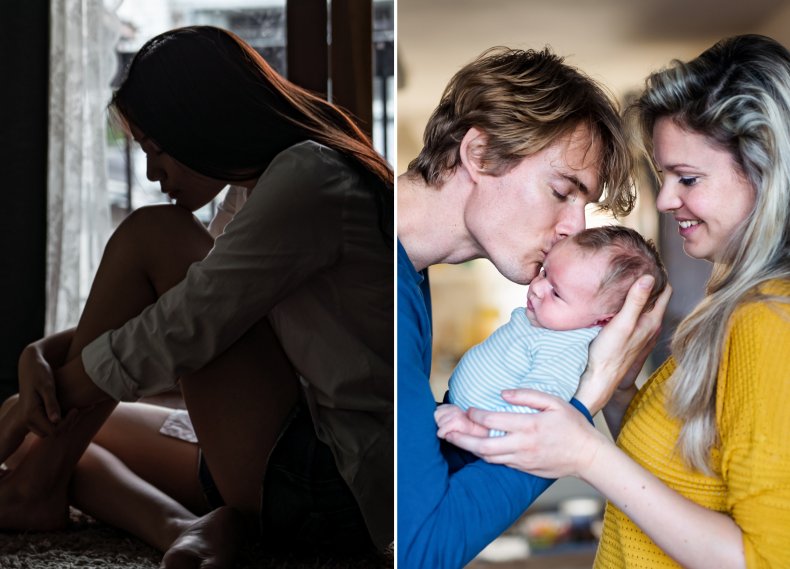 But he revealed that things had not been going smoothly at home: "The problems started when Nina got pregnant. Harper wasn't happy about it. When Mark was born things got worse. Before this Harper and I used to spend two days a week together, just the two of us without my wife, but after Mark was born I couldn't do that anymore. I can't just leave my wife alone for two days with a newborn and Harper has been very angry about it."
With his teen daughter already feeling a little put out, the dad revealed that the main issue started just three days ago: "Nina and I decided to make a nursery for Mark instead of having him in our bedroom for multiple reasons. Our home has four bedrooms, two master rooms at one side and two bedrooms on the other side. One of the master rooms is ours, the other one is Harper's. It was very hard for Nina and me to go to the other side of the home multiple times at night when Mark woke up so I asked Harper to pack her stuff and go to one of the other bedrooms so we could give that room to Mark."
He explained that at first, everything seemed ok. The teen agreed and started packing her room.
"But less than an hour later my brother showed up at our home asking for Harper," wrote the Redditor: "She had called him and asked him to take her. She came out of her room with her stuff, told me 'you can give it to your son now,' and left with my brother. I told her she could only go for one night but it has been three days and she is not back and won't even talk to me."
Revealing that his extended family was unhappy and calling him to side with Harper, he asked the internet for their opinion on the situation asking: "AITA?"
A 2012 study by researchers at the University of Michigan delved into the way firstborn children adjust to a new sibling. The report states that since nearly 80 percent of children in the U.S. have at least one sibling, and the birth of a new baby sibling is a fairly regular occurrence in most children's lives.
The report said: "The birth of a second child is a time of transition for firstborn children and their parents." Referred to as the transition to siblinghood (TTS), the paper explains that the event is often viewed as a stressful life event for all involved: "Many families experience an accumulation of demands including the additional hardships that come along with the transition."
While noting that it is most common for parents and firstborn children to overcome the initial stress, the study concludes that there are many different ways children react to a new arrival and it is not uncommon for firstborns to display disruptive behavior including jealousy, temper tantrums and acute distress.
But Reddit users were not impressed with the dad's behavior, overwhelmingly slamming his actions and siding with the teenage daughter.
One user wrote: "She didn't even fight back, a teenager who doesn't fight back is completely done with your s***." Another Redditor said: "You have continually shown your daughter that your son is more important than her and you have all but ensured that she will hate her brother for years to come because of your actions."
"Having a baby is an adjustment for [the] family," said another user. "You didn't ask Harper to adjust. You told her you won't give her time and then you took her room. Harper did the best thing which was to leave you with your new life."
Other readers shared their confusion at the logistics of the bedroom situation, one commenter said: "You really can't take the 15-20 extra steps? How big can your hallway possibly be?"
"Don't treat your daughter like she's suddenly a second-class citizen because you have another child," wrote another Redditor.
Newsweek has reached out to u/th7242689 for comment.
If you have a similar family dilemma, let us know via life@newsweek.com. We can ask experts for advice, and your story could be featured on Newsweek.