Dad Allegedly Punches Student, Knocks Woman Off Bleachers at High School Gym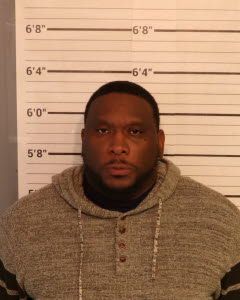 A dad's alleged attempt to go rogue and squash a beef between his son and another student backfired, landing the patriarch in jail and facing an assault rap, authorities said.
Michael McMillan, 44, charged into Craigmont High School's old gym where an after-school program was being held on Oct. 26, according to an Affidavit of Complaint reviewed by Newsweek.
As McMillan attempted to enter through the gym's door, a woman tried to "stop him from entering," according to the affidavit.
McMillan simply "pushed passed [sic] her" and began eyeballing the bleachers.
The dad, according to the document, turned to his son and announced: "Point him out!"
His son obliged, directing his dad to a particular boy in the crowd.
McMillan then allegedly beelined toward the student and allegedly "grabbed him" and slugged him two times in the head "with a closed fist," police detailed in the report.

A woman attempted to protect the student, but the affidavit states that McMillan "knocked her off the bleachers with his arm, striking her nose, causing her to fall off the bleachers, onto the floor, landing on her back."
The report adds that other school staffers soon rushed in and grabbed hold of McMillan, giving his student target a chance to "break away, and run for his safety."
The boy suffered a busted lip, while the woman tossed from the bleachers reportedly suffered a swollen nose and bruises to her body and back.
Both victims picked McMillan out of a six-person photo array and each wished to press charges, the affidavit adds.
The dad was then slapped with two counts of Simple Assault.
Newsweek's attempts to reach McMillan or his family members were unsuccessful. Calls to his defense attorney were not immediately returned by the time of publication.
McMillan was arraigned and released on Tuesday. He is due back in Shelby County's General Sessions Criminal Court on Jan. 15, records show.