Dad Traumatizing Dogs With His Ghillie Suit Melts Hearts: 'Tail Wags'
A man in a ghillie suit trying to scare his daughter's dogs has left the internet in stitches after a video of the pooches realizing who he was despite his costume went viral on social media.
In the video shared on TikTok on Friday by the man's daughter, and dogs' owner, the guy can be seen sitting by a tree in a garden, wearing the camouflage gear, in a bid to scare his daughter's three British mastiffs. But after a few sniffs, the dogs begin wagging their tails because they know it's him, as most users believe.
The hilarious post, uploaded under the username Ijaatan, comes with a caption that says: "Watch my dad absolutely traumatize my dogs with his ghillie suit." Followed by: "The tail wags when they smell him."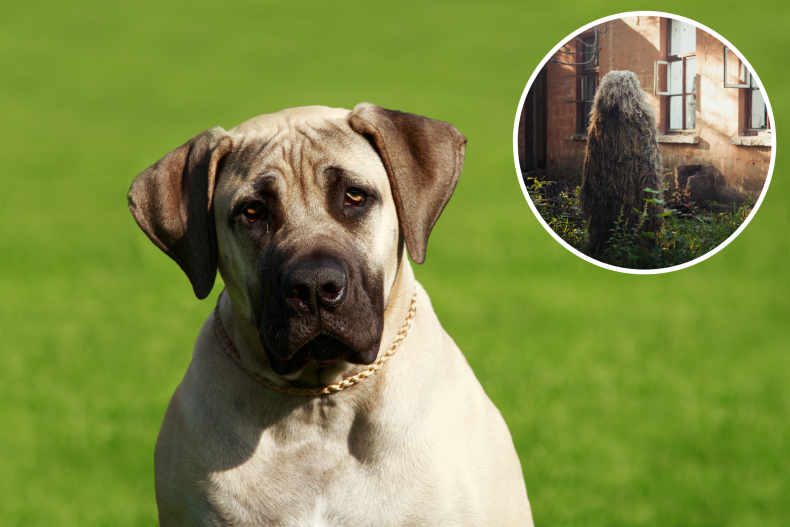 All the users who guessed they knew it was him were probably right. In fact, dogs can recognize you by your scent! According to WagWalking, dogs can recognize their owners before even seeing them, just by their smell, which they easily get attached to as it becomes a comforting scent.
A study compared the emotional reactions of dogs when they were provided with the scent of their owner and then the scent of other people. Researchers who examined the dogs' brain waves when they were exposed to these scents revealed that the response the dogs displayed were the strongest when they smelled their owners or humans that were familiar to them.
The video quickly gained popularity on the platform, receiving over 455,100 views and 18,900 likes so far. One user, Jessy, said: "They are like why is that dad smelling tree moving." And koncept54 added: "Definitely not traumatized lol."
Daniel Stearns457 wrote: "Wow I hope they're ok after this." And Almost-Amish added: "Nah they knew." Gill Beattie said: "Too many wagging tails they knew."
Another user, Agent Q, wrote: "Greatest guard dogs of all time." And colb wrote: "Mine probably would have bitten me." Abbiegail added: "My dogs freak out if I leave a rake in the yard then let them out. they also freaked over their new huge water bowl out there."
Tempestfaery said: "The bushes want revenge!!" And Andy wrote: "They knew who he was or he would be shredded!!" Now Whats Up With That added: "They not buying it."
Newsweek reached out to Ijaatan for comment. We could not verify the details of the case.
Do you have funny and adorable videos or pictures of your pet you want to share? Send them to life@newsweek.com with some details about your best friend and they could appear in our Pet of the Week lineup.