Dad Unimpressed by Wife's Career Accomplishment After 5 Kids Slammed
The internet has dragged a man who refused to cheer his wife's educational accomplishment because it was too minor in his opinion.
In a post shared on Reddit earlier in February under the username u/Throwawaywifeged, the 28-year-old man explained that his wife, who is currently 26 years old, intended to graduate high school the year they got married but "life got in the way," so she ended up postponing.
After being married for seven years, and giving birth to five children, including six-month-old fraternal twins, his wife returned to studying and managed to pass her GED test, which she says is an "essential building block to being able to start a career."
According to Pew Research Center, as of 2021, 37.9 percent of adults aged over 25 in the U.S. held a bachelor's degree, and 10.5 percent had an associate degree. About four-in-ten Americans aged 25 and older had a high school diploma with no further education, and 14.9 percent had completed some college but didn't have a degree.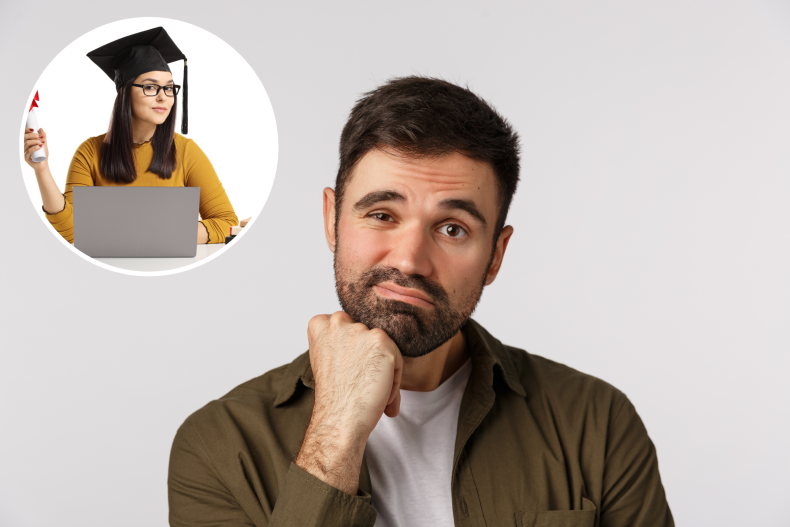 The poster, who has an "investor relations type of role" at his dad's company, didn't make too much of his wife's accomplishment, because "she wasn't exactly graduating from college and wouldn't be for at least 15 years," and he "just didn't see any immediate applicability to her test."
He wrote: "So my wife ended up taking the test and the other day she bounded into the room and said 'Yes! I passed, I passed!' I knew she would since she was doing well on the practice tests and the GED consistently tests on the same rudimentary topics. I did not gripe at her but merely nodded at her and went back to answering an important email from a client."
His wife was upset by his less than enthusiastic reaction.
The OP wrote: "I said that it's great that she passed but I have been telling her that it was easy and no big deal, but if she needed something to prove to herself she knew the high school concepts, I guess the money was well spent."
New York-based licensed clinical social worker Jennifer Bohr-Cuevas told Newsweek that championing your spouse through their endeavors, no matter how big or small, is vital to a marriage.
She said: "When a spouse disappoints us, it can bring up a range of feelings from sadness to anger. Choosing to respond in a healthy way is most important. Express the feelings and reset the marital expectations.
"In this case, the husband should work towards uplifting his wife and supporting her endeavors. Communication about the disappointment could lead the marriage into a better place."
The post, originally shared on the r/AmItheA****** subreddit, quickly gained popularity across the platform, receiving over 9,400 upvotes and 4,300 comments so far.
One user, PilotEnvironmental46, commented: "You're a major [A******]. Your wife is trying to look after five children and found the time to get her GED. Why don't you let her go out of town for a week and see how hard it is to look after five small children[?] Would it have killed you to get up hug her and tell her how proud you [are] of her? Maybe take her out to dinner one night to celebrate? Wow. I hope this isn't indicative [of] the respect you give her the rest of the time."
And 123shelp said: "I'm honestly so sad for this woman. Pregnant at 19, husband gets a job from daddy, she dedicates herself to her kids. After a difficult birth, she takes some time to work on something important to her. Husband goes out of his way to belittle her."
BecausePancakess said: "She feels accomplished because she did something that she put on hold for your lives together. Meanwhile, Daddy handed you a job and you reek of self-importance."
And jrm1102 added: "Your wife was excited, you should be excited for her. This is not a hard concept."
Newsweek reached out to u/Throwawaywifeged for comment. We could not verify the details of the case.
Do you have funny and adorable videos or pictures of your pet you want to share? Send them to life@newsweek.com with some details about your best friend and they could appear in our Pet of the Week lineup.