DADT Protester Lieutenant Choi Is Officially Discharged From Army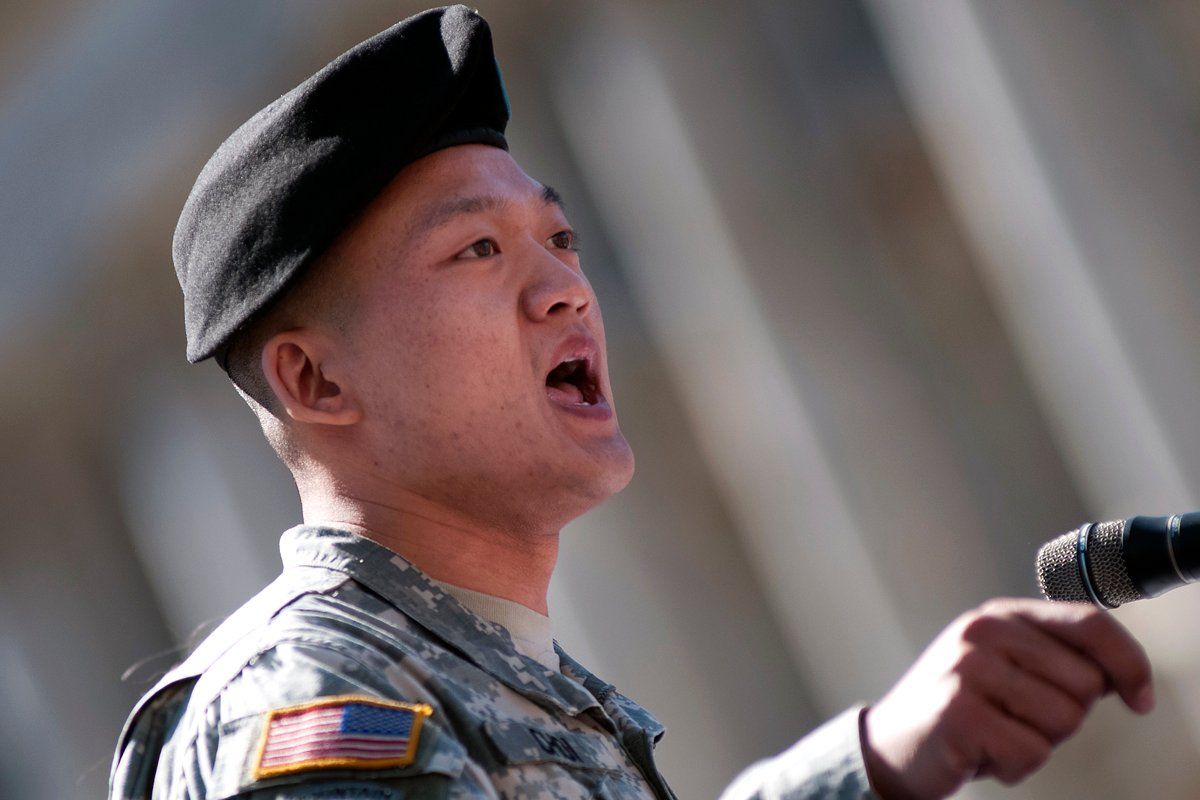 Most people who've been following the civil-disobedience efforts of Lt. Dan Choi may have thought he was already discharged by the Army under "don't ask, don't tell"—the military's 17-year-old ban on gays and lesbians serving openly. After all, he had come out as gay on The Rachel Maddow Show more than a year ago, and his discharge process began shortly after. But Choi had always been in bureaucratic limbo and had yet to receive any official, conclusive word that his days in the military were over.
Earlier this morning he got the call. It was from his commander at the 1/69 Infantry Regiment of the New York Army National Guard, and it was bad news. Choi had also just learned from another source that a letter had been received some time ago, with confirmed receipt by his father in Orange County, Calif., officially declaring him kicked out of the Army. "But my dad and I are not on speaking terms," says Choi, who had not been informed of the letter by his family.
That changed today. "I got a call about five minutes ago, and my commander said he wanted me to hear it directly from him. He was very supportive and said, 'I know this was something you didn't want to hear.' I said to him, 'Thank you for your leadership.' He's been nothing but supportive of me throughout this whole journey." Choi says his commander told him it was clear that "change was in the air," and inquired as to his personal well-being. "He's always been kind enough to ask me how I was doing, whenever we had calls or legal proceedings to go over." Choi says he was told he had received an honorable discharge (his discharge papers can be seen here), and was awaiting the arrival of official documents shortly. "This doesn't change the foundation of what I'm doing. A piece of paper doesn't define my worth or honor, and we have a lot more work to do." He spoke to NEWSWEEK by phone from Las Vegas, where he was recently arrested in a DADT protest action.
Gay City News first reported Choi's discharge on July 20.
Eric Durr, director of public affairs for the New York State Division of Military and Naval Affairs, confirmed that Choi had been honorably discharged under "don't ask, don't tell." Choi's official notification of discharge included the dismissal of one other service member.
Choi knew that things were not looking good. He says that last Friday, as he was about to close on a Washington, D.C., property after getting easily preapproved by a military bank, he was told his loan was rejected "because my income was not stable." He said that right now he is "fully unemployed" and will consider spending time in California. "The fact that the letter came to my dad is a wake-up call to me that I haven't done a lot to hold my parents' hands through all of this. My inclination right now is to go home."
Much of Choi's civil-disobedience efforts, designed to call for the immediate repeal of "don't ask, don't tell," includes him appearing in his military uniform. Now that he is officially discharged, there are laws and regulations limiting his use of the uniform. He says he will have to consider how to use the uniform in the future, but pointed out "I still own it."
Congress is due to vote on legislation that would include an amendment calling for the repeal of "don't ask, don't tell," and the Pentagon is due to complete a study on the effects of repeal in December. There is still no guarantee of a repeal, or an exact date for when it would be implemented, should the law be revoked.
In the meantime, Choi says his activism won't stop, uniform or no uniform. "Of course, I'm going to keep on fighting."