Daft Punk Announce Split After 28 Years Together and Fans Are Mourning the Iconic Duo
Daft Punk have decided to split up, their publicist confirmed to Newsweek. Thomas Bangalter and Guy-Manuel de Homem-Christo formed the group in 1993 and found success early within the emerging underground dance scene, which blended house music with experimental sounds and an indie-rock ethos.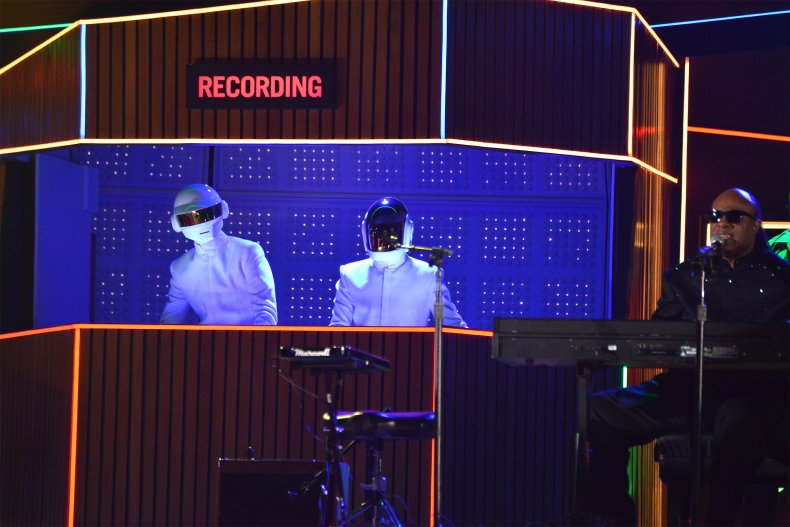 The masked duo released a number of iconic albums throughout their career, including 1997's Homework, 2001's Discovery and the 2007 live record, Alive 2007. Daft Punk actually found a new level of mainstream success in 2013, though, with what turned to be their final studio album, Random Access Memories. That record—a sprawling tribute to vintage disco tunes—featured key contributions from singer Pharrell Williams and Chic guitarist and producer Nile Rodgers, the latter of whom enjoyed a comeback thanks to the collaboration. The four notably created the retro-sounding hit single "Get Lucky."
Random Access Memories won top Grammy Awards in 2014, including Album of the Year and Best Dance/Electronica Album. "Get Lucky" also took home Record of the Year and Best Pop Duo/Group Performance that year.
Though a monstrous commercial and critical success, Random Access Memories proved somewhat divisive among the group's longtime fans. Some felt it was too commercial-sounding, while others missed the group's more uptempo dance rhythms. In the wake of the group's demise, Craig Jenkins, a music critic at New York Magazine, made it clear on Twitter that he is not interested in hearing any such critiques of the band's farewell album.
Long before "Get Lucky," Daft Punk released hit dance singles like "One More Time," "Digital Love" and "Harder, Better, Faster, Stronger." As much as they were known for their recognizable sound that combined elements of house music, funk, techno, disco and synthpop, Bangalter and de Homem-Christo also stood out for their appearance, or rather their lack of one. The two always appeared in public wearing futuristic helmets, leading respected critic and author Steven Hyden to joke on Twitter that perhaps their true breakup occurred after their debut album—anyone could've been under the Daft Punk headgear.
Though Random Access Memories stands as their last official album—with the exception of possible posthumous releases—Daft Punk appears on the Weeknd's 2016 track "Starboy." The song reached number one on the Billboard Hot 100, the first song featuring Daft Punk to do so in the U.S. ("Get Lucky" peaked at No. 2 on the charts.)
Daft Punk announced their split on Monday via a video on their YouTube channel named "Epilogue." Text on it reads "1993–2021." Shortly after its uploading, the group's publicist, Kathryn Frazier, confirmed the breakup to Newsweek, but provided no comment as to why they decided to hang up their helmets.
Fans were quick to react on social media. Posts ranged from sadness to appreciation for the group's musical contributions. Below are just a few examples of fans eulogizing and thanking Daft Punk.
Recent collaborators Pharrell Williams, Nile Rodgers, and the Weeknd have yet to release public statements. Newsweek contacted them individually for comment, but has not heard back as of press time.