Daily Coronavirus Deaths in California Break Previous Record Set in April
California Governor Gavin Newsom announced a record number of deaths attributable to the coronavirus in a single day at a Thursday news conference.
Newsom said 149 fatalities related to COVID-19 had occurred since Wednesday. California reached its previous highest count of fatalities in April when 115 deaths in a 24-hour period were reported. In total, 6,771 deaths related to the coronavirus have been reported in California.
Governor Newsom called the loss of life was "devastating."
"To contemplate what families are going through, those 149 families, the loss of life that they're dealing with as it relates to a loss of someone near and dear and it's just a reminder—my gosh, what more of a reminder do you need—not only in terms of the spread and transmission of this virus, the ubiquity of this virus, not only across the state of California but recently all across this country," Newsom said.
While discussing statistics, Newsom said he thought it was "more responsible" to focus on a 7-day average of statistics because of a lag in reporting from some areas of the state. On average, California has seen a loss of 73 lives per day in the last week.
Newsom also said there had been 7,031 new cases of COVID-19 reported in California on Thursday. As a result of the increase in cases, hospitalization rates are also on the rise.
Over a two-week period, the number of individuals hospitalized rose 44 percent. That works out to 41,000 beds occupied out of approximately 75,000 total beds statewide. Roughly 18 percent of those beds were being used for coronavirus patients.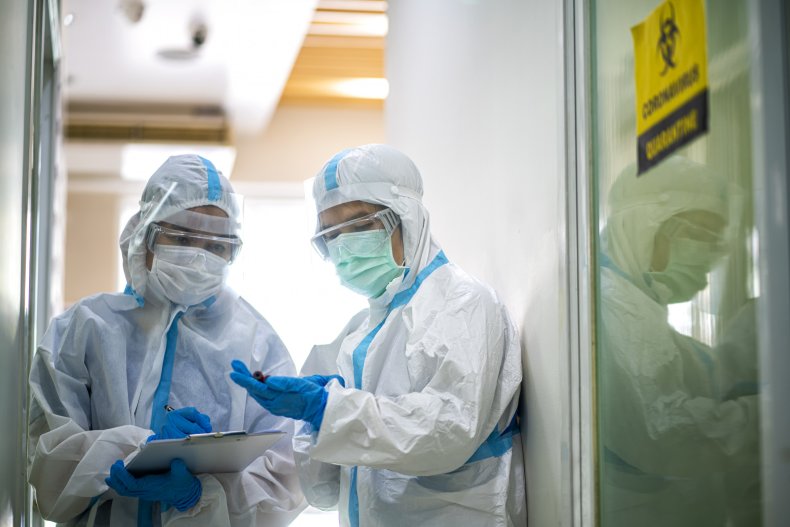 Reported cases of the virus have increased since the state began reopening businesses, including bars, in June. In an effort to curb the spread, Newsom ordered bars in 19 California counties to shut down again.
"We've seen increased activity where people simply aren't able to practice social distancing," Newsom said at a news briefing, emphasizing that the shutdowns were happening in areas where the virus was surging. "It's not an on-and-off switch," Newsom added.
Case numbers are rising in Los Angeles County where 2,465 new cases were reported on Wednesday.
"COVID-19 hasn't gone away," said Los Angeles Mayor Eric Garcetti during a Wednesday briefing. "In fact, it's gotten worse."
Garcetti said that over 50 percent of new positive cases recorded in Los Angeles County came from people between 18 and 40 years old.
If reported cases continue to follow an upward trend, Garcetti said Los Angeles would "likely return to a mandated safer-at-home order."
"This isn't complicated," Garcetti said. "Do not get together with someone who's not in your household. These weeks are absolutely critical. Critical to whether schools open, whether our economy and our economic recovery path continues. These weeks are critical for saving lives."