Daily Global Carbon Dioxide Emissions Fell by 17 Percent at Peak of COVID-19 Confinement Measures in April
Daily global emissions of carbon dioxide (CO2) fell by 17 percent in early April of this year amid the COVID-19 pandemic, compared to daily averages in 2019, researchers have found.
According to a study published in the journal Nature Climate Change, the significant reductions in CO2 emissions during April were the result of government policies—such as lockdowns—that were implemented in order to prevent the spread of the disease.
The researchers said that, at their peak, the reductions in daily global CO2 emissions were "extreme." Nevertheless, the figure only fell to levels that were last seen in 2006.
The lack of real-time global emissions data has presented a challenge for researchers trying to quantify the impact of the lockdown. So in the latest study—the first peer-reviewed paper to be published looking into the effects of coronavirus lockdowns on CO2 emissions—the scientists made estimates using data sources, such as daily electricity use and mobility tracking services.
For their research, a team led by Corinne Le Quéré from the School of Environmental Sciences at the University of East Anglia, U.K., examined data relating to six economic sectors—power, surface transport, industry, public buildings and commerce, residential and aviation—for 69 countries responsible for 97 percent of global CO2 emissions.
"We used data that indicated how six sectors of the economy were affected during the pandemic as a function of the level of confinement—for example, traffic changes were used to say how much emissions from transport changed," Le Quéré told Newsweek.
"Then we established the level of confinement for each country, and how much each country emitted in the six sectors in a typical year. This information taken together allowed us to do the global estimate," she said.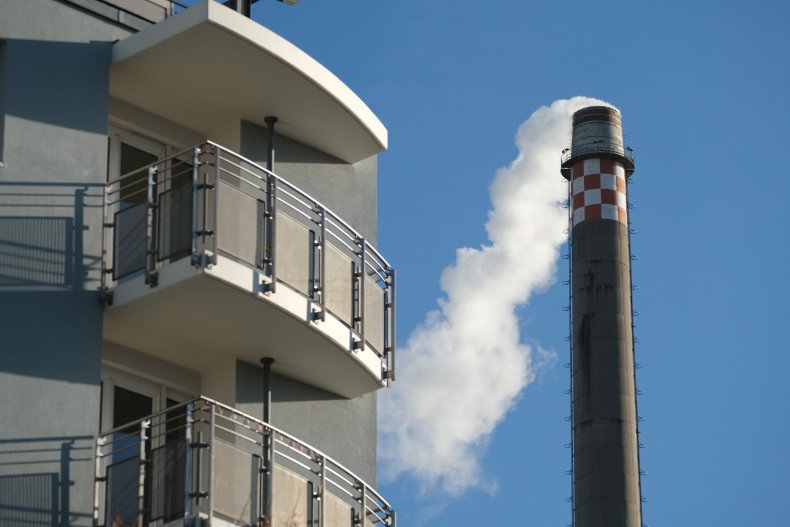 With populations confined to their homes, and transport and industry grinding to a halt, the team found that the highest drop in emissions occurred on April 7, with a fall of 17 percent compared to the 2019 daily average.
Surface transport—car journeys, for example—accounted for the largest part (43 percent) of the decrease on April 7, followed by industry (25 percent,) power generation (19 percent) and aviation (10 percent.)
"The drop in daily emissions was a lot larger than we thought. Also the contribution from road transport is huge," Le Quéré said.
Furthermore, the researchers found that emissions in individual countries decreased by 26 percent on average.
"For individual countries, the maximum daily decrease averaged to 26 percent. The maximum daily decrease did not occur during the same day across countries, and hence the country decreases are more pronounced than the global maximum daily decrease," the authors wrote in the study.
In the first four months of the year, emissions fell by a total of 1,048 million tonnes (MtCO2) globally, according to the study. The biggest falls were seen in China, the United States, Europe and India with reductions of 242, 207, 123, and 98 MtCO2 respectively.
In addition, the researchers used their findings to predict what the decline in total emissions could be for the whole of 2020, although there are significant uncertainties in these figures.
They estimated that if pre-crisis activity levels return by mid-June, there could be a 4 percent total average yearly decline compared to 2019 by the end of the year. However, if some restrictions remain in place worldwide until the end of 2020, that figure could rise to around 7 percent.
Reductions in yearly carbon emissions of 4-7 percent are roughly comparable to the falls required every year to meet the climate objectives set out in the Paris Climate Agreement, in order to limit warming to 1.5 degrees Celsius above pre-industrial levels.
However, the researchers warn that the recent drastic falls are likely to only be temporary.
"The drop in emissions we are seeing this year is unlikely to last because it is not supported by structural changes. However the decisions that are taken now to rebuild the economy post-COVID could be extremely important to set in motion the changes we do need," Le Quéré said.
"Opportunities exist to make real, durable, changes and be more resilient to future crises, by implementing economic stimulus packages that also help meet climate targets, especially for mobility, which accounts for half the decrease in emissions during confinement," Le Quéré said in a statement.
"For example in cities and suburbs, supporting walking and cycling, and the uptake of electric bikes, is far cheaper and better for wellbeing and air quality than building roads, and it preserves social distancing."
She said that the extent to which world leaders take climate change into account when planning the economic response to the end of the pandemic in their respective countries will influence the level of global emissions for decades to come.
"The drop in emissions is substantial but illustrates the challenge of reaching our Paris climate commitments. We need systemic change through green energy and electric cars, not temporary reductions from enforced behavior," Rob Jackson, a co-author of the paper from Stanford University and Chair of the Global Carbon Project said in a statement.
Chris Poulsen, the associate dean for natural sciences and a professor of earth and environmental sciences at the University of Michigan's College of Literature, Science, and the Arts, who was not involved in the latest paper, told Newsweek that emissions in the U.S. are likely to increase again as the crisis subsides.
"All the projections indicate that the U.S. economy will grow back in 2021. The U.S. Energy Information Administration is forecasting a reduction in fossil fuel use for 2020. But then they're also expecting for most of it to pick back up in 2021 and for carbon emissions to actually increase. I think it's important for people to know that any reductions we see now are likely short term impacts," he said.
"One thing that could be interesting is if we change the way we do business; we have a real opportunity to do something different and to reduce our emissions. However, I'm not especially optimistic because I see what our government is doing in terms of relaxing environmental regulations. So the question is, where do we go? Do we create a world where we learn the lessons from COVID-19 and reduce our international travel, do more telecommuting, etcetera? Or do we go back to the way we were and, in addition, relax our environmental regulations so we're actually worse off?"
This article was update to include comments from Chris Poulsen.