'Everybody Is a Suspect': Daily Life in Freetown, Where There Are 100 New Ebola Cases a Week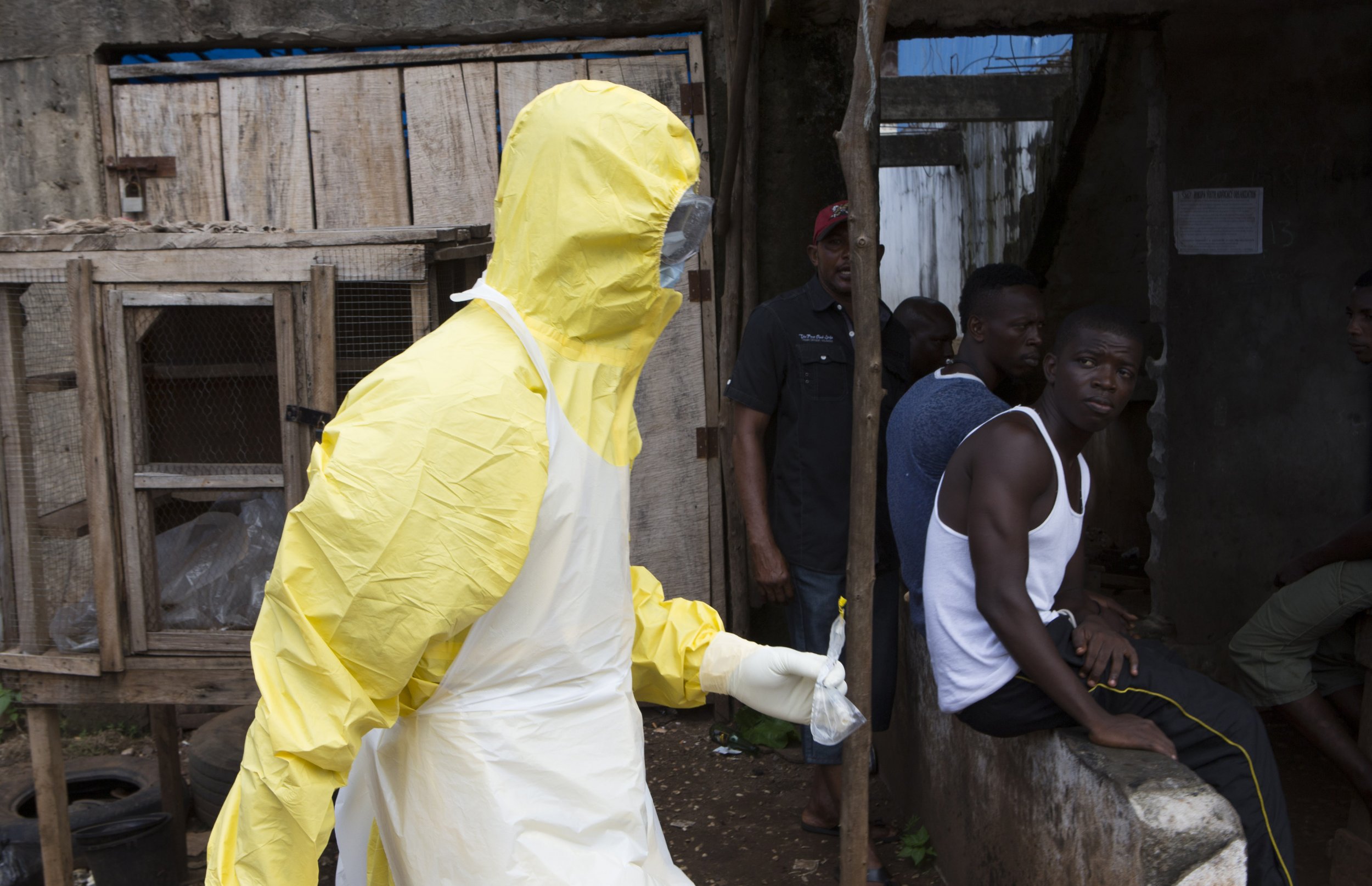 As the Ebola crisis in Liberia appears to be declining, the outbreak in neighbouring Sierra Leone is getting worse. The charity African Governance Initiative (AGI) has warned that the number of Ebola cases in the country is rising "frighteningly quickly", up to nine times faster than the rate of transmission in September. Resources are stretched in the small West African state. The World Health Organisation has been able to make only 29% of their planned 1,200 Ebola Treatment Centre beds available to victims, and are succeeding in isolating just 37% of Ebola cases, well short of their target of 70%.
According to WHO reports, the rising figures have been "largely driven by intense transmission in the capital of Freetown", which accounted for 115 new confirmed cases last week alone and "remains one of the worst affected cities in this outbreak".
In Sierra Leone's capital, the Ebola epidemic has affected every aspect of social and economic life. Patricia Condeh, a resident of the city and representative of the humanitarian charity Tearfund, says that hygiene routines have shifted enormously in response to the outbreak. "People have been doing a great deal of handwashing - we wash our hands up to our elbows as often as possible. If you go to town, as soon as you come in you have to have a bath, because you don't know who you may have touched." According to Condeh, city residents have phased out sleeveless clothing for fear of physical contact, instead wearing long-sleeved shirts and blouses, often with clean gloves. 'Everybody is a suspect' has become a popular slogan in Freetown.
Condeh says that the community life has completely shut down, with public gatherings curbed in the wake of the epidemic. "Parties are frowned upon, there are no bars or nightclubs, and eating in public places has ended too as people are keeping to themselves and their families."
"There used to be a lot of overcrowding on public transport, but this no longer the case. The police have even insisted that taxis have no more than two people at the back and one in the front. The government has also been working to try to downsize public markets, where there used to be a lot of people selling things."
Winnie Romeril, a Freetown-based WHO representative says that the Ebola outbreak has "created a space between people", a change which has been especially jarring in Sierra Leone, which she describes as an "unbelievably friendly" society. "These are warm, friendly, generous people who love to hug and shake hands. But now we all just keep our hands in our pockets a lot... No one will even share pens or phones, unless you disinfect them first."
Romeril believes that one of the greatest obstacles health officials face is overcoming public perceptions of the disease and encouraging Sierra Leonians to abide by health regulations, particularly the safe burial of bodies. Romeril says that contact with infected corpses accounts for almost 40% of Ebola transmissions.
Yet altering public opinion is proving difficult, she says. "It's like peeling back layers of an onion - there's a stigma attached to the virus that people don't want; they fear being quarantined, losing friends, or potentially stigmatising their whole village." A common practice in Sierra Leone is for relatives to hide the bodies of Ebola victims, Romeril says, in order to bury them according to local customs. "There are many incentives to hide bodies - personal and community ones," she said.
Romeril cites the testimony of one Ebola survivor who contracted the disease after coming into contact with the infected body of his deceased uncle. The man had bribed medical officials to let him and his brother take the body home "to give it proper burial". As a result, almost everyone in their family became infected with Ebola and several of them died. Romeril adds that the illegal procuring and burial of bodies is a regular occurrence. "It's not uncommon to hear of people driving round with bodies on motorcycles during the night," she says.
Activists in Sierra Leone are now trying to work with religious and political leaders to develop counter-narratives to convince people that it's not against religion to call a 'burial team'. Romeril mentions one Imam who has taken a verse from the Qu'ran which loosely translates as "you shall not move your hand towards destruction", and interpreted it as a method of preaching the importance of avoiding contact with infected bodies. "What we need now is more leaders saying that, yes, we can suspend our normal rituals and it isn't going to get in the way of religion," Romeril adds.
As well as social changes, the economic impact of the outbreak has been severe, with many businesses closing down. Schools have been closed since September and mining and farming, the country's key industries, have come to a grinding halt. The World Bank has estimated that the Ebola outbreak will cost Sierra Leone nearly 9% of its gross domestic product in 2015. Those still in work operate from home wherever possible, while workplaces have adapted their routines to minimise contact. "Even the work stations in my husband's office have been rearranged so that people sit further away from each other," Patricia Condeh says.
Even football, by far the most popular sport in Sierra Leone, has been affected. "There are no matches anymore. Even the children have stopped kicking a ball around with each other on the streets," says Condeh.
"Everybody's talking about Ebola in Freetown - it's all over the radio, and you think about it before you go to sleep at night - it's like everything else has been suspended, people are so afraid."
Yet Winnie Romeril says that one industry - perhaps surprisingly - is still thriving in the city: the hospitality business. "Hotels are doing a booming trade", she said, "catering for all the medical and humanitarian delegates who've descended on Freetown."