'Daily Show' Goes After Fox News With Their Latest Twitter Poll
Comedy Central's The Daily Show asked viewers to vote on their favorite screenshot from a Fox News broadcast that's aired during the pandemic.
The Trevor Noah-hosted show asked its viewers which of four screenshots was most iconic. Fans' options included: a poll from Lou Dobbs Tonight asking how President Donald Trump's performance has been during the coronavirus pandemic ("Superb", "Great", and "Very Good" are the options),Trish Regan with next to a box that reads, "Coronavirus Impeachment Scam," a shot from Hannity showing zero death toll from the virus, and Laura Ingraham's "Gratitude and Perspective" for "Trump Holding Nation Together During Outbreak."
The final results of the poll dubbed Dobbs and his "Very Good" poll victorious receiving 48 percent of the votes, Sean Hannity's "0 Deaths" came in a close second with 35 percent of the vote.
Regan and Ingraham trailed with 11 percent and six percent, respectively. Also, in case you were wondering about the results of Dobb's poll, "Superb" won by a landslide with 79 percent of the votes on Twitter. "Great" and "Very Good" only received about 12 and nine percent, respectively.
Naturally, the results of the poll sparked debate among fans on par with pairings like LeBron James and Michael Jordan or Beatles versus Stones.
Other fans jumped in with their own suggestions, including a poll that another Twitter user responded was an "aggravated assault on statistics." Another person shared screenshots of one of Trump's addresses, where the ticker below the president uses a colon instead of a comma, which turns the tone of the press conference more accusatory. Someone else nominated another ironic shot of Hannity.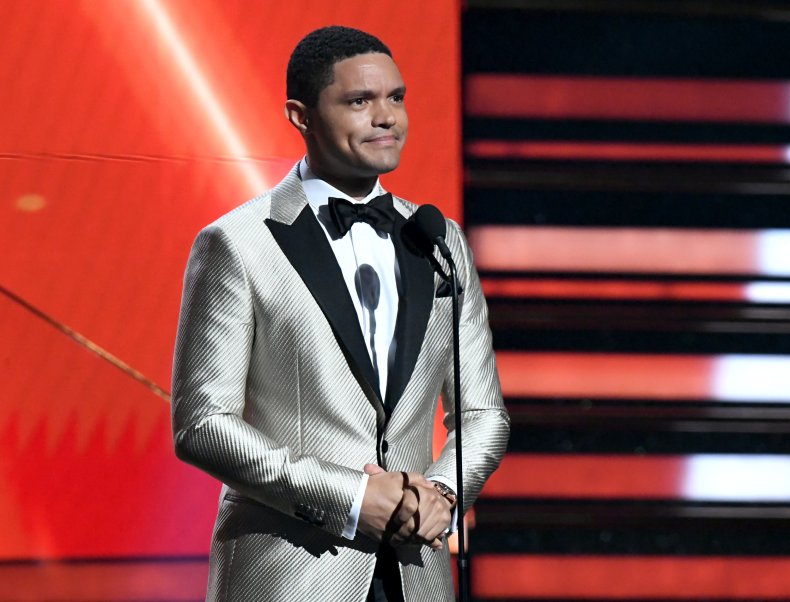 Like many TV hosts, Noah has been broadcasting The Daily Show from his own home, calling it "The Daily Social Distancing Show." In a broadcast this week, Noah hilariously discussed some various coronavirus conspiracies including that it originated from bat soup, that it was a weapon designed to takedown the elderly, and that it was caused by 5G.
Before sarcastically showing the theory's ridiculousness, Noah hilariously showed his support for the 5G theory. "Burn those cell phone towers down!" We gotta put an end to coronavirus," he cheered. "And all group chats!"
Noah said that even if the theories had been disproven, he'd still take preventative measures like not ordering the spicy bat sandwich from Popeyes. "I also decided I'm not going to get old-it's just too risky," he quipped. Noah also said that his days using a cell phone were done, and he was going back to using a pager. "Yeah, I know that makes it harder to send nudes, but I'm going to do my best," he said.