"Daily Show" host Trevor Noah said President Donald Trump reminds him of an African dictator in an interview with CNN's Brian Stelter on Sunday.
Noah pointed to recent news about Trump's personal lawyer receiving payments from companies as evidence that the president appeared to act like dictators in the African continent. The comedian, who hails from South Africa, has previously compared the president to African dictators on his show on Comedy Central.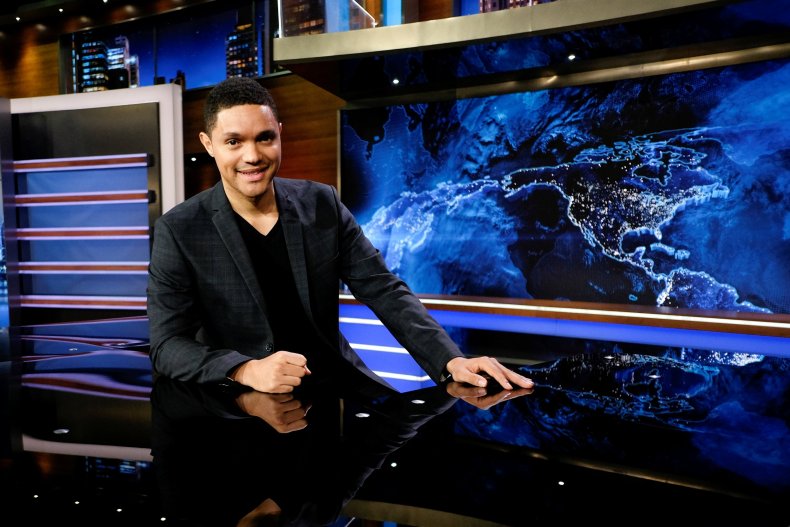 "I've said from the very beginning that Donald Trump reminds me of an African dictator and if you know anything about African dictators, the first thing that you have to do is follow the money and you follow the money with the closest people to them," Noah said on "Reliable Sources."
Noah said people should "watch for the money" being given to or spent by Trump's family members and business associates. "I would have been disappointed had we not found out or had Michael Cohen not done this," he added, according to The Hill.
Sunday's remarks were not the first time Noah compared Trump to African leaders. In an October 2015 segment of "The Daily Show," Noah said that the then-candidate reminded him of former South African President Jacob Zuma and former Gambian President Yahya Jammeh, both whom left office amid allegations of corruption.
A year later, Noah reiterated his belief that Trump was the American version of an African dictator. Following Trump and Democratic nominee Hillary Clinton's second debate, Noah took note of Trump threatening to put Clinton in jail if he won the election.
"Watching Trump yesterday reminded me of something. Uh, you know, a year ago when I first started hosting this show…I mentioned a year ago that Trump reminded me of an African dictator," Noah said in the October 2016 episode. "And last night reminded me of why I said that. Because jailing your opponent is straight out of the African dictator playbook."
Noah continued: "Yeah. The more you look at it, folks, it seems Donald Trump has stolen all the worst parts of Africa. He thinks like an African dictator. He scams money like a Nigerian prince. He threatens his opponents like an Egyptian leader. And he constantly spews s**t out of his mouth like he has Ebola."
On Sunday, Noah said that news about Cohen's financial agreements "is following the script, this is what you were meant to be doing as the person who rolls with Donald Trump. You were always going to be finding a way to swindle cash."
Following reports that Cohen paid off adult film actress Stormy Daniels over an alleged affair with the president, it was revealed that he also had been paid by several companies for consulting services.
One of the major companies, a private equity firm called Columbus Nova, claimed it hired Cohen for consulting on real estate and other investments, NPR reported. The company has attracted attention because of its connections to a Russian oligarch with links to the Kremlin.
Noah added in his interview that it was now time to find out if Trump knew about the payments and whether the companies truly got nothing in return.