Daily Wire Host Reviewing 'The Witcher' Was 'Put Off' By Woman Fighting Like a Man: 'Zero Women Can Fight With A Sword'
Conservative commentator and novelist Andrew Klavan criticized fictional Netflix show The Witcher Thursday for featuring women with swords, insisting "zero women can fight with a sword."
During a segment about feminism on the latest edition of his The Andrew Klavan Show podcast on right-wing media outlet The Daily Wire, it became clear that The Witcher's fantasy portrayal of a queen adept at sword fighting struck a nerve with Klavan. The erstwhile mystery author seemed particularly upset that the character used a sword in a way he considered to be "like a man."
"Immediately I was put off by the fact that there's a queen in this who fights like a man," said Klavan. "There's a couple of scenes where women fight with swords. And I just hate these scenes, because no women can fight with swords. Zero women can fight with a sword."
Klavan suggested that he felt it was impossible for any woman to successfully fight a man with a sword because all men are "much, much, much" stronger than any woman. However, he did allow for the possibility of a woman with a sword potentially killing an unspecified person without sword-fighting knowledge.
"What I mean by that is in a situation where you are fighting men who are used to fighting with swords, you are going to get killed if you are a woman fighting with a sword 100 percent of the time," Klavan claimed. "A woman with a sword could kill somebody who doesn't know how to fight with a sword. But in a war situation, where you are swinging this five to ten pound sword again and again and again, against much, much, much stronger men, they are going to kill you."
The host was also disgusted by the character because he found her to be too much like "a man," particularly noting the manner in which the character "rips into the meat."
"This queen is... she's a man," said Klavan. "They should have made the character a man. She's a man. She's, uh, gross. And she swaggers around, and she rips into the meat and tears it with her teeth and, you know, and then... and curses people out. She's a man."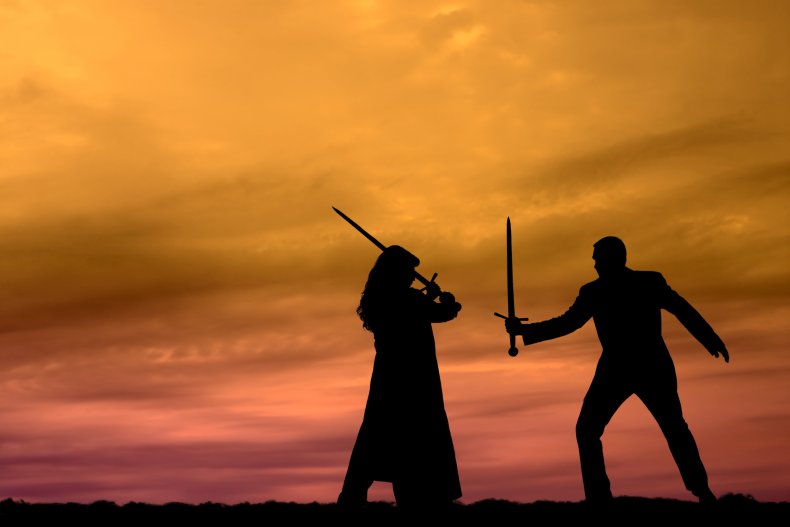 While he admitted to not having read the popular series of books the show is based on, Klavan bemoaned that The Witcher was attempting to make a "feminist statement" by including the character, based on his opinions about the proper behavior of women.
"So, like, it was this feminist statement, and I'm like, 'Please, give me a break,'" complained Klavan. "And I don't know if that's in the books, but I just thought give me a break, this is not the way any woman behaves."
Klavan began a successful career as a novelist before turning to the world of conservative commentary. His book Mrs. White, which he wrote using the pseudonym "Margaret Tracy," won the 1984 Edgar Award for mystery novels.