Dairy Queen Employee Flips Off Drive-Thru Customer After He Asks Her to Wear Mask
A Dairy Queen supervisor in Medford, New York, gave a drive-thru customer two middle fingers after the patron realized she was not wearing a face mask and then requested a refund.
The customer recorded the interaction in a video that went viral on social media earlier this week. Local news outlets that spoke to him after the incident identified the customer as Brandon Trotta. His original video had been deleted from Facebook by Thursday morning, but several broadcast stations and Twitter users have reposted it themselves.
Recounting the experience to NBC New York on Wednesday, Trotta said the incident began when he noticed the employee who prepared his order did so without a face mask. Trotta told NBC that he became more concerned after asking to speak to the location's supervisor, who was not wearing a mask either.
"Put your mask on before you get your employees sick," Trotta can be heard saying to the supervisor in the video, which was recorded on July 4. Speaking to NBC New York on Wednesday, Trotta said the supervisor told him she didn't need a mask because she was not dealing with the public."
Franchise owners of the Medford Dairy Queen have since released a statement confirming that the supervisor was suspended and removed from her managerial role. Newsweek obtained their statement from Dairy Queen's corporate communications office on Thursday.
"We're sorry this incident occurred. It never should have happened and we take full responsibility," the owners wrote. "The behavior of this employee is unacceptable, and all employees are required to wear masks in our restaurant at this time unless they have a medical condition that prevents them from doing so.
"We immediately suspended the employee who made the lewd gesture, retrained our employees about proper mask wearing, and conducted an internal investigation," the statement continued. "Upon completing the investigation, we demoted the employee from her manager role and are providing her with additional training."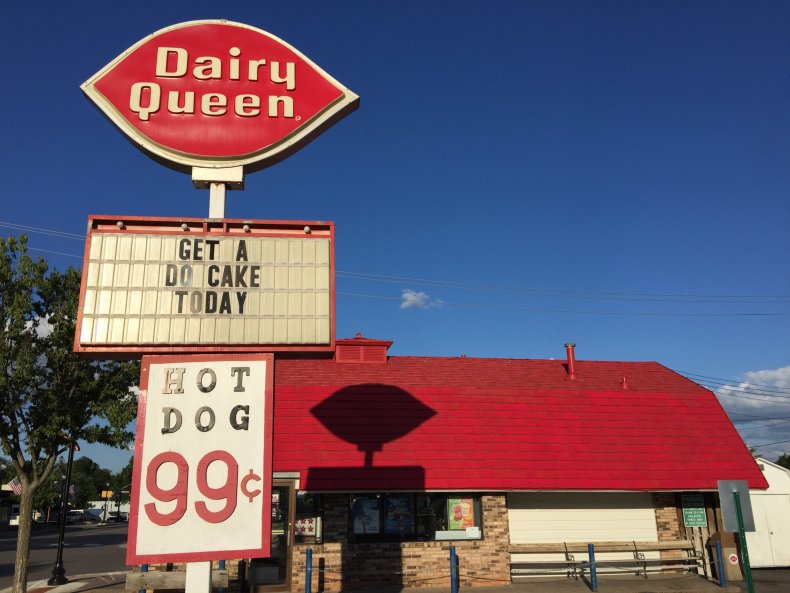 The New York State Department of Health's guidelines for restaurant reopening procedures require employees to wear face coverings "at all times" throughout their work shifts, in addition to maintaining 6 feet of distance from one another.
The requirement aligns with recommendations from the U.S. Centers for Disease Control and Prevention, which note that use of face masks may reduce transmission of the coronavirus, particularly when used in settings where adequate physical distancing is not possible.