Daisy Coleman: Tributes Pour In For Dead Netflix Documentary Star
Daisy Coleman, the activist and sexual assault survivor whose story was told in the 2016 Netflix film Audrie & Daisy, has died by suicide at the age of 23, as confirmed by her mother on Facebook.
WARNING: This article contains references to rape that some may find distressing.
Her case had gained national attention after she was raped at a party at the age of 14, then ostracized by her community. Meanwhile, the charge was dropped against the man she accused.
Her story was told in the 2016 documentary Audrie & Daisy alongside that of Audrie Pott, who died by suicide in 2012 after being sexually assaulted and then bullied.
After her ordeal, Coleman set up SafeBAE, an organization dedicated to educating students about healthy relationships and how to prevent sexual assault.
In a Twitter, thread, SafeBAE led the tributes to Coleman. They wrote: "As press are beginning to reach out, we wanted to release a statement so that we can all remember her for the legacy of her work...
"As all of our supporters know, Daisy has fought for many years to both heal from her assault and prevent future sexual violence among teens. She was our sister in this work and much of the driving force behind it. We were not just a non-profit team, but a family.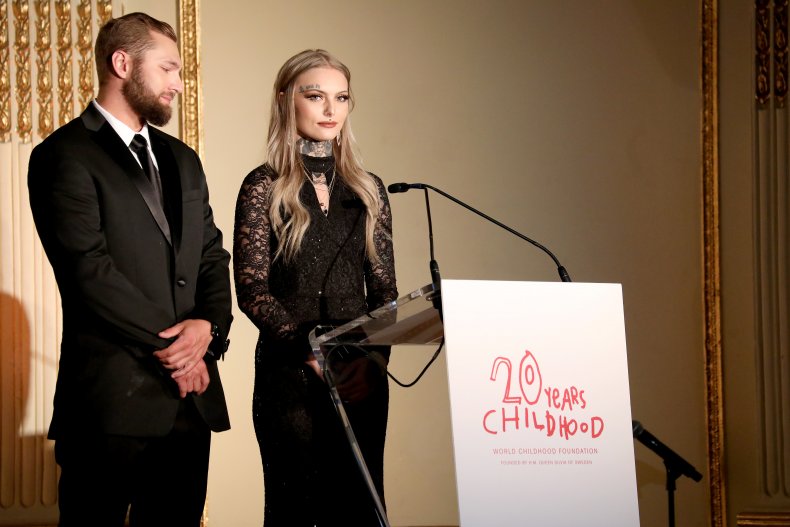 "We are shattered and shocked by her passing from suicide. She had been in EMDR therapy for 2 years, working on her triggers and healing from the many traumas in her life. She had many coping demons and had been facing and overcoming them all, but as many of you know, healing is not a straight path or any easy one. She fought longer and harder than we will ever know. But we want to be mindful of all the young survivors who looked up to her. Please know that above ALL ELSE, she did this work for you."
Coleman also worked as a tattooist under the name Cat Coleman, where she became known for tattooing survivors of suicide and sexual assault.
One of the people she tattooed was Amanda Knox, who spent four years in prison before being acquitted for the murder of Meredith Kercher. She wrote on Twitter: "I'm devastated to learn of the recent death of Daisy Coleman, one of the founders of @safe_bae. She was so kind & thoughtful, even as the mob sought to erase her after her assault. She imprinted herself on me, literally, tattooing this semi-colon on my hand.
"It's the symbol for suicide survivors. Daisy was brave, a fighter for others more than for herself. I hope she's remembered for the good she did, & not the bad done to her."
Also paying tribute was journalist Mandy Stadtmiller, who ghost-wrote the xoJane article that brought Coleman's story to international attention. She wrote: "Shocked, floored and heartbroken for the entire Coleman family. After getting to know her, Daisy trusted me enough to let me ghostwrote her story for xoJane with her words. She was a true light. We must we have to stop destroying the world's lights with our darkness."
Saddest of all, however, was Daisy Coleman's mother Melinda Coleman. She wrote on her Facebook page: "My daughter Catherine Daisy Coleman committed suicide tonight...If you saw crazy messages and posts it was because I called the police to check on her. She was my best friend and amazing daughter. I think she had to make it seem like I could live without her. I can't. I wish I could have taken the pain from her! She never recovered from what those boys did to her and it's just not fair. My baby girl is gone."
Those affected by the issues raised in this article can contact the National Sexual Assault hotline at 800-656-HOPE.
If you have thoughts of suicide, confidential help is available for free at the National Suicide Prevention Lifeline. Call 1-800-273-8255. The line is available 24 hours every day.