Dak Prescott Has Huge Pressure to Carry Cowboys Back to Their Glory Days
The end credits on one of the most discussed NFL sagas of recent years were finally played Monday, when the Dallas Cowboys and Dak Prescott agreed on a multi-year extension.
The Cowboys signed their star quarterback to a four-year contract worth $160 million, which will make him the second-highest paid player in the NFL behind Patrick Mahomes both in terms of total value of the contract and average annual salary.
The Cowboys are yet to formally disclose the terms of the deal, but ESPN and NFL Network both reported the contract includes $126 million in guaranteed money and a signing bonus of $66 million, the highest in NFL history.
Dallas used the franchise tag on Prescott last year and could have done so again this time out at a cost of $37.7 million, had they not reached an agreement. Instead, they saved $15.5 million in cap space.
While the Cowboys have now secured Prescott's services for at least four more years, it would be premature if not downright misguided to paint them as the winners of the deal.
Similarly, after three years of betting on himself, Prescott has the financial security he craved but most now deliver.
Writing in The Athletic, Mike Sando argued the Cowboys and franchise owner Jerry Jones were "steamrolled by Prescott" and his agent in the negotiations, suggesting Dallas had "misplayed the situation throughout."
Prescott didn't lower his demands and, crucially, ensured two key caveats—a no-trade clause and a no-tag provision.
The former means Prescott will be able to nix potential destinations should the Cowboys decide to trade him, while the latter prevents Dallas from using the franchise tag again when he becomes a free agent in four years.
"Jones wasn't initially willing to go all-in on a long-term deal. Prescott wasn't willing to settle for a team-friendly structure," Sando wrote.
"Here we are in 2021, with the Cowboys entering into a nearly top-of-market deal with a player they have seemed to like but not love."
NFL.com columnist Judy Battista noted the timing and length of the deal are particularly convenient for Prescott, who could be looking for one final bumper payday by the time he approaches his 31st birthday.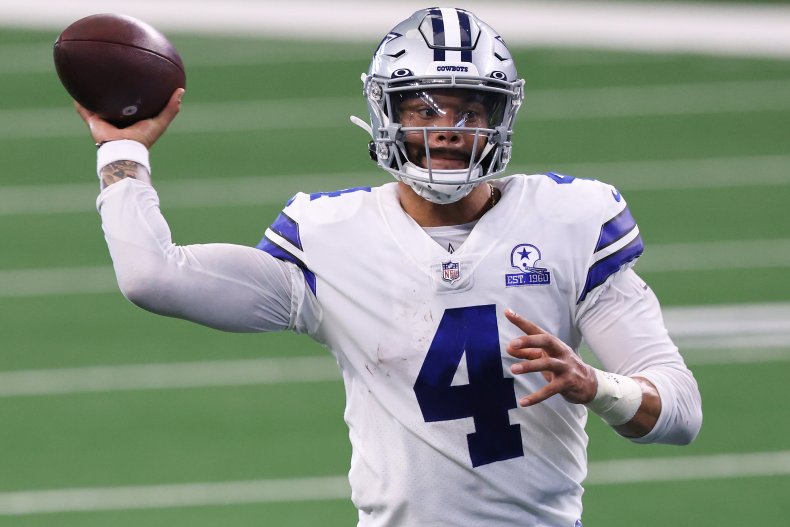 "That [the four-year deal] gives Prescott a fortuitously timed second bite at the free agent apple right when the new media deals which are being negotiated now and which could command double the rights fees from the television networks will be exploding team coffers," she wrote.
Prescott's lucrative new deal comes with a heavy burden of expectations. The Cowboys have missed the playoffs in three of the last five seasons and have retained a healthy core of skill players ahead of next season which, in theory at least, gives their quarterback all the weapons he needs to turn Dallas into a Super Bowl contender once more.
Writing in the Forth Worth Star-Telegram, Mac Engels argues Prescott's new contract will alter the way he's considered, adding the fourth-round pick of the 2016 draft is "no longer a cute story" but the man tasked with ending the Cowboys' 26-year wait for a Vince Lombardi Trophy.
"If Dak thought being the starting quarterback of the Dallas Cowboys came with stupid expectations and pressure before this season, it will not compare now that he got his millions," Engels said.
"Remember, million-dollar contracts make players immediately better. As of Monday, Dak should be Patrick Mahomes Lite."
ESPN's Todd Archer echoed the point, saying it was time for Prescott to deliver.
"Cowboys quarterbacks are judged by championships," he wrote.
"Prescott's contract comes with high expectations. He has already performed above his draft position. Now the expectations are significantly higher: to win a Super Bowl."
Last season, Prescott was on track to obliterate several NFL's passing records before suffering a season-ending leg injury in Week 5 against the New York Giants, which derailed the Cowboys campaign.
Prescott threw for 1,856 yards with nine touchdowns and four interceptions in five games as the Cowboys scored at least 31 points in four of their first five games, before managing just one touchdown in the first three games they played without their star quarterback.