Cowboys QB Dak Prescott's Dog Seized for Biting Neighbor and Sending Her to Hospital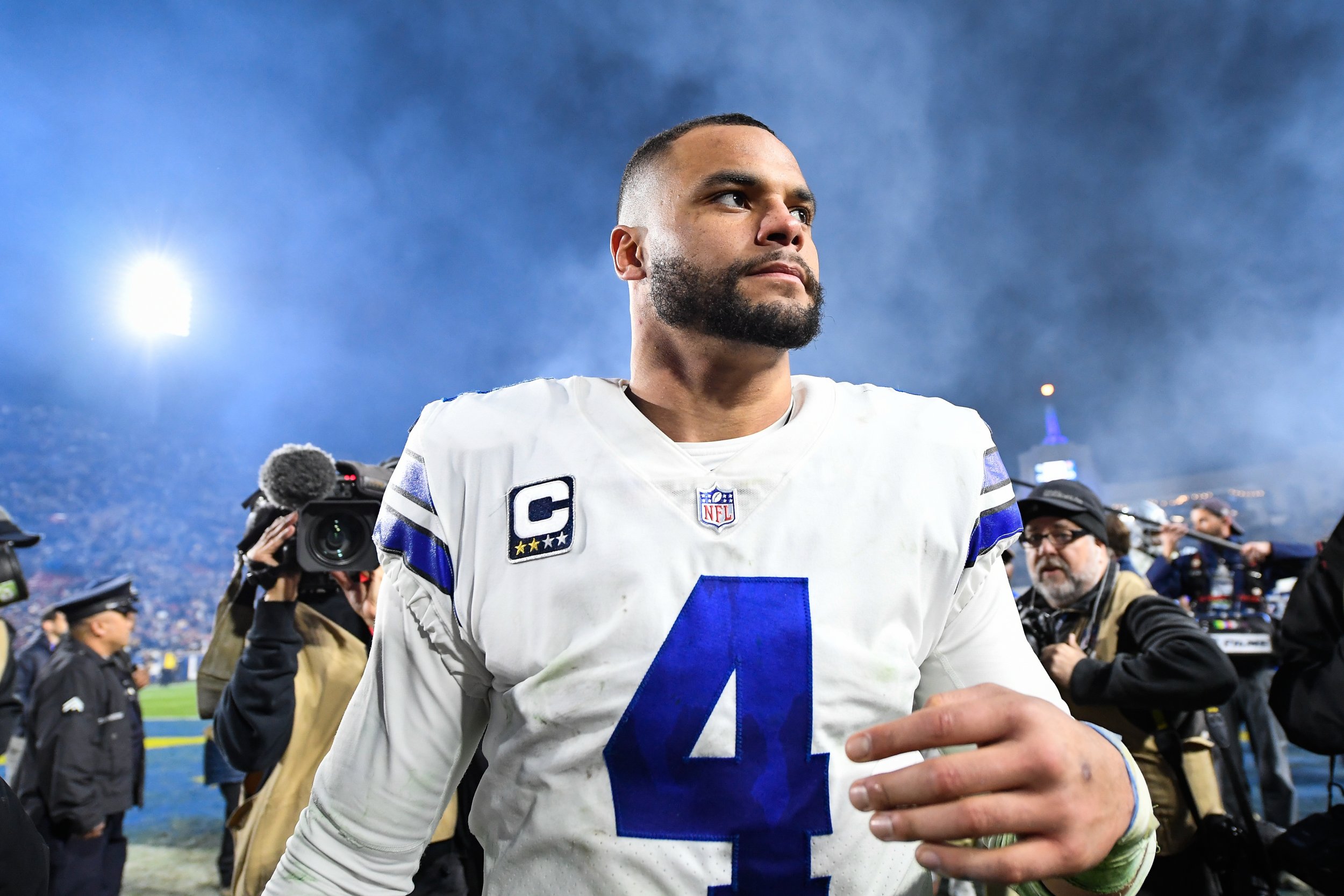 Dallas Cowboys quarterback Dak Prescott finds himself at the center of unwanted attention after one of his dogs was reportedly seized by the police for biting a neighbor.
According to The Dallas Morning News, the neighbor was hospitalized with non-life threatening injuries after being bitten by the dog.
The unnamed woman reportedly intervened when she saw her dog fighting with another canine through a fence in her front yard. When she reached the animals, she realized there were actually three dogs involved.
One of them, an American Staffordshire terrier, bit her as tried to break up the fight, the police said. The dog will now be quarantined for 10 days at the Collin County Animal Shelter, where it was taken by animal services after the incident.
Officers eventually intervened and established the two dogs escaped via an open door in Prescott's residence in Frisco, Texas, approximately 25 miles north of Dallas.
No charges were filed but, according to The Dallas Morning News, the incident could bring a misdemeanor count of dog at large. The charge is punishable with a fine of up to $500, to be paid by the person legally responsible for the dogs.
Prescott was reportedly not at home when the incident happened.
The Cowboys quarterback is fond of his dogs and two of them, a pit bull and a French bulldog, appear regularly on his Instagram profile. However, it is not known whether the dogs featured on his social media profile were involved in the incident, as the police did not release the identities of either animal.
The upcoming season will be Prescott's fourth in the NFL, all of which have been spent as the starting quarterback for the Cowboys. Last season, the 25-year-old recorded career bests in attempted passes and completions, with 526 and 356 respectively.
His 3,885 passing yards for the season was also a career-best, as were the 75 rushing attempts he accumulated over the course of the campaign for six touchdowns, which tied his return from his previous two seasons.
His performances earned him the second Pro-Bowl selection of his career.
In three seasons in Dallas, Prescott has steered the Cowboys to the playoffs twice, losing in the divisional round on both occasions. Last season, Dallas finished with a 10-6 record and beat the Seattle Seahawks 24-22 in the Wild Card round, before losing 30-22 to eventual Super Bowl runners-up Los Angeles Rams in the divisional round.