Anti-DAPL Activists Call for Return to Battle at Standing Rock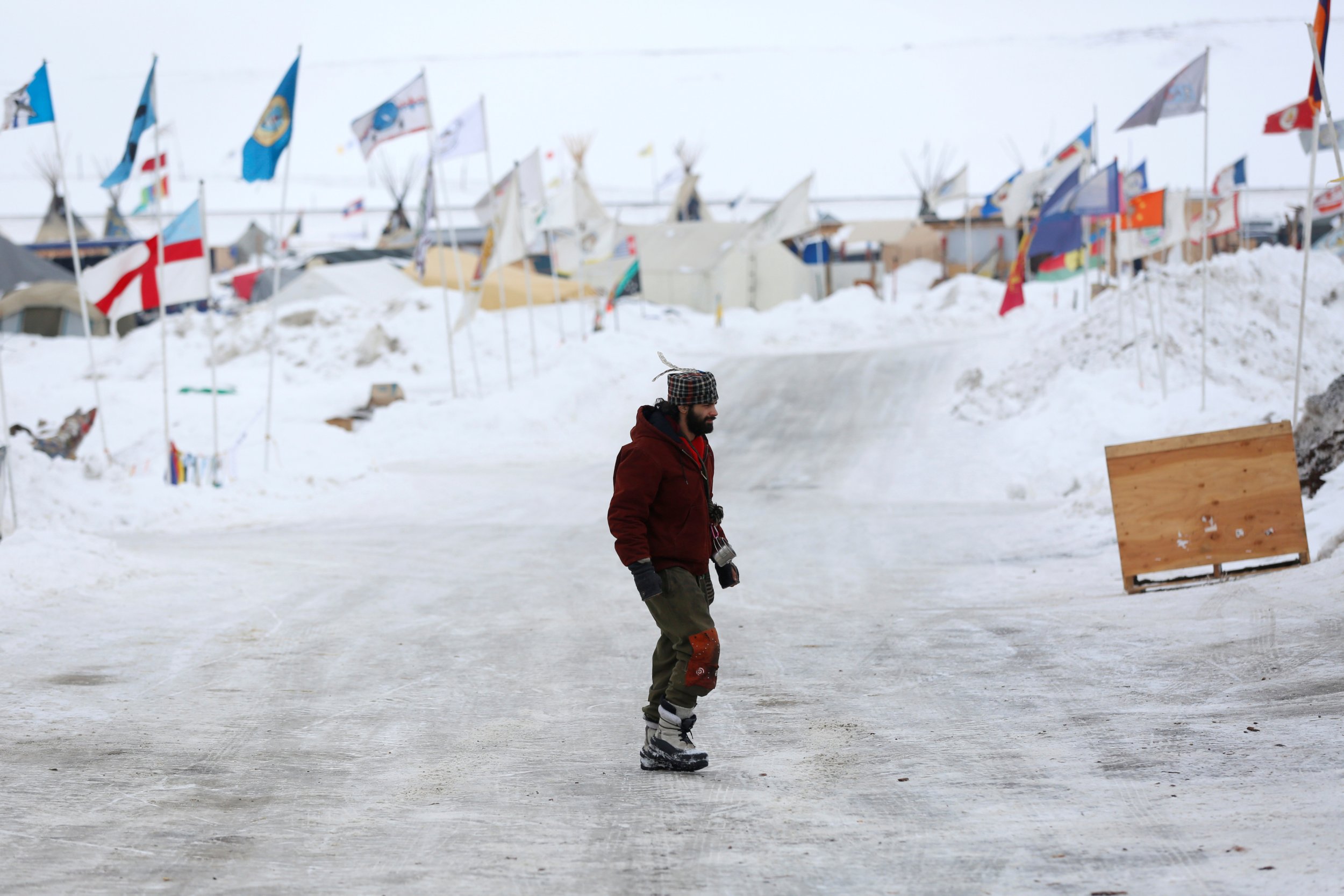 On January 24, President Donald Trump signed an order that makes it easier for Energy Transfer Partners (ETP) to complete its controversial Dakota Access Pipeline (DAPL) in North Dakota.
Trump also issued a memorandum clearing the way for the Keystone XL pipeline, which has also been controversial. Keystone XL would run from Canada to Steele City, Nebraska, transporting oil from the oil sands of Alberta. Many environmentalists fear this pipeline could leak chemicals into the groundwater and the Athabasca River.
Later that day, Doug Burgum, the governor of North Dakota, issued a formal request for the president to "provide federal law enforcement resources to assist in upholding the law and protecting people and property rights as the [DAPL] project moves toward completion under Lake Oahe."
The vast social media network of anti-DAPL activists, known as water protectors, was instantly abuzz with angry messages and discussions about how to respond. Many asked if they should return to the camps near Bismarck that have been base for anti-DAPL resistance activities since last spring. Since winter set in, the population of the camps decreased greatly, in part because there is no running water, and the only electricity comes from portable generators and solar panels. Some protectors also left the camps in December in reaction to the Department of the Army's announcement that it would not grant an easement allowing the pipeline to be built without an environmental impact statement.
Returning to Standing Rock was the immediate response for some. Chase Iron Eyes, a high-profile water protector who is a longtime activist and a member of the Standing Rock Sioux tribe, posted a widely shared message on his Facebook page January 24: "Fighters, brothers and sisters. Come. Heed the call to defend this country against all enemies, foreign & domestic. We shall find out who loves this land, who is loyal to the water and who is a traitor to this land, to our water."
Manape Hocini Ga, a headsman for Oceti Sakowin (the 'Seven Fires Council' that is part of traditional Sioux law and governance), told Newsweek Trump's orders are "a spit in the face to all Americans."
Joye Braun, a frontline community organizer for the Indigenous Environmental Network (IEN.org), says that when the Standing Rock Sioux put out a call for help with DAPL last spring, she was the first to pitch a tipi at the encampment. (She estimates that there are still about 1,100 water protectors at Standing Rock, spread out over three camps.) Speaking to Newsweek from the road while on her way to South Dakota's capital, Pierre, to organize support for two state senators she says plan to introduce legislation to block DAPL, Braun also expressed dismay: "By Trump signing that, he has declared war on the great Sioux Nation. We will act in a non-violent way, but we will do non-violent direct action." This form of resistance was on full display throughout the fall, when the protesters had regular face-offs and occasional confrontations with police. The Sioux have trained over 10,000 people in non-violent direct action, she said. "Our ask is that everybody take the cry of Mni Wichoni [water is life] to their backyard."
The directive from Trump is a presidential memorandum. Presidential memoranda have looser requirements than executive orders. Executive orders must be numbered, must be published and must cite the authority on which they are based. Memoranda do not have those requirements. Trump's memorandum on DAPL actually isn't so much an order as a strongly worded recommendation. It states, in part: "I [President Trump] believe that construction and operation of lawfully permitted pipeline infrastructure serve the national interest."
In the memoranda's key provision, the president effectively orders the Army Corps of Engineers to reconsider its decision, made in December, to withhold an easement for DAPL, pending the preparation of an environmental impact statement. The Corp's decision to withhold the easement was considered by some protectors to be a victory, but activity on the DAPL construction site never ceased, and some activists remained because it was widely assumed that Trump, whose inauguration was imminent, would support ETP. (Trump owned shares in ETP, but claims to have sold them in the summer of 2016, per The Washington Post.)
The memorandum indicates Trump has little interest in finding out whether the Army Corps environmental impact statement would raise any legitimate concerns. This prioritization of business interests over environmental concerns is consistent with his nomination of former Oklahoma Attorney General Scott Pruitt, who has sued the Environmental Protection Agency (EPA) multiple times, to head that agency, as well as the president's recent order to the EPA to freeze all grants, and to implement a media blackout.
In the weeks leading up to the memorandum, activists and workers on both sides of the DAPL controversy were working on mutually exclusive goals. On January 16 (Martin Luther King Jr. Day), there were 14 arrests, according to the Bismarck Tribune, after two separate protests near Standing Rock. The first was a "prayer walk," in which protectors walked toward the construction site. According to the Tribune, some activists cut security wires and dismantled lights, and the police responded with "less lethal" ammunition, tear gas and pepper spray. That action resulted in multiple arrests, with charges that included trespass, inciting riot (a felony), preventing arrest, engaging in riot (misdemeanor) and criminal mischief.
That night, an estimated 11 more people were arrested after a confrontation between demonstrators and law enforcement at Backwater Bridge. The bridge has been a battleground for months because it is a segment of Highway 1801, which has been closed for many months by police to keep protesters away from the DAPL construction site. This blockade has severely hurt local businesses, including the nearby casino controlled by the Standing Rock Sioux tribe.
Two days later, there were another 21 arrests, again mostly on Backwater Bridge, according to the Morton County Sherrif's Department. In a written statement, the department claimed activists were "trespassing and trying to confront, flank and intimidate Morton County law enforcement personnel." The statement also alleges: "Over the course of the evening, law enforcement continued to negotiate and issue multiple warnings to the protesters, however, the orders were not heeded and the crowd continued to grow. As the protester crowds grew in size and became more aggressive by throwing projectiles at officers and engaging in flanking maneuvers, the field commanders authorized use of less-than-lethal munitions of direct impact sponge rounds, drag stabilizer bean bag rounds, hand deployed pepper spray canisters and smoke riot control CS canisters."
The Water Protector Legal Collective (WPLC) had a different perspective on the incident. "We are alarmed to see the continued use of violent police tactics and militarized weaponry and the high and restrictive bonds being set by the court," said Sandra Freeman, criminal case coordinator for WPLC. "On Tuesday night, law enforcement deployed impact sponge rounds, bean bag rounds, pepper spray and CS canisters. Thirty-six Water Protectors were arrested during those three days and one was hospitalized with a serious eye injury from these so-called "less lethal" weapons. This is law enforcement out of control."
Also on January 18, the North Dakota Supreme Court issued a ruling making it easier for lawyers from outside the state to provide pro bono services to water protector defendants. This was in response to a petition from the National Lawyer's Guild, prompted by the large number of water protector defendants who were overwhelming the relatively small public defense resources of North Dakota's Morton County, and the volunteer attorneys from outside the state, working through an organization called the WPLC, who were eager to defend them.
The next day, a reporter for Indian Country Media Network reported that there was an Avenger surface-to-air missile launcher at the DAPL site, pointed toward the protester camps. The National Guard later verified this, but claimed that it wasn't armed, and has been removed.
On January 21, the Standing Rock Sioux Tribe posted a notice on its Facebook page, celebrating the (now probably moot) environmental impact statement, and announcing that the tribal council had voted to cooperate with a resolution passed by the Cannonball district, which overlaps one of the water protector camps, to send the activists home. If followed, that resolution would have meant an end to the community that has been clashing with police and pipeline construction workers since last spring. But on Tuesday, after Trump's memorandum, the page had an update, which says, in part: "Nothing will deter us from our fight for clean water. We will be taking legal action, and will take this fight head on."