Dakota Access Pipeline Protester Turns Self In After DNA Found on Cigarette at Construction Site
DNA evidence on a cigarette butt found at the scene of the Dakota Access Pipeline (DAPL) riot of 2016 has led a South Dakota man to turn himself into authorities, according to The Bismarck Tribune.
Lawrence Malcolm Jr., who appeared in court via video from the Burleigh Morton Detention Center, was charged with felony criminal mischief and misdemeanor engaging in a riot.
Evidence gathered after the DAPL protest was sent to the North Dakota State Crime Lab. Analysts scored a hit on Malcolm's DNA, which was already on file following a previous arrest, according to the Billings Gazette.
After the charges were filed against Malcolm in September 2019, his attorney Bruce Nestor asked the court to dismiss the charges saying that the cigarette butt's existence at the site is no proof Malcolm participated in the protest.
However, photos and videos taken during the riots place Malcolm at the scene, wearing a black bandanna on his face.
Malcolm, who has posted $3000 bond in connection with cases not connected to the DAPL, has been told he will be released by South Central District Judge James Hill.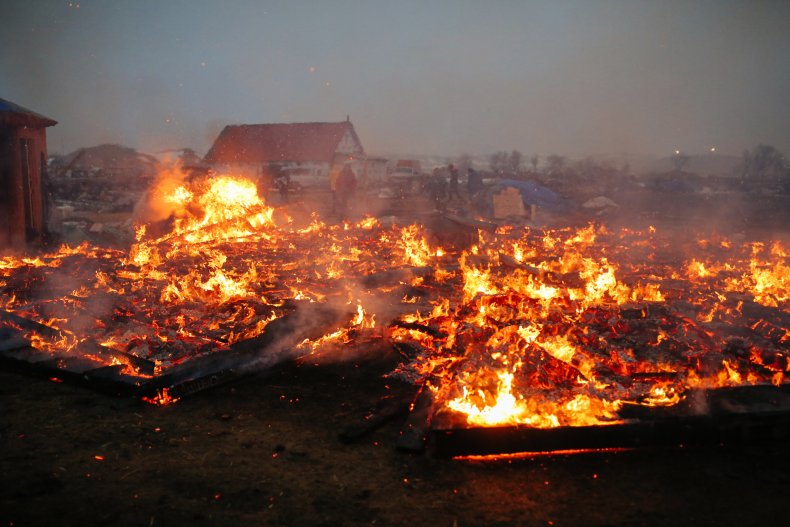 Cigarette butts have been a plentiful source of DNA for law enforcement with a high accuracy rate. This is because of the traces of saliva left behind by the smoker along with skin cells from their mouths. According to the Journal of Forensic Science & Criminology, DNA evidence from saliva onto an object like a cigarette butt is imprinted forever when the object is exposed to body temperature (98.6 degrees Fahrenheit).
The Dakota Access Pipeline riots began after the Standing Rock Sioux tribe objected to the oil transport system being built on their land, fearing the construction would ruin sacred sites and pollute the water supply. President Donald Trump encouraged the completion of the pipeline by saying the project would "serve the national interest," according to BBC News. Trump also said in a memo that American steel would be used to construct or repair the pipeline.
Approximately 10,000 people joined the demonstrations, including dignitaries like Robert Kennedy, Jr. and Bernie Sanders.
Police intervened in October 2016, arresting 141 people and clearing hundreds of protesters with pepper spray and armored vehicles, according to The Guardian.
Authorities claimed that protesters had blocked roads and set equipment used for pipeline construction on fire. KFYR reported that the protest camps were cleared out in February of 2017 and oil began flowing through the pipeline in March of 2017 after appeals to prevent its use were rejected.
The pipeline, which runs through four states, has developed leaks at least five times in 2017, according to The Interceptor.