Dakota Meyer is 'Working Towards Better Relationship' With Bristol Palin After 'Teen Mom OG' Fallout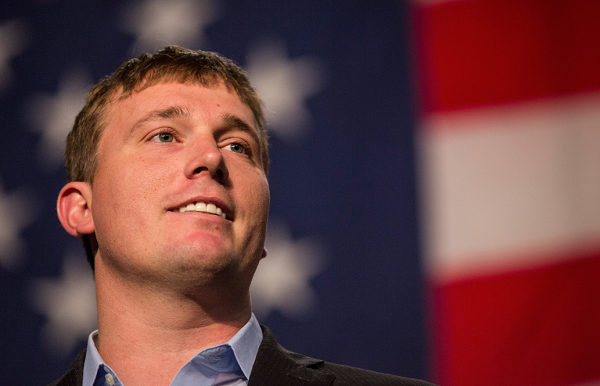 After a tumultuous season filled with disputes on Teen Mom OG, Dakota Meyer extended an apology to his ex-wife for his behavior toward her and their family during their time on Season 7 of the MTV reality show.
Much of the estranged couple's fallout was documented on Teen Mom OG, including negative comments Meyer made on camera about Palin's mothering. Following Monday night's episode, which included yet another explosive moment between Meyer and Palin, the military veteran took to Instagram to apologize.
"In regards to the comment on tonight's @teenmom episode insinuating Bristol is anything other than a great mother is deeply regretted on my part," Meyer wrote in the photo caption of a picture of himself alongside Palin and her 9-year-old son Tripp Johnston, whom she shares with ex-fiancé Levi Johnston.
He continued: "Looking back and seeing my behavior does not represent the man I strive to be. Going forward I have made the commitment to Bristol to work towards a better relationship and putting our children's best interests before my own."
Palin and Meyer's divorce finalized in August. They were married for nearly two years before they first split in February due to conflicts within the relationship.
Meyer's post came just a week after Palin criticized the Teen Mom franchise for its consistently negative portrayal of her. "If I cared what people thought of me, I wouldn't be here today - let's be real. I've stood strong and held it down for my kids since day one. No matter how bad @teenmom tries to portray my 'life' ..... my babies, my family, my close friends - they know the TRUTH," she wrote alongside an image of her son with his two sisters, 2-year-old Sailor and 18-month-old Atlee, whom she shares with Meyer.
"@mtv doesn't want to talk about faith, show work ethic, or juggling three kids alone, they don't want to show the humble process of starting over after a divorce, building a career, or any real-life issues. All they want with my little segment each week is some fake fill-in Farrah Abraham/Jerry Springer BS, and it's simply not true," she continued. "Don't get me wrong - I've said some mean things and learned a lot the last several months - but the life I've built for my kids is NOT sitting around talking about baby daddy drama."
She concluded: "Every week is a continued disappointment with their inaccuracies and false narratives. I hate getting all emo on you guys but I've kept quiet for too long about it. Don't believe everything you see on TV."