Dale Earnhardt Jr.—A Ghost Saved My Life After Sonoma Wreck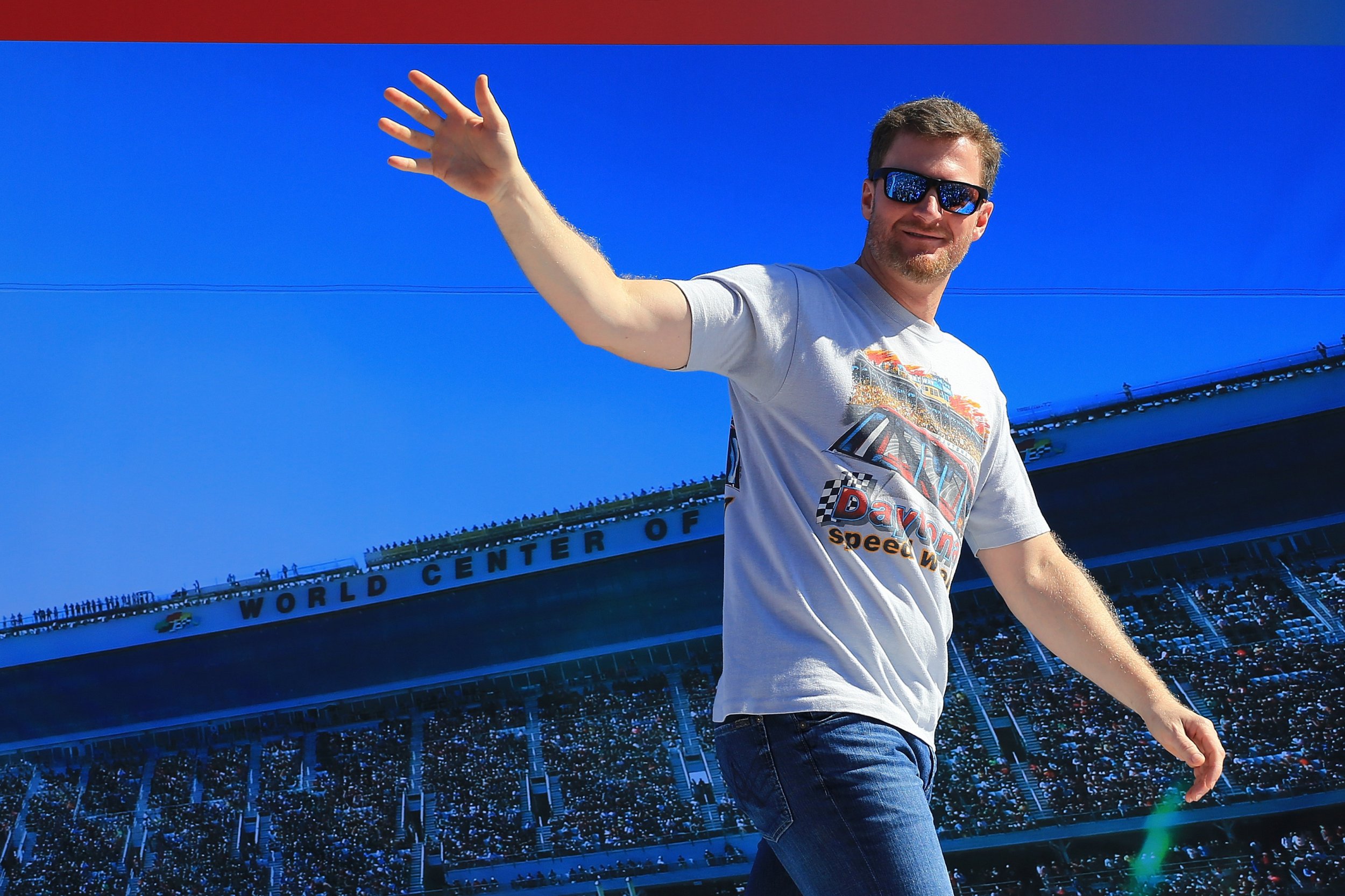 Dale Earnhardt Jr. has revealed he believes a ghost saved his life after he suffered a serious crash 14 years ago.
On July 18, 2004, while racing in the American Le Mans Series at Infineon Raceway in Sonoma, California, Earnhardt Jr.'s Corvette spun off the track during the warmup and slammed against the barriers before catching fire.
Footage of the incident shows the driver sitting motionless in the car as the vehicle becomes engulfed by flames, before eventually crawling out of the car and being helped away from the crash site by track marshals.
Earnhardt Jr., 43, reflected on the incident during this week's episode of the Dale Jr. Download podcast, revealing he is convinced a ghost intervened to save him.
"When I wrecked in the Corvette in 2004 at Sonoma, it caught fire, somebody pulled me out of that car, and I thought that it was a corner worker because I felt somebody put their hands under my armpits and pull me out of the car," he said.
"I didn't get out. I don't have any memory of myself climbing out of the car. And I remember sort of moving, like in motion, like going to lean forward and try to climb out of the car, and then something grabbed me under the armpits, pulled me up over the door bars and then let go of me and I fell to the ground."
While he survived the crash, he did not emerge totally unscathed, suffering second-degree burns in the fire, partially due not wearing a protective balaclava with his helmet.
The burns forced him to miss two races but he returned to win both the Busch and Cup races in the same weekend at Bristol Motor Speedway in Tennessee, becoming the first driver to accomplish the feat.
Earnhardt also recalled his disbelief when he woke in hospital 12 hours after the crash and was told by a team member that he got out of the wreck by himself.
"Bull***t!" was his response when informed he had managed to crawl out of the car unassisted.
Responding to a fan's question about paranormal activity, the North Carolina native did not directly discuss his religious views but admitted he felt there were powerful forces at play.
"We're so much more than just blood vessels and bones and muscle, ya know? And I feel like that it's quite possible that, in certain situations, when we die, our bodies die, that maybe there's a sprit capable of continuing on."
Dale Earnhardt Jr.—A Ghost Saved My Life After Sonoma Wreck | Sports