Thief Walks into Gallery and Steals Salvador Dali Artwork in Just 32 Seconds: 'It Was Our Showcase Item'
In an act as bold as the paintings the artist was famous for, a brazen thief took only half a minute to stroll into a San Francisco gallery and walk out with a work by Salvador Dali.
Surveillance cameras captured the moments—and all he needed were moments—of a man inconspicuously dressed in a blue T-shirt and cap, walking into the Dennis Rae Fine Art gallery and then walking out with the Spanish surrealist's etching, "Burning Giraffe."
The framed piece produced around 1967 and measuring 20 by 26 inches, was one of a collection of 30 the gallery had of the famous 20th Century artist's works.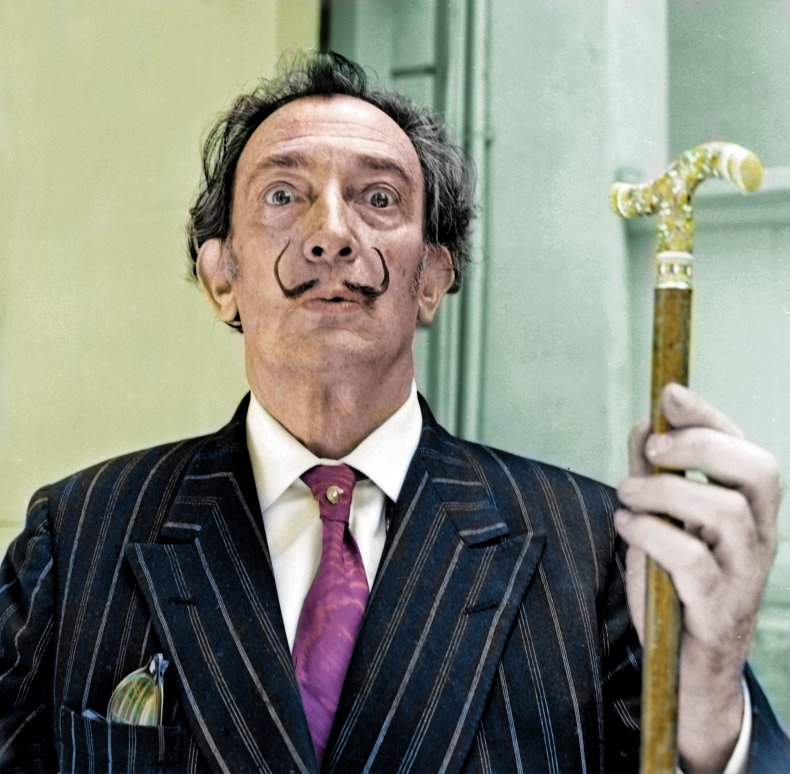 Angela Kellett, the director of the gallery located just off Union Square, told ABC affiliate KGO-TV the thief probably distracted one of her co-workers and grabbed it from an easel at the front of her store on Monday.
Normally the work would have been secured by a lock and cable but they were missing, raising the possibility that the suspect may have cut them on an earlier visit.
The gallery's video camera was not working at the time of the theft and it was only footage from a business next door that showed the man strolling off with a piece worth an estimated $20,000.
"It was our showcase item," Kellett said, "we have a special Salvador Dali show right now and yeah they just ran off with it, too quick for anyone to do anything about it."
"It's quite important as far as the period of etchings. It's very, very well known. It's a beautiful piece. It was inspired by Picasso first," she added, referring to the Spanish master 23 years Dali's senior whom he admired so much he sent him dozens of letters during his lifetime.
However the picture's renown is likely to be more of a curse than a blessing for the thief, because it is not the sort of thing than can easily be sold on eBay.
"I think that people would know. It's a very small edition of etchings, so the number, we know exactly what piece it is, so now it's a very hot item," she added.
At least the thief appeared to carry out his crime surreptitiously. In January, a man in Moscow took a $181,000 painting off a wall in front of dozens of onlookers and walked out of the Tretyakov Gallery with it under his arm.
Police arrested him later and the 1908 painting "Ai-Petri. Crimea" by Arkhip Kuindzhi, was later found undamaged next to a construction site, according to TASS.