Dali Katch One Soundbar Review: A Look of Luxury but Light on Features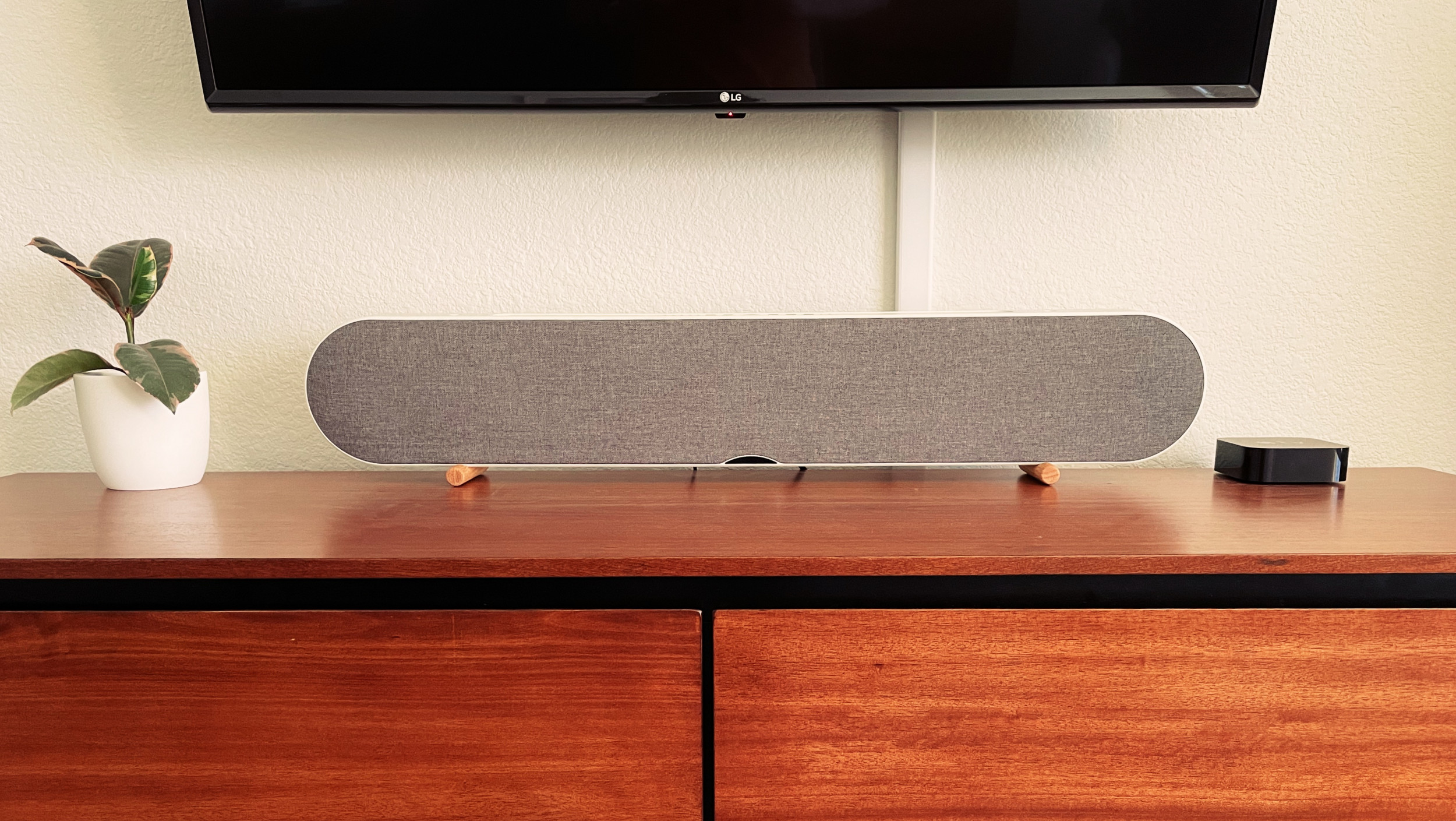 The first thing you notice about the Dali Katch One soundbar is the most obvious thing you can notice about it—its look. It's a stunning electronics device that's sure to turn a few heads with its modern design and clean aesthetic.
Right off the bat, I can tell you the soundbar sounds good. It misses the low-end rumble a subwoofer can produce, but it does vastly eclipse any TV set's onboard sound. Where the Katch One comes up short is in its lack of features. This soundbar is not the best value, but it doesn't seem to be trying to be. It's a beautiful soundbar for people who want something beautiful underneath their TV.
Setup and Design
The market for soundbars is large and expansive. Whatever your budget, there's something to fit your audio needs. The Katch One is positioning itself as a soundbar that is aware of its modern stylings and fits into a home's decor, instead of clashing with it. It's a legitimate market segment, too. I would argue the majority of soundbars meant to be placed in your living room or bedroom are, in fact, pretty ugly. This one is not.
Adding to its design-first approach, the soundbar can either stand or be mounted to the wall. Both options look tremendous, and if your space will handle either, it may be a bit hard to choose which one to use. The one concern here is that it's pretty tall. If your TV is sitting on a media console, it can't just lay right in front of the TV like others can.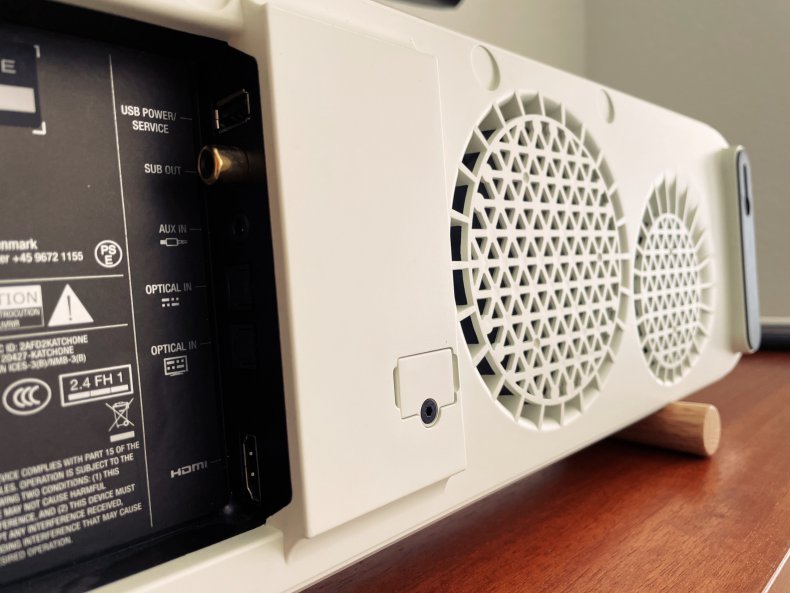 The setup of the soundbar is simple enough. I plugged it into power and connected my HDMI cable to the CEC-enabled port on my TV, and it was ready to go. The CEC, or Consumer Electronics Control, functionality enables the TV to turn on and off the soundbar when it is turned on and off. It's how your TV remote can seamlessly change the volume, too. You can also use an optical cable if your TV is older.
Features, Specs and Price
Price: $799
Two unique sound modes: wide and narrow
HDMI, two optical ports and an analog input with Bluetooth (AAC and aptX)
Four large passive drivers with the four active woofers
Dual solutions for mounting or standing
Included remote handset to control every aspect
TV remote can work via HDMI (CEC)
Dimensions: 2.72 inches by 33.86 inches by 6.46 inches
Performance
While the sound is more than respectable—and often very good—it's not as good as other soundbars under its $800 price point. This is where the Dali Katch One falls down in being the best value. It doesn't have all the latest features; it doesn't come with a subwoofer like a lot of soundbars do now; and it's not inexpensive. In this regard, there are much better deals available.
If you want the best soundbar for audio, there are other options. If you want the best-looking soundbar, one that is stylish and elegant, that's more the space the Katch One occupies. But what can you expect from the sound?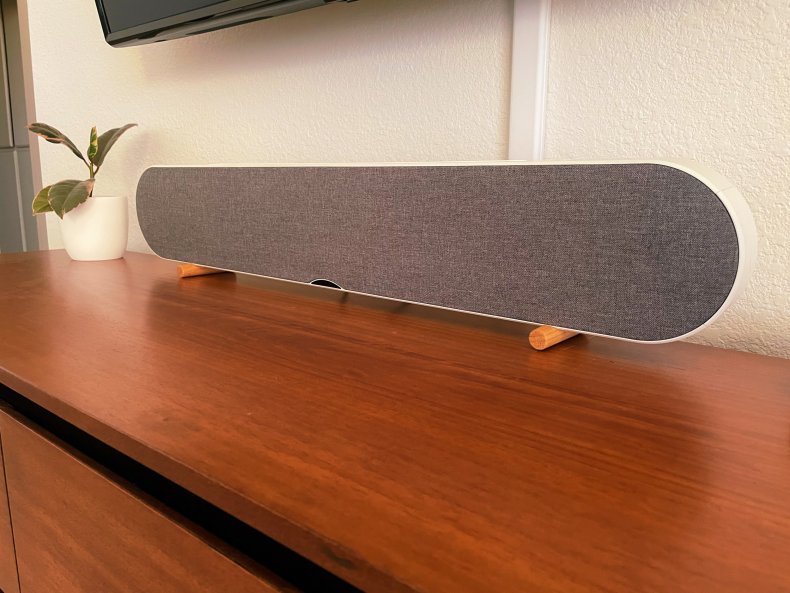 TV shows of all stripes disappeared into the soundbar. The audio was neutral and balanced, never making it the center of attention or concern. This was similar while watching action movies at lower volumes. Once the volume was raised, however, the soundbar's lack of a subwoofer was more noticeable. This speaker is plenty capable of pushing out bass and low-end frequencies, but it tended to feel lacking all around in the low- and mid-audio areas. Still, glass breaking sounded sharp and crisp; gunfire was pointed and explosive; and the audio was generally vibrant.
The soundbar had two different audio modes: one described as narrow and one as wide. There was no dialog mode or way to make voices pop as some soundbars have, but the narrow mode here did function a little like that. It squishes the sound more toward the center, and that promotes voices to the front. In a blind test, the wide mode was much easier to discern during scenes with crowds or car chases. The times when the action on the TV was broad and had a fuller spectrum than, say, a conversation was when the wide mode was best felt.
Switching back and forth while listening to music through Bluetooth connectivity showed a clearer distinction between the two modes. While you can find a use for either narrow or wide mode, my guess is that most people will toggle it a few times before eventually leaving it in the wide mode in perpetuity.
Sonos has a robust app that can stream a lot of different services directly through its soundbars. That functionality wasn't present here. Bluetooth is available, and you can stream music from any service available on your phone, but it felt lacking compared with other brands offering AirPlay 2 or advanced streaming capabilities.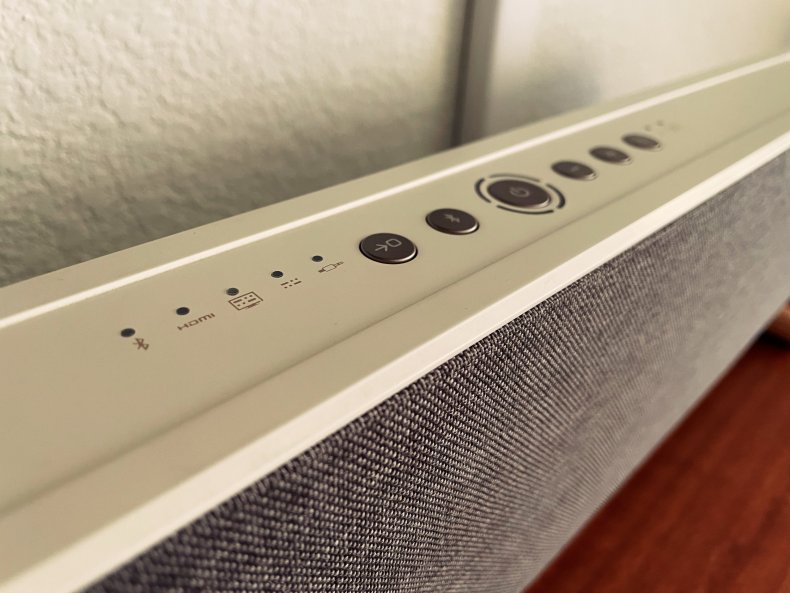 I hooked the Katch One up through HDMI and utilized CEC. It worked great. I also didn't need to set up my Apple TV remote to control the volume through the soundbar, it just worked. The remote that comes with the soundbar is minimal enough, but it's lightweight plastic and doesn't convey the same level of design or premium aesthetics that the soundbar itself does. All the same controls on the remote are also on the soundbar. You can control it in a number of ways which is helpful.
Should You Buy the Dali Katch One?
The Dali Katch One is not a product that you decide to buy, but rather one that either calls out to you or doesn't. There are certain products that, no matter how hard you try, feel like you can't escape them. This soundbar is one of those.
Beyond a few different methods of video connectivity and Bluetooth for streaming audio, there are few features to speak of. The thing to know is that the Katch One is wonderfully capable as a bedroom soundbar, though less impactful in a larger living room. The sound will be perfectly fine across the board in whatever room you use it in, but on its own, without an additional subwoofer, don't expect it to blow you out of the water. The audio will improve the sound your TV speakers can provide and will give any room an instant bump in overall design aesthetics.
Newsweek may earn a commission from links on this page, but we only recommend products we back. We participate in various affiliate marketing programs, which means we may get paid commissions on editorially chosen products purchased through our links to retailer sites.