Dallas Cowboys vs. Chicago Bears: Where to Watch, Live Stream Thursday Night Football
The Dallas Cowboys' trip to Chicago on Thursday Night Football is the perfect example of why being in a particular division can go a long way in determining a franchise's destiny during a season.
Both franchises arrive into Week 14 with a 6-6 record, but while according to FiveThirtyEight's statistical projections the Cowboys have a 66 percent chance of making the playoffs, the Bears' postseason hopes are all but done and currently stand at three percent.
That is despite the fact Dallas has lost the last two games, while the Bears are on a two-game winning run.
While Chicago has seen the 9-3 Green Bay Packers and 8-4 Minnesota Vikings disappear over the hill in the NFC North, the Cowboys' only credible rival in the NFC East has repeatedly tripped over itself.
The Philadelphia Eagles' three-game losing run reached a whole new degree of ineptitude on Sunday, as they relinquished a 14-point lead to lose 37-31.
The Eagles' defeat left Dallas in pole position to become the first team to retain the NFC East title since Philadelphia won the division four times in a row between 2001 and 2004.
That is not to say things are rosy in Dallas, far from it. The Cowboys are 0-5 against opponents with a record above .500 after losing 26-15 at home to the Buffalo Bills on Thanksgiving Day, which cranked up the pressure on coach Jason Garrett even further.
Cowboys owner Jerry Jones dismissed rumors he could fire Garrett before the end of the season, insisting the 53-year-old will see the current campaign through.
"I wouldn't make a change and give us a chance to do what I want to dream about doing. I wouldn't do that for love nor money," Jones said on Thanksgiving, via Pro Football Talk.
"It would give us zero chance if we didn't have [Garrett]. [...] I'm going to look for ways to improve the situation. I'm still glad that when I get up in the morning, I can look for ways to help our team. One of them is not a coaching change. One of them is not reworking the offense or the defense."
Despite Jones' vote of confidence, it would be a surprise to see Garrett—who is 83-65 since taking over as head coach in the 2010 season— in charge of Dallas next year.
After jumping out of the blocks to a 3-0 start, the Cowboys lost six of their next nine games, despite ranking first in total offense in the NFL.
The Cowboys rallied from a 3-5 start to make the playoffs last year and Garrett sounded confident his team can improve over the remaining four weeks of the regular season.
"Our expectations for how we do things is high, and that's really where our focus is," he was quoted as saying by ESPN.
"And we'll continue to make that where we have our attention each and every day, to play and coach up to the highest standards."
After not practicing outside ahead of their trip to New England two weeks ago, Garrett revealed the Cowboys will instead practice outdoor to acclimatize for their visit to Chicago, where the temperature is expected to be in the 30s on Thursday night.
Along with the Los Angeles Rams, the Bears are the only opponent left on Dallas' schedule with a record of or above .500 and a loss in Chicago could leave the door open for the Eagles to leapfrog the Cowboys.
With little to play for in terms of postseason hopes, the Bears are looking to restore some pride after losing four straight games across October and November.
Chicago's win in Detroit on Thanksgiving Day was its second in a row and came as Mitchell Trubisky passed for a season-high 338 yards with three touchdowns and one interception for a 118.1 passer rating.
While the Cowboys' offense has been on a roll all season, the Bears rank 27th in total points scored, at a paltry average of 17.7 per game.
"The offense is built on timing, and when you make the right decision on time, usually good things happen," Nagy said after the win against Detroit.
"I think you felt that."
Here's all you need to know ahead of Thursday.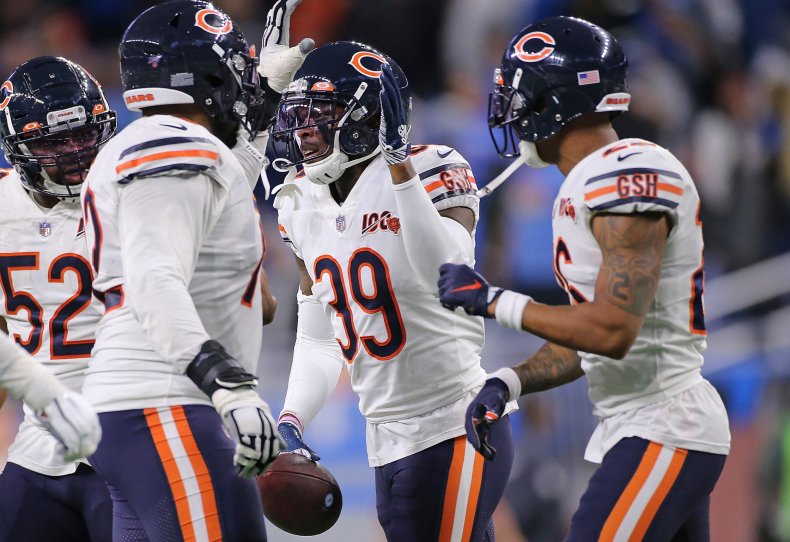 When and where is the game?
The Chicago Bears host the Dallas Cowboys at Soldier Field in Chicago, Illinois, on Thursday, December 5.
Kick-off is scheduled for 8:20 p.m. ET.
TV coverage
The game will be nationally broadcast by the NFL Network, FOX Sports and Amazon Prime Video.
Live stream
A live stream will be available via NFL Network online and on connected devices, as well as Amazon Prime Video and FOX Sports' digital platforms.
Form
Both teams arrive into Week 14 with a 6-6 record but in vastly contrasting moods. The Bears won a second consecutive game as they defeated the Lions in Detroit 24-20 on Thanksgiving, while the Cowboys lost for the second consecutive week.
Dallas fell to a 26-15 against the Buffalo Bills on Thanksgiving, but remained top of the NFC East.
Series record
The Cowboys have a slight edge in the all-time series, with 13 wins to the Bears' 10, and have won the last two meetings against Chicago.
Odds
According to Oddschecker, Dallas is a 2.5-point favorite and is 17/20 to cover the spread, while Chicago is a 13/10 underdog.
The over/under line in terms of total points scored is set at 32.5.