Dallas Cowboys vs. Cincinnati Bengals TV Channel, Live Stream, Start Time for 2018 Preseason Game
The Dallas Cowboy and the Cincinnati Bengals are scheduled to square off on Saturday in what will be each team's second preseason game, respectively.
Dallas is likely looking for a better season after finishing a somewhat disappointing 9-7 last year. The Cowboys lost their first preseason matchup to the San Francisco 49ers—not that it particularly matters. They Dallas squad has young talent, most notably in quarterback Dak Prescott and running back Ezekiel Elliott. Prescott said this week that Elliott might be able to help out in more ways than just running the ball.
"He's a guy you know he's going to win in space, so anytime you can get him in space, you can get him the ball quick," Prescott said, according to Bleacher Report. "For me, it's important going through my reads, if you can get to the check down a little bit quicker. He can get more yards and make people miss. He can definitely help out a lot more in the passing game."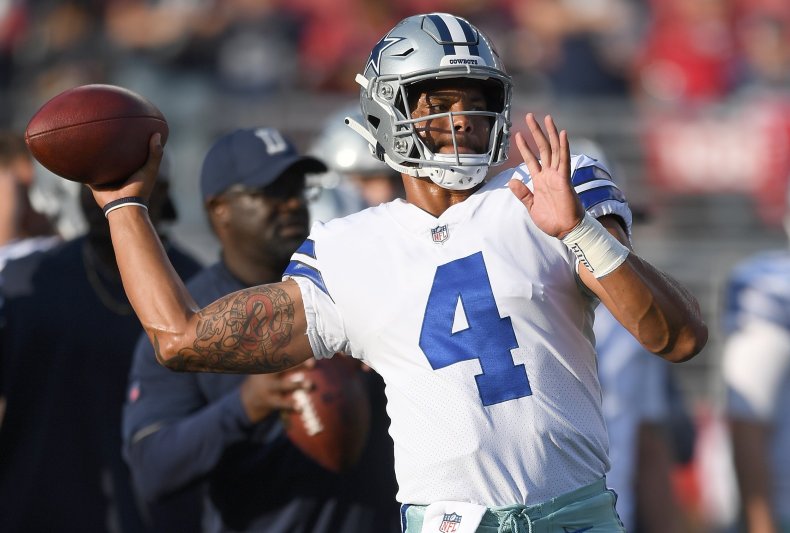 In a high-profile interview with GQ published this week—a conversation overflowing with trash talk—star Jacksonville Jaguars cornerback Jalen Ramsey said Prescott was OK but Elliot was the true star in Dallas.
"Dak Prescott, he's good," Ramsey told GQ. "He's alright. He's okay. I'll put it that way. [Elliott] runs that team though. Everything runs around Zeke."
The Bengals, meanwhile, won their first preseason matchup against the Chicago Bears. In many ways the team is largely unchanged from last season, during which Cincinnati went 7-9. Coach Marvin Lewis is in his 15th season with the franchise. They've never won a playoff game during that tenure. After another disappointing season, the team made did make some major shifts.
"I knew we were going to have a lot of change on the coaching staff," Lewis told Sports Illustrated in an article published this week. "I had to make changes on people that had been with me for a long time and had been friends, and it's difficult."
Here's everything you need to know watch the Bengals take on the Cowboys on Saturday.
Date: Saturday, August 18
Start time: 7 p.m. ET
TV Channel: NFL Network