Dallas Cowboys' Dak Prescott Mocked for Citing HIPAA, Refusing to Say If He's Vaccinated
Dallas Cowboys quarterback Dak Prescott has been ridiculed online after refusing to reveal whether he has been vaccinated against COVID-19.
In a press conference held at a training camp for the NFL franchise, Prescott sidestepped a question from a Dallas Morning News reporter who asked whether he had received the jab.
Opting not to answer the question, the 27-year-old instead attempted to cite HIPAA in his response to the reporter, Michael Gehlken.
According to Gehlken, Prescott responded: "I don't necessarily think that is exactly important. I think that's HIPAA."
HIPAA refers to the Health Insurance Portability and Accountability Act of 1996, a federal law that prevents healthcare providers, insurance companies and other organisations from sharing sensitive patient information without permission.
Earlier this week, politician Marjorie Taylor Greene attempted to invoke the law when asked by a reporter whether she had received a Covid-19 vaccine.
"Your first question is a violation of my HIPAA rights. You see with HIPAA rights, we don't have to reveal our medical records and that also involves our vaccine records," she said.
It has since been clarified that the law does not apply to journalists asking for medical information of this kind.
However, that did not stop Prescott from attempting to use it to avoid answering questions on the subject of vaccinations.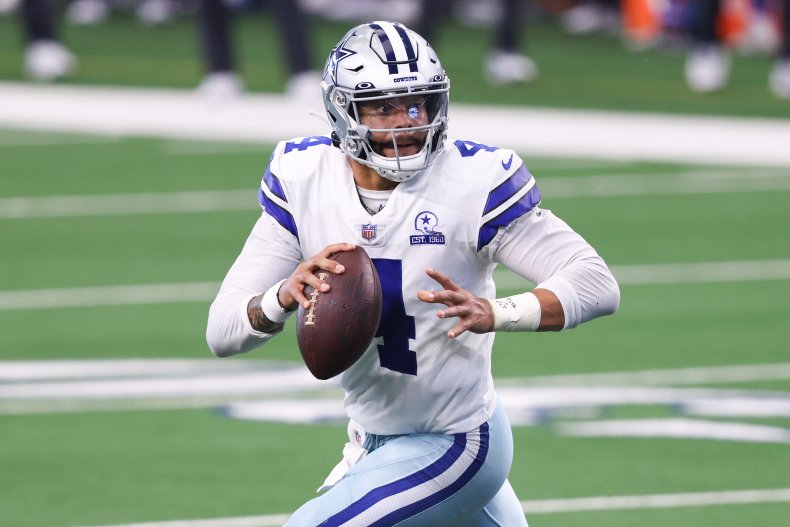 Despite his reference to the law, the quarterback went on to hit out at anti-vaxxers in the press conference and even urged the public to "educate themselves" on the subject.
He also expressed confidence that the Cowboys would meet its vaccination targets.
However, in the wake of his remarks, much of the social media chatter has been dominated by his mistaken application of HIPAA.
Gehlken's original tweet detailing Prescott's response has been retweeted more than 1,300 times and quoted on the social media platform by over 6,600 fellow users.
NBC sports reporter Rachel Hopmayer was among those to highlight Prescott's mistake, explaining that HIPAA "does not apply to: individuals transmitting their own health info."
ESPN's Jenna Laine also sought to explain that the law "doesn't apply to an employer asking for proof of vaccine status."
Most responses mocked Prescott for attempting to invoke the law.
Journalist and podcaster Touré wrote: "I think he just told us (1) he's unvaccinated and (2) he doesn't know anything about HIPAA."
Huffington Post senior editor Philip Lewis tweeted: "That's not HIPAA at all actually."
NFL Network host Rich Eisen borrowed a joke from Arrested Development, casting himself as a narrator in Prescott's press conference to say "it's not HIPAA."
Author and podcast host Kimberley Johnson, meanwhile channeled Fight Club, joking: "First rule of HIPPA . You don't talk about HIPPA."
ESPN podcast host Pablo Torre wrote: "For the last time: asking me to select all the squares with traffic lights in them is a HIPAA violation."
Buzzfeed journalist Jane Lytvynenko simply shared a video of two hippos asking: "Is this HIPAA?"
Bobby Lewis of TV watchdog Media Matters America highlighted the absurdity of using HIPAA in this particular scenario tweeting: "How many drinks have I had? That's a HIPAA violation, officer."
Voiceover artist Justin Fraction found an similarly amusing application, writing: "Asking me where I am when i'm 30 minutes late is a HIPAA violation."
Buzzfeed science reporter Stephanie M. Lee had a special request: "Please, at this point, could someone start a twitter account that just auto-replies "THIS IS NOT HIPAA."
Newsweek has reached out to Prescott for further comment.