Dallas Cowboys, Dak Prescott Need Marquee Wins Despite First Place Standing in NFC East
The Dallas Cowboys are right where they wanted to be when training camp began last summer. They sit alone in first place in the NFC East and they're offense ranks among the best in the NFL. Furthermore, quarterback Dak Prescott is having his best season yet.
They've played some good teams, and they've played some bad teams. Here's where the question marks begin surfacing, though. They've beaten the bad teams and lost to the good teams. They've also lost to one bad team.
The Cowboys have a 6-4 record, and only one team they've beaten seems to have a realistic shot at the playoffs, and none of those teams have a winning record. Of their four losses, three of them are making a strong playoff push. For reference here's the teams they've played with their records.
W 35-17 vs NY Giants (2-8)
W 31-21 at Washington (1-9)
W 31-6 vs Miami (2-8)
L 12-10 at New Orleans (8-2)
L 34-24 vs Green Bay (8-2)
L 24-22 at NY Jets (3-7)
W 37-10 vs Philadelphia (5-5)
W 37-18 at NY Giants (2-8)
L 28-24 vs Minnesota (8-3)
W 35-27 at Detroit (3-6-1)
Teams the Cowboys have beaten are collectively 13-38-1 (Giants only counted once)
Teams that beat the Cowboys are combined 27-14 (Jets are 3-7)
The Cowboys have not needed to win a nailbiter, as their average margin of victory is 17.8 per game, and they lost four games by a total of just 18 points. They held the Saints to no touchdowns and just four field goals.
The schedule will get much tougher for the Cowboys, starting this week with a trip to face the New England Patriots (9-1), the defending Super Bowl champion and top team in the AFC. The Patriots are coming off a 17-10 win in which the only touchdown pass they threw was by wide receiver Julian Edelman. Patriots quarterback Tom Brady expressed discontent with his team's offense, which means the Patriots could click on all cylinders this week. To top it off, the weather forecast in Foxborough, Massachusetts, this Sunday is 42 degrees at kickoff with rain and snow showers expected as temperatures dip into the evening.
"This isn't just my town against your town. It's obviously a big one for us in how we make our way to the playoffs, so everything you play football for is riding there against New England and the challenge is with us," Cowboys owner Jerry Jones said on a radio show from 105.3 The Fan in Dallas. "I think it's an opportunity to take a step up in the opinion of it, not only from within but without."
After that, the Cowboys host a 7-3 Buffalo Bills squad on Thanksgiving Day, then travel to face the 4-6 Chicago Bears that allow just 17 points a game.
The Cowboys finish the last three regular-season games at home against the Los Angeles Rams (6-4), who was last year's NFC champion, at Philadelphia for perhaps the NFC East title on the line, and the Washington Redskins at home.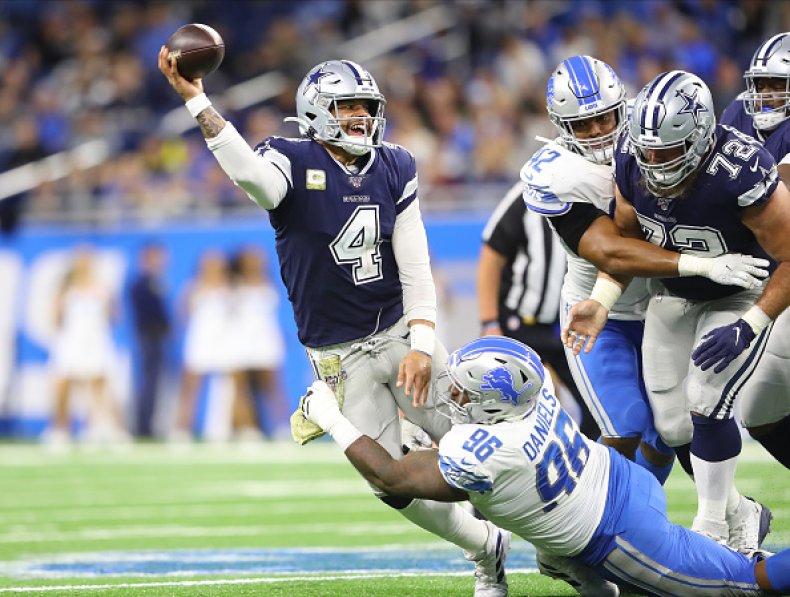 Then there's Dallas quarterback Dak Prescott, having his best season so far as a professional. Prescott has passed for 3,221 yards and 21 touchdowns in 10 games, including 444 yards last week against the Lions. He is on pace to surpass the 5,000-yard mark this season, which has never been done in Dallas' illustrious history.
But with other quarterbacks around the league—Seattle's Russell Wilson and Baltimore's Lamar Jackson top the list—having stellar seasons and better team records against better competition, it would benefit Prescott in the league's MVP race if he checked off a few marquee wins in front of a national television audience.
And that could begin this week at a chilly venue in New England.