Dallas Cowboys Front Office Already Quietly Making Noise in Offseason, Jason Garrett's Status Still Up in Air
Dallas Cowboys coach Jason Garrett perhaps had the hottest coaching seat during the 2019 NFL season. Through 10 years and just three division titles, and an 8-8 season that ended Sunday without making the playoffs, Garrett was considered to be a sure-fire candidate to receive a pink slip on Monday.
Things have been rather quiet in the Metroplex, though, since the 47-16 win over the Redskins at home Sunday. The silence is what has been so deafening.
Cowboys owner Jerry Jones refused to speculate Sunday night on Garrett's future. As for the weekly radio show Jerry Jones and his son, Cowboys executive vice-president Stephen Jones, appear on, they have cancelled this week's appearance.
Jerry and his son are now set to meet with Garrett on Tuesday morning, according to multiple Dallas-Forth Worth media outlets, including this report in the Dallas Morning News. This comes after media outlets around the country already indicated Garrett had been fired.
Garrett is expected to conduct exit interviews with players on Tuesday, according to DMN reporter David Moore.
Had the Cowboys beaten the Philadelphia Eagles on December 22, in Philadelphia, then it would not have mattered what happened in Dallas on Sunday. Instead, the Cowboys went into Week 17 needing a win, combined with an Eagles loss, to win the NFC East and grab a playoff spot. Instead, Philadelphia won at the New York Giants on Sunday, thus eliminating Dallas from playoff contention.
After Sunday afternoon's game, Garrett told reporters he wanted to remain in Big D.
"I want to be the coach of the Dallas Cowboys," Garrett said. "We will see what happens."
As media members assembled Monday at the Cowboys' practice facility, The Star in nearby Frisco, the team's public relations staff said Garrett's status will be made after Garrett meets with the Joneses on Tuesday.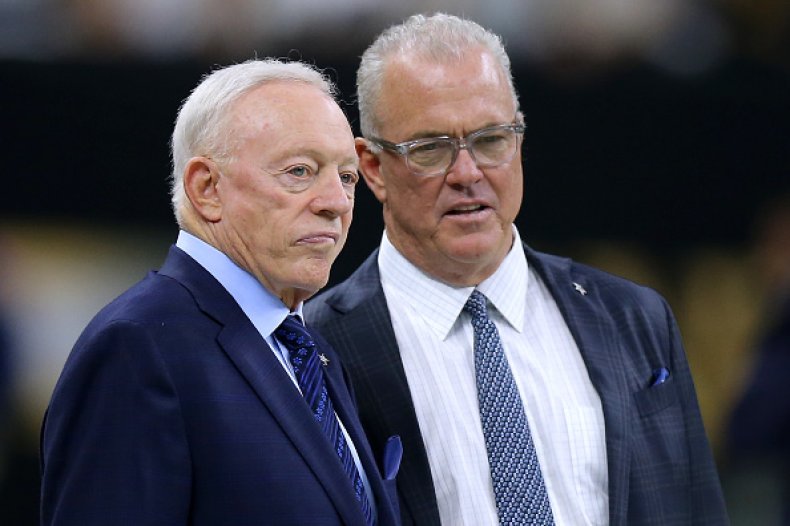 Furthermore, Garrett did not hold an end-of-season press conference and one player told the media he would not meet with Garrett as part of exit interviews.
Garrett has coached the Cowboys for the second-most seasons, only behind legendary Tom Landry. Garrett has three playoff appearances, with a 2-3 playoff record, in his 10 years.
Names that have surfaced to possibly replace Garrett as coach for the Cowboys include former college coach Urban Meyer, current Oklahoma coach Lincoln Riley and New Orleans Saints coach Sean Payton, who was the offensive coordinator in Dallas before taking over the New Orleans job in 2005. Payton is under contract in New Orleans through the 2022 season.