Dallas Cowboys Not Interested in Colin Kaepernick, But More Than 24 Other Teams Are
About two-thirds of NFL clubs will send representatives to Colin Kaepernick's private workout in Atlanta, Georgia, on Saturday, but one prominent team said no thanks.
The Dallas Cowboys made it clear Friday they are only interested in who's already on their roster.
"We like our young guys,'' Cowboys head coach Jason Garrett said in The Dallas Morning News. "We're trying to develop those guys. We feel like they made progress."
There will be video footage available for teams that will not send someone for self-evaluation of Kaepernick. The video will be a backup plan for the Cowboys, who have Dak Prescott as its starting quarterback.
"Obviously, there will be video of the workout," Garrett said. "At some point if we want to see it, that will be accessible to all of us around the league.''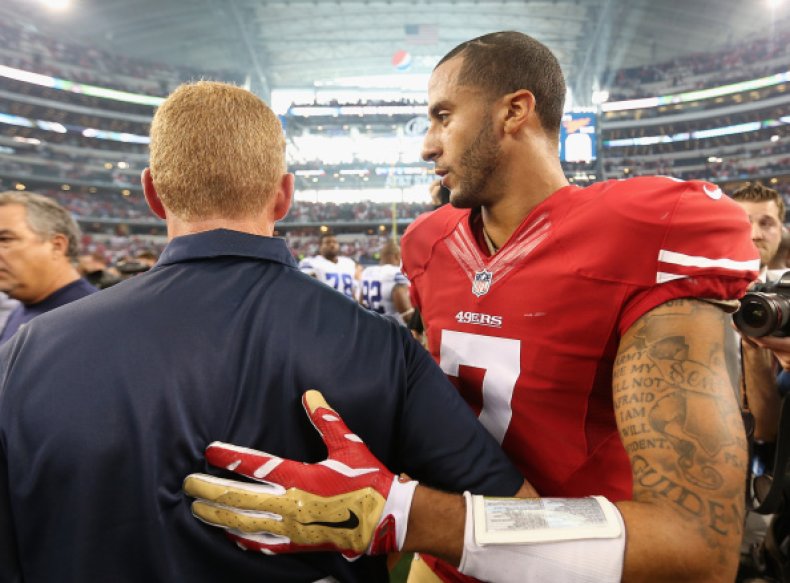 Kaepernick's upcoming workout at the Atlanta Falcons' training facility has been the most-talked about topic in the NFL this week—prior to the on-field melee between Pittsburgh Steelers and Cleveland Browns Thursday night, of course.
Kaepernick, 32, was the backup quarterback for the San Francisco 49ers when began kneeling during the national anthem at NFL games during the 2016 preseason to raise awareness to social injustice, police brutality in black communities and racial inequalities. That year was his last to play in the league.
He tried to find spots on NFL rosters, a search that left him still a quarterback without a team. That prompted a lawsuit by Kaepernick against the league, saying the teams conspired to not sign him because of his political views.
As of Thursday, only 11 NFL clubs committed to evaluating Kaepernick in person on Saturday. That number blossomed to more than two-thirds of the league by Friday evening, according to NBCsports.com.
Kaepernick arrived in Atlanta and is expected to be at the Falcons facility just outside of Atlanta by 2 p.m. local time Saturday, or an hour before the workout and the same time the Falcons are expected to leave for their Sunday game with Carolina.
Kaepernick has NFL wide receivers who have flown into town on their own to help conduct the workout, according to ESPN.
ESPN reported the 11 teams who initially committed to attend are: Arizona Cardinals, Atlanta Falcons, Cleveland Browns, Denver Broncos, Detroit Lions, Miami Dolphins, New England Patriots, New York Giants, New York Jets, Tampa Bay Buccaneers and Washington Redskins. More than twice that are expected to attend.
Not included are the Cowboys, who are tied for first in the NFC East at 5-4 with the 5-4 Philadelphia Eagles. The Cowboys' two backup quarterbacks—Cooper Rush and Clayton Thorson (practice squad)—have a combined three passes in the NFL.
Meanwhile, Kaepernick has 72 career touchdowns and more than 12,000 yards in the NFL.
Cowboys defensive end Robert Quinn said he believes Kaepernick should be on a team, and felt the former San Francisco quarterback was barred from the league for simply speaking his mind on a social issue.
"He should never have even been in this position for having your voice heard,'' Quinn told The Morning News. "He took his team to a Super Bowl. Pro Bowl. Done all that stuff. So for him to go through all what he had to go through for making a stance, which the media took it and ran and put him in this situation, is kind of embarrassing to America that the guy has got to go reprove himself over making a stance on something that shouldn't have to be confronted in today's world.
"So good luck, Kap.''