Cowboys Schedule 2019: Will Dallas Make the Playoffs This Season?
Three weeks is a long time in football. On September 22 the Dallas Cowboys sat atop of the NFC East with a 3-0 record and an offense averaging 32.3 points per game.
With Ezekiel Elliott back in the fold after an offseason holdout and Dak Prescott playing like a star quarterback, the Cowboys looked well primed for a postseason tilt.
So much so, in fact, that America's Team was being spoken about as legitimate Super Bowl contender.
Less than a month after Dallas made it three wins in a row with a 31-6 hammering of the Miami Dolphins, the landscape has changed dramatically. The Cowboys have lost their last three straight games, with the latest defeat coming on Sunday against a New York Jets team that had gone 0-4 up until then.
The offense which had started out as one of the NFL's highest-scoring units has since lost his mojo, averaging 18.6 points per game over the last three weeks. The number of points allowed, meanwhile, has climbed up from 14.6 per game to 23.3 game.
If defeats in New Orleans and against the Green Bay Packers were the kind of growing pains each Super Bowl pretender has to get adjusted to, the loss to the Jets was a major alarm bell.
It's the third time since 2015 that the Cowboys have lost at least three games in a row under Jason Garrett, but Jerry Jones refused to pin all the blame on the coach.
"I'm going to be very trite. I was a lot happier with what he had done the first three games than what's happened the last three games," the Cowboys owner was quoted as saying by ESPN.
"But the big thing I want to say is it's not just him. This is across the board. That had a lot of input out there tonight to get in that spot."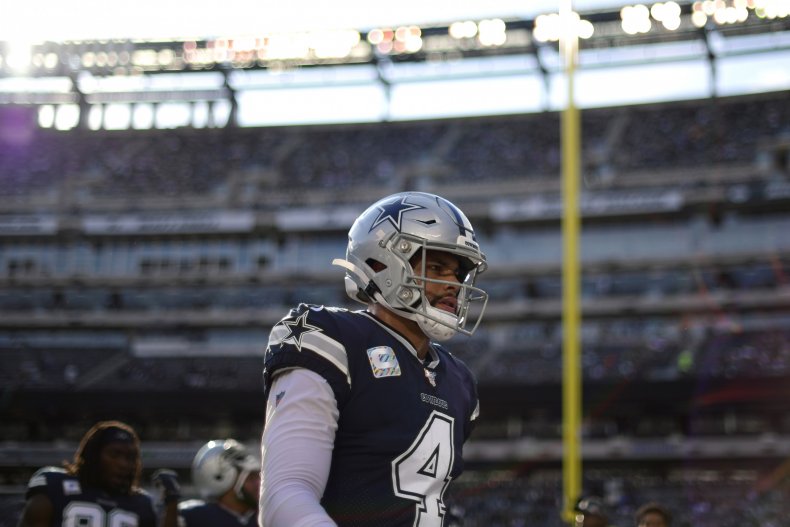 Dallas remains top of the NFC East along with the Philadelphia Eagles but, inevitably, the conversation has shifted from the Cowboys' chances of reaching the Super Bowl to whether they will make the postseason to begin with.
According to FiveThirtyEight projections, Dallas has a 42 percent chance of making the playoffs and a 39 percent shot of winning the division. When it comes to the Eagles, those percentages rise to 59 and 56 respectively.
Considering no team has won back-to-back divisional titles in the NFC East since the Eagles took four in a row between 2001 and 2004, the Cowboys have their work cut out.
Philadelphia is also 3-3 after suffering a 38-20 defeat in Minneapolis against the Vikings in Week 6 and travels to Dallas next week in a potentially crucial divisional matchup on Sunday Night Football.
At .504, Dallas' strength of schedule—as calculated by their opponents' combined winning percentage last year—ranks mid-table in the league, while the Eagles have the third-easiest schedule in the NFL.
The Cowboys have a bye in Week 8, before facing another NFC East rival, as they travel to New Jersey to take on the New York Giants on November 5. A home game against a Vikings team firmly in the hunt for a playoff spot follows, before trips to Detroit and New England in the next two weeks.
Home games against the Buffalo Bills and Los Angeles Rams come either way of a potentially very difficult trip to Chicago on Thursday Night Football in Week 14.
Week 15 sees the Cowboys travel to Philadelphia for a matchup that could have huge implications for the NFC East, before closing the season at home against the Redskins.
Aside from Washington, the Giants in Week 9 are arguably the only team left on Dallas' schedule that does not have postseason aspirations.
The Cowboys have an identical record to a year ago, when they then lost a further two games before embarking on a 7-1 run to end the season. For now, Dallas is yet to press the panic button.
"We've got a huge game next week," Prescott told reporters on Sunday. "It's for first in our division, and we've got to figure out a way to turn this page and focus on exactly that: How do we become a better offense? How do we become a better team? How do we play better complementary [football]? But everything, as crazy as it is, is still ahead of us."