Dallas Cowboys QB Dak Prescott Carted Off The Field With Gruesome Ankle Injury
Dallas Cowboys quarterback Dak Prescott was taken off the field on a cart during the third quarter Sunday in a home game against the New York Giants. He suffered a compound fracture to his right ankle, and he's expected to have surgery Sunday night to start repairing the break, according to team officials.
On a first down play, Prescott scrambled toward the first-down marker and was tackled after a 9-yard gain. Prescott immediately waved to his sideline that he needed help.
The team training staff went to his side, and not long after, his team was near his side — on the field. A cart was brought out to field, and the team's franchise player was taken into the bowels of AT&T Stadium.
The Cowboys reported that Prescott had a right ankle injury and was being taken by ambulance to a local hospital for further observation.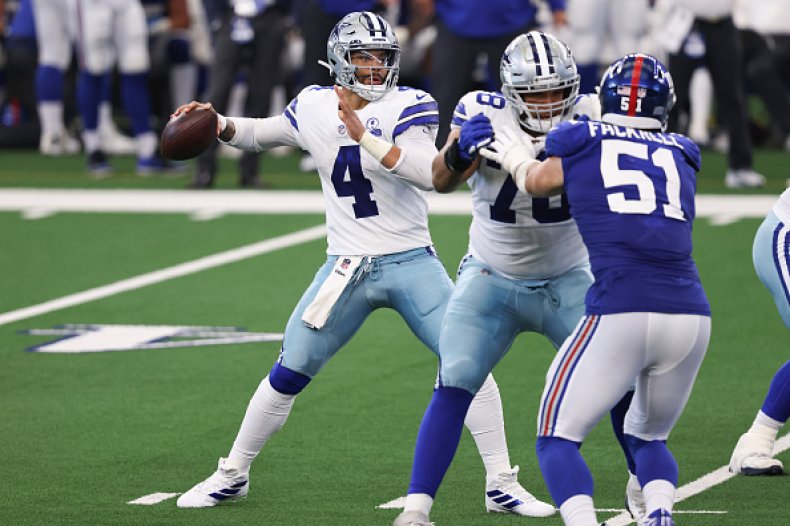 The Cowboys held a 24-23 lead over the Giants when the play occurred. Cowboys backup quarterback Andy Dalton, who signed with the team this offseason, came in to guide the offense. Dalton led the team to a touchdown and a 31-23 lead.
Heading into this weekend, Prescott led all NFL quarterbacks in 2020 with 1,690 passing yards through four games. Next on that list is Tampa Bay's Tom Brady with 1,375 yards. Prescott has thrown for nine touchdowns with just three interceptions this year, and he has a 102.6 passer rating. His 422 passing yards per game is by far the best in the NFL during 2020.
In Sunday's game, he completed 14-of-21 passes for 166 yards and one interception. With 23 seconds remaining in the second quarter, Prescott was on the receiving end of a reverse pass from Cedrick Wilson. Prescott scored on the play, giving Dallas a 24-20 lead going into halftime.
Prescott was a fourth-round draft pick in 2016, and he became the Cowboys' starting quarterback during his rookie season after Tony Romo was injured in the third preseason game. The Cowboys went 13-3 that season with Prescott.
This offseason, Prescott and the Cowboys could not come to an agreement for a long-term contract, but they did designate the quarterback as its franchisee player.
During this offseason, Prescott admitted he had depression that stemmed from COVID-19 and the loss of his brother.
Prescott's brother, Jace, took his own life earlier this year. Prescott talked about a "depression" that began before Jace's death. The Cowboys quarterback didn't mention failed contract negotiations, but rather the "offseason" and "quarantine" during the COVID-19 pandemic.
"All throughout this quarantine and this offseason, I started experiencing emotions I've never felt before," Prescott said during a CBS Sports interview. "Anxiety for the main one. And then, honestly, a couple of days before my brother passed, I would say I started experiencing depression. And to the point of, I didn't want to work out anymore. I didn't know necessarily what I was going through, to say the least, and hadn't been sleeping at all."