Dallas Cowboys Are Worth $5 Billion, Donald Trump Once Said Franchise Wasn't Worth $50 Million
President Donald Trump didn't quite get it right when predicting the future success of the NFL.
As ESPN reporter Darren Rovell pointed out on Twitter on Thursday, Trump once said the Dallas Cowboys—now valued at $5 billion, according to Forbes—weren't worth a $50-million purchase price.
The comments from Trump came in a 1984 interview with The New York Times.
''I could have bought an N.F.L. club for $40 million or $50 million, but it's established and you would just see it move laterally. Not enough to create there," he said in the interview at the time.
He added: ''I feel sorry for the poor guy who is going to buy the Dallas Cowboys. It's a no-win situation for him, because if he wins, well, so what, they've won through the years, and if he loses, which seems likely because they're having troubles, he'll be known to the world as a loser.''
Not buying the Cowboys for $50 million, of course, turned out to be a huge mistake. But Trump owned the New Jersey Generals of the now-defunct United States Football League (USFL). So his comments could have been part of a plan of taking on the NFL.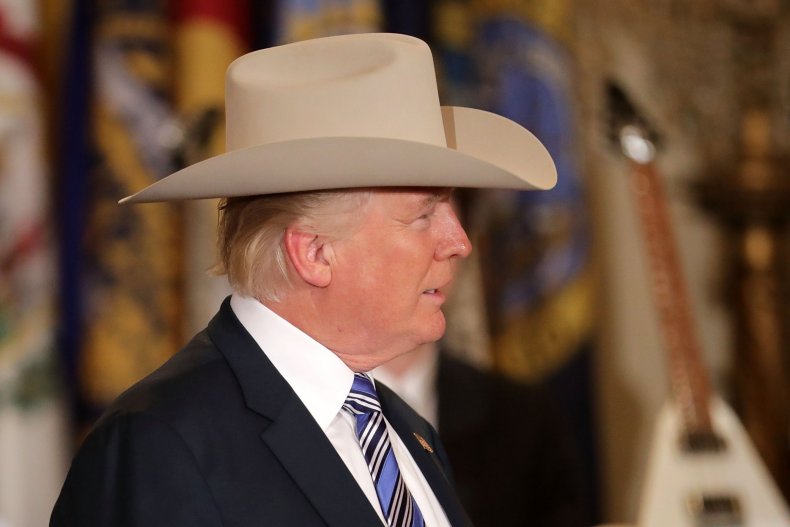 Trump has flirted with the NFL for decades—he pursued buying the Buffalo Bills in 2014—but the league has typically balked at his efforts to own a team. As author Jeff Pearlman—whose USFL book Football for a Buck just came out—detailed to Newsweek last year, Trump tried to get in with the NFL back in the USFL days but they wouldn't have him.
Pearlman told Newsweek:
"Trump held a secret meeting with Pete Rozelle, who was commissioner of the NFL, in 1984. At the Pierre Hotel in New York City, Trump paid for the suite, told Rozelle he wanted to meet to talk. Rozelle had known him casually over the years. They meet and Trump is basically offering to do whatever it takes, 'I'll leave the USFL, I don't need them, blah blah blah, to join the NFL.'

Rozelle didn't know that's why they were meeting. I interviewed a guy who was at the meeting and he was like, 'Rozelle said to him, 'You will never be an owner in the NFL. As long as I'm affiliated with the NFL or my family is affiliated with the NFL, you will never have a team in the NFL.'' Because they just saw him as this scumbag huckster. He was this New York, fast-talking, kind of con-man. You know? He was just a huckster and they didn't really want that."