Black Woman Violently Beaten by Gun-wielding White Man Faces Felony Charge for Breaking Attacker's Car Windows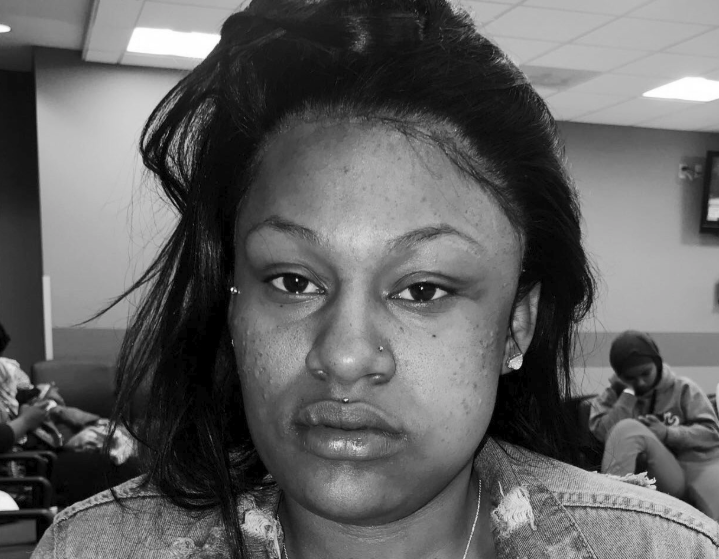 A woman who was brutally attacked by a man wielding a gun in Texas last month has now been hit with a felony criminal mischief charge—sparking community outrage.
L'Daijohnique Lee, 24, has been accused of damaging the windows of a vehicle driven by the man accused of her violent assault, 30-year-old Austin Shuffield. The beating took place on March 21 in Deep Ellum, a Dallas neighborhood, and was captured on a witness's phone.
In a press conference yesterday, Dallas Police Department deputy chief Thomas Castro said Lee admitted to damaging the windows, however that action was not captured on video. The damages were estimated at just over $3,000 and the case will progress to a grand jury, he noted.
The deputy chief acknowledged the decision will be seen as controversial in the community. It was condemned this week by the female victim's lawyer, S. Lee Merritt.
Castro said: "We encourage people their First Amendment right and afford them that right to protest. We hope that they do so peacefully. We understand there are some people that are upset. It is not the intention of the Dallas Police Department to pick one side or the other."
He added: "We simply had information that was provided to us on a criminal offense. We thoroughly investigated that offense, and we took the action that was taken today."
Local media outlet WFAA reported Shuffield was initially hit with misdemeanor charges but they have since been upgraded to aggravated assault with a deadly weapon and unlawfully carrying a weapon. In an arrest affidavit, deputies noted the attacker claimed he acted in self defense because he was struck first. He accused Lee of breaking his car's back window.
The incident occurred at just after 4:20 a.m. Lee said she pulled over her vehicle on a one-way street to drop a friend at a hostel, a move that blocked Shuffield from exiting a parking lot.
In the recording of the altercation, Shuffield was seen pulling out a gun, knocking the woman's cellphone from her hand and launching a series of punches and upper-cuts to her head.
News that Lee would face charges sparked outrage in the community. "Systemic racism on full display at the Dallas police department," one commenter fumed on Facebook today.
Another person added: "This decision tells black women in your community that a damaged window is valued more than their life." Referencing an event scheduled to take place Friday, local activist Dominique Alexander tweeted: "If this happens we will shut down Deep Ellum Arts Festival. #ENOUGHIsEnough." Lee's lawyer blasted the charge on his own Twitter profile.
He wrote: "A black woman alone in a dark parking lot is stalked, harassed and assaulted by a white male. He brandishes a gun, knocks away her phone when she tries to call for help—then beats her mercilessly with blows to the head. DPD just found a way to charge HER with a felony.
"Victims of savage assaults cannot logically be held responsible for damage done to their assailants property during or immediately after their attack. Of course context matters and the decision to charge is a clear abuse of discretion." He posted a link to a GoFundMe for Lee.
In the briefing yesterday, Castro was asked by reporters to directly address the lawyer's criticism. "I understand that we are not going to make everybody happy today with this. But we have got to take into account every citizen that we serve," the deputy chief responded.
He was also asked if the decision to charge Lee would lead to other victims of crime being reluctant to come forward.
The Dallas police official said: "We don't want these victims to feel that they cannot have an avenue or that the police department is going to, in a sense, turn their backs on that victim.
"When we have a victim and an offense but then we have a second victim in that same episode we have to take everybody's rights, we have to take all the circumstances of that incident, and at times we are going to have to, albeit a tough choice, we have to make sure that all of our citizens have been heard and that we take all their complaints seriously." More community protests are being planned, WFAA reported.
Update: The photograph used in this article has been changed.