Dallas Doctor Says Vaccinated People Should Be Encouraged to Mask Up Amid Delta Surge
As the Delta variant continues to sweep the nation, some health experts say even those who are vaccinated against COVID-19 should be encouraged to wear masks to prevent the spread of the virus.
"If you're not vaccinated, it's a good idea to wear a mask, avoid large crowds, social distancing is important," Dr. Nikhil Bhayani, infectious diseases physician advisor at Texas Health Resources, told Newsweek. "But as we start seeing more and more cases, I think, masking should probably be encouraged, even amongst the vaccinated."
While the Centers for Disease Control and Prevention [CDC] has updated its guidance to say that vaccinated individuals no longer need to wear masks or social distance, major cities are considering reinstating mask mandates as cases and hospitalization rise.
While those discussions haven't been made official in most places yet, Los Angeles County became the first to reintroduce its mask order on Sunday, after the county saw a a seven-fold increase in community transmission since its June 15 reopening.
The county now requires everyone to wear a mask while indoors, regardless of their vaccination status.
As of Thursday, more than 65 percent of Americans aged 12 and older have received at least one dose of a coronavirus vaccine, according to CDC data. But vaccination rates in some states, like Texas, lag behind the national figures.
"Across Texas right now, and of course, the United States, more than 80 percent of the new COVID cases are accounted for due to the Delta variant," Bhayani said. "Yes, we have seen a slight increase in hospitalizations and really the only way you're going to be able to prevent this is to get vaccinated because right now, the majority of the folks that we're seeing in the hospital are unvaccinated."
According to the Texas Department of State Health Services, 99.5 percent of the state's COVID-related deaths occurring between Feb. 8 and July 14 were among unvaccinated people.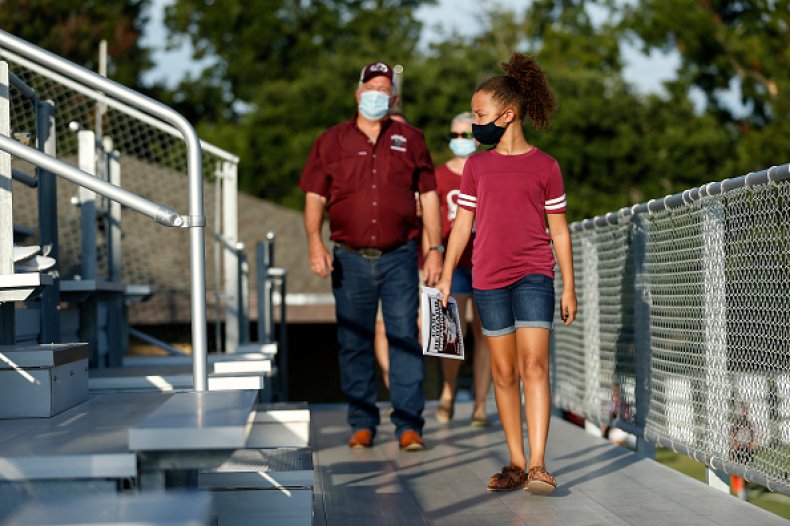 Bhayani said he believes a lot of vaccine hesitancy stems from disinformation on social media platforms.
"I think why we're seeing a lot of people not wanting to get the vaccine is that 50 percent of people feel, 'Well, this is the information that I read on Facebook that says the vaccine causes adverse events' or 'I heard that it really is not as protective as everyone thinks it is,' but that's not the case," he said on Friday.
He continued, "Studies have shown that our mRNA vaccine has effectivity against the Delta variant. Sure it might be 95 percent but at least there's some degree of protection."
President Joe Biden has also come down on social media platforms like Facebook for not cracking down on COVID-19 misinformation.
Asked about vaccine misinformation on the social network, Biden said Facebook was "killing people."
"I mean they really, look, the only pandemic we have is among the unvaccinated, and that's—they're killing people," Biden told reporters last week.
Despite accusations from both doctors on the ground and the White House, Facebook has disputed that the platform is allowing for the spread if false information.
"We will not be distracted by accusations which aren't supported by the facts," a Facebook spokesperson said in a statement. "The fact is that more than 2 billion people have viewed authoritative information about COVID-19 and vaccines on Facebook, which is more than any other place on the internet. More than 3.3 million Americans have also used our vaccine finder tool to find out where and how to get a vaccine. The facts show that Facebook is helping save lives. Period."