After weeks of extreme drought in Texas, over 10 inches of rain has been recorded in parts of the Dallas Fort-Worth area.
Cars were submerged on some major highways Monday, leaving drivers stranded for hours. Crews rescued hundreds of people across Dallas and Fort Worth as authorities continue urging drivers to stay off the road.
Flood watches and warnings were extended in Dallas and Tarrant Counties as many roadways remain closed due to flooding.
Hundreds of flights have been canceled or delayed at DFW and Dallas Love.
Heavy rainfall has also caused recent flooding in parts of Louisiana, Arkansas and out west in Utah, Arizona and New Mexico.
The live updates for this blog have ended.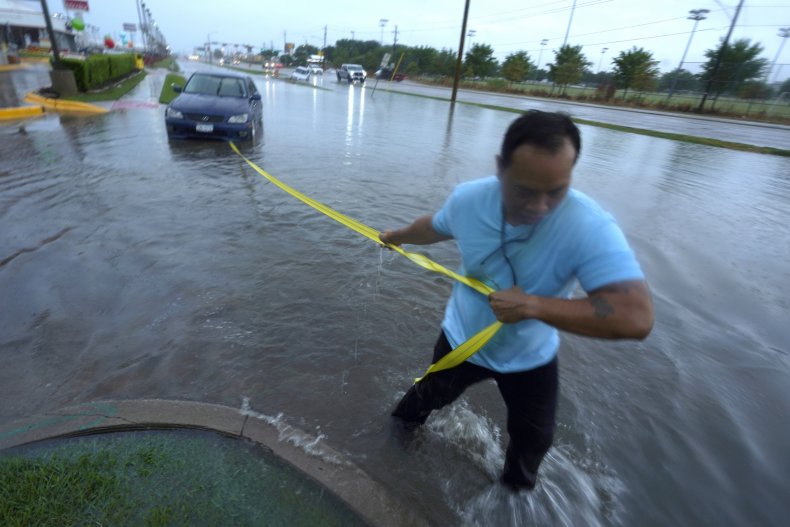 Hundreds of Flights Delayed, Canceled
Heavy rainfall and thunderstorms caused travel issues at Dallas-area airports Monday.
There were 893 flights delayed and 256 flights canceled at Dallas Fort Worth International Airport as of 5 p.m. ET, according to FlightAware.
At Dallas Love Field, 147 flights were delayed and 73 flights were canceled as of 5 p.m. ET.
DFW Airport said the next few days look "stormy."
The Federal Aviation Administration (FAA) also grounded departures to Houston William P Hobby Airport and Austin-Bergstrom International Airport due to thunderstorms.
Monday was a record-breaking day for rainfall at DFW Airport.
August 21 to 22 is now the second wettest 24-hour period with 9.91 inches of rainfall.
The highest 24-hour rainfall period was in September, 1932, with 9.57 inches.
Search Ongoing for Woman Swept Away at Zion
The search continues for an Arizona woman who was swept away amid flash flooding in Utah's Zion National Park late last week.
Monday marks day four in the ongoing search for 29-year-old Jetal Agnihotri, of Tucson.
She was among a group of hikers swept away on Friday in the Narrows, one of the park's slot canyons, the Associated Press reported. All of the hikers were later accounted for, except Agnihotri.
"Following a flash flood on Friday, August 19, the Zion Search and Rescue Team is continuing to search for a missing person," Zion National Park tweeted.
Agnihotri's brother told KUTV that she does not know how to swim.
Flood Warning Extended in Tarrant County
The flood warning in Tarrant County has been extended as rainfall continues.
The National Weather Service station in Fort Worth said the flood warning will continue until 4 p.m.
Fort Worth, which is in Tarrant County, is expected to receive an additional four inches of rain today. River, creeks, streams and roadways are expected to flood.
A flood watch is still in effect for north Texas through 8 p.m. tonight and for central Texas through 7 p.m.
The heaviest rainfall is shifting to central Texas and flooding is beginning to recede across north Texas.
Furniture Submerged in Flooded Lofts
Several Dallas-area residents woke up to flooded homes Monday as rain continues to batter the area.
One Dallas resident took video of her flooded loft overnight as she and her dog waited on the second floor for the water to recede.
KDFW-TV reporter Alex Boyer shared the video from Steph Grant.
Grant's first floor flooded, her furniture and drums were partially submerged. As heavy rain continued, it looks like a river flowing outside of her loft.
"This is what I woke up to... middle of the night," Grant says in the video. "We cannot get out of my loft."
One East Dallas resident shared a picture of his flooded living room, saying more than two feet of water got inside. An entertainment stand, mirrors, exercise equipment, couch and stairs are partially underwater. Some items are also seen floating in the brown water.
A Dallas-based artist also woke up to his home studio and loft flooded. Joey Brock told Spectrum News that three inches of flood water got inside his studio on Commerce Street early Monday. He said a few of his art pieces were ruined.
Record-Breaking Rainfall Hits Texas
The rainfall in Texas has reached record-breaking levels.
The previous record, set back in 1919, was 2.25 inches. Sunday brought 3.53 inches of rain to the Dallas-Fort Worth area.
On Monday, 5.49 inches of rain fell, shattering the previous record of 2.47 inches set in 1916.
This month is the second-wettest August on record in Dallas-Fort Worth and the wettest month since October 2018. There has been 9.91 inches of rain so far this month.
In the last 24 hours, there has been 9.02 inches of rain. This is the second-highest 24 hour period of precipitation on record.
The all-time highest was September 4 to 5 1932, where 9.57 inches fell.
Reporter Rescues Woman from Submerged Car
A reporter helped pull a woman out of her car after it got stuck in the Dallas floodwaters.
While reporting on the dangerous flooding in the Dallas area, Fox Weather reporter Robert Ray saw a car drive onto a water-covered roadway and quickly become submerged in the water.
"She literally, as I was standing here setting up for the shot, pulled in and didn't realize it," Ray said. "The next thing you know, her car was floating."
Ray tried to move the car to a safer place closer to the highway, but couldn't. So he pulled Stephanie Carroll from her car window.
Carroll told Ray that she didn't see the water on the road as she approached the intersection. She was on her way to pick up her daughter down her usual route.
"I thought I was dying," Carroll said. "I thought I was going to die. I thought I was going to drown."
She called Ray "a blessing from God" for helping her and urged other drivers to be careful driving during the heavy rainfall and continued flash flooding.
Ray said he was glad Carroll was alright and noted that journalists don't usually find themselves "immersed in the situation" they are covering.
"We have to sometimes, that's a human being," he said. "You've got to go in and try to help them."
Hundreds of Flights Canceled, Delayed
Hundreds of Dallas-area flights have been canceled or delayed Monday amid heavy rainfall in the area.
Nearly 800 flights were delayed and 224 others canceled at Dallas Fort Worth International as of 12:45 p.m. local time Monday, according to FlightAware.
Nearly 90 flights were delayed and another 71 cancelled at Dallas Love Field Airport, FlightAware reports.
Both airports encouraged travellers to check with their airlines for flight updates.
"The forecast looks stormy the next few days!" DFW Airport tweeted. "If you're traveling, please check your flight status with your airline and allow ample time for safe transit to and from the airport. Visit http://dfw.to/flightaware for current conditions and updates!"
Over the past 24 hours, 8.7 inches of rain was recorded at DFW Airport and nearly 8.4 inches fell at Dallas Love Field, according to WFAA-TV.
Areal Flood Watch Issued for Dallas County
An areal flood watch has been issued for Dallas County until 8 p.m. CST Monday night, the Irving Police Department said.
The National Weather Service (NWS) explains that areal flood watches are issued for flooding that "develops more gradually, usually from prolonged and persistent moderate to heavy rainfall" and can impact a large area.
"The flooding normally occurs more than six hours after the rainfall begins, and may cover a large area," the NWS states. "However, even though this type of flooding develops more slowly than flash flooding, it can still be a threat to life and property."
Flooding is still an issue along highways in the Dallas area late Monday morning as heavy rainfall continues. Drivers were seen slowly headed down the Downtown Dallas Canyon as lanes continue to flood.
Over 300 Water Rescues in Dallas, Fort Worth
There have been over 200 water rescues across Dallas as flooding continues.
The Dallas Fire Rescue Department told WBAP that crews have responded to over 200 water rescues since Sunday night.
"Numerous" roads across Dallas are still closed due to flooding, police said.
"Never drive through high water," the Dallas Police Department said in a tweet. "If you have to go out, slow down and be prepared to find alternate routes."
The police department tweeted out a list of roadways where floodwater levels are high.
"These are the high water calls we have right now in the city of Dallas," the department said.
The Fort Worth Fire Department said it has responded to 133 high water calls since 10 p.m. Sunday night amid the "record breaking" rainfall.
"We're currently on scene at 38 different high water calls," the department tweeted.
The department is asking residents to check the roads before travelling.
Drivers Swim Across Flooded Interstate
Drivers were swimming across a flooded interstate in Texas to safety as heavy rainfall battered several parts of the state overnight.
Aerial footage shows first responders rescuing what appear to be stranded drivers on a highway. The video, posted early Monday morning, shows a subermeged vehicle as drivers swim through several feet of water to get off of the road.
Numerous roads remain closed across the Dallas area as of late Monday morning, according to the Dallas Police Department.
All North, Central Texas Counties Under Flood Watch
All of north and central Texas are under a flood watch Monday morning.
The National Weather Service station in Fort Worth said many areas along Interstate 20 are under a flash flood warning.
These "dangerous" and "life-threatening" flood warnings will be in effect until 1 p.m. Monday, as some areas are expected to receive more rainfall, the NWS said.
According to KXAS, these are the counties under flood watches and warnings:
Flash Flood Warning
Kaufman County
Van Zandt County
Tarrant County
Ellis County
Dallas County
Flood Warning
Flood Advisory
Flood Watch
Hamilton County
Hill County
Somervell County
Navarro County
Hood County
Erath County
Palo Pinto County
Henderson County
Van Zandt County
Freestone County
Rains County
Red River County
Hopkins County
Delta County
Denton County
Lamar County
Fannin County
Cooke County
Johnson County
Ellis County
Kaufman County
Rockwall County
Dallas County
Tarrant County
Parker County
Hunt County
Collin County
Anderson County
Parts of East Dallas Receive 10 to 12 Inches of Rain
Heavy rainfall has led to intense flash flooding across parts of north Texas.
As of Monday morning, some areas of Dallas and Tarrant Counties have reported eight to 12 inches of rain.
The Community Collaborative Rain, Hail and Snow Network, a non-profit group that reports on precipitation, said one station in east Dallas reporting 10.88 inches over the past 24 hours.
KXAS reported over one foot of rain in parts of east Dallas, with some areas reporting up to 13 inches.
The National Weather Service called it a "prolific rainfall event."
An additional one to four inches are possible as flash flooding warnings remain in effect, according to the NWS station in Fort Worth.
Drivers Rescued from Submerged Cars
Crew in Dallas had to rescue drivers stranded after floodwaters swept cars off of roadways.
Several vehicles were partially submerged on Interstate 45. On Sunday night, some drivers were unsure if they'd be able to get home.
Many drivers had to abandon their car to avoid drowning as parts of the Dallas Forth Worth area received up to 10 inches of rain over several days.
"How scared was I? I almost drowned in this car, I had to kick this door open to get out of this car," one woman told KXAS.
First responders had to rescue people treading water outside their submerged cars on the highway overnight.
Texas authorities continue to advise residents to avoid flooded roadways.
The Texas Division of Emergency Management told Texans to "never" walk or drive through flooded roadways.
Drivers Stuck in Standstill Traffic
Flooding continues on highways in parts of Texas Monday morning, leaving drivers in standstill traffic.
The flash flood warning for Dallas County has been extended until 10 a.m. CT as Dallas Police have asked residents to avoid roadways if possible.
Despite warnings from authorities, there was still heavy traffic on Interstate 30 and Interstate 45 this morning.
Parts of I-30 in Dallas were at standstill Monday and parts of the eastbound and westbound highway are closed or partially closed, according to KXAS.
Crews were still working to haul stalled vehicles caught in floodwaters.